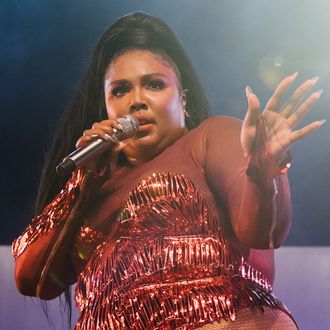 Fresh photos with the bomb lighting.
Photo: Emma McIntyre/Getty Images for Coachella
Lizzbians, rejoice! Lizzo, the rapper-songwriter-flutist who loves you more than you love yourself, just earned her very first Billboard No. 1 song with "Truth Hurts." She arrives at her throne just two weeks after Billie Eilish usurped the spot from 19-week legend Lil Nas X. Guess she's the bad guy now! "Truth Hurts" and its infectious piano-driven beat first arrived in 2017, and after it was featured in the Netflix movie Someone Great, it was added to the deluxe version of Lizzo's debut album, Cuz I Love You. Since then, it has only grown more popular. Pulling a Lil Nas X herself, Lizzo invited rapper DaBaby for a "Truth Hurts" remix. Under Billboard's remix rules, all versions of a song can count toward the original's chart movement, so the song definitely got a boost from anyone curious to hear what DaBaby has to say on track about being a bad bitch. This makes Lizzo the sixth female rapper ever to have a No. 1 on the Hot 100 chart: Lauryn Hill, Lil' Kim, Cardi B, Shawnna, and Iggy Azalea came before her. The 31-year-old artist celebrated her success on Twitter and dedicated it to anyone who has ever felt like less than the royalty they are.
Next week, Lizzo appears in the new movie Hustlers alongside Cardi B, Jennifer Lopez, Constance Wu, and Julia Stiles. Truly, nothing can stop her now.