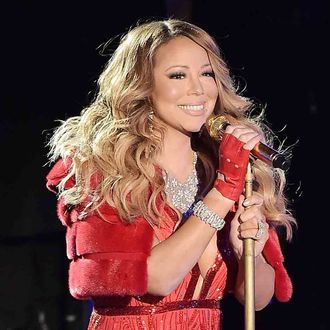 Photo: Michael Loccisano/Getty Images
With pumpkin-spice-flavored things popping up everywhere, we're probably due to start hearing Christmas music tomorrow, but fear not: Mariah Carey is here to make it okay. Although she refuses to acknowledge time, the queen of Christmas will celebrate the 25th anniversary of her genre-defining holiday album, Merry Christmas (released in 1994, shhh!), with a reissued deluxe edition. Along with all the hits we know and love ("All I Want for Christmas Is You" and, I guess, the other Christmas songs she's recorded), it'll feature live cuts from a 1994 performance at New York City's St. John the Divine Cathedral and new remixes (including not one, but two of "All I Want for Christmas Is You"). The deluxe anniversary edition is available for preorder with T-shirts, a hoodie, a beanie, or a stocking. All of the above, please?
Update, September 30: Not to be outdone, Carey realized all you wanted for Christmas is her. Per Rolling Stone, the songstress is embarking on a limited-run tour to coincide with the album, set to begin in late November. Five of these Merry Christmas shows will take place at her new Las Vegas residency at the Colosseum at Caesars Palace, while the other half will be in New York City, Atlantic City, Washington D.C., Boston, and central Connecticut. To repeat: Mariah Carey! Christmas tour! Woo-hoo!