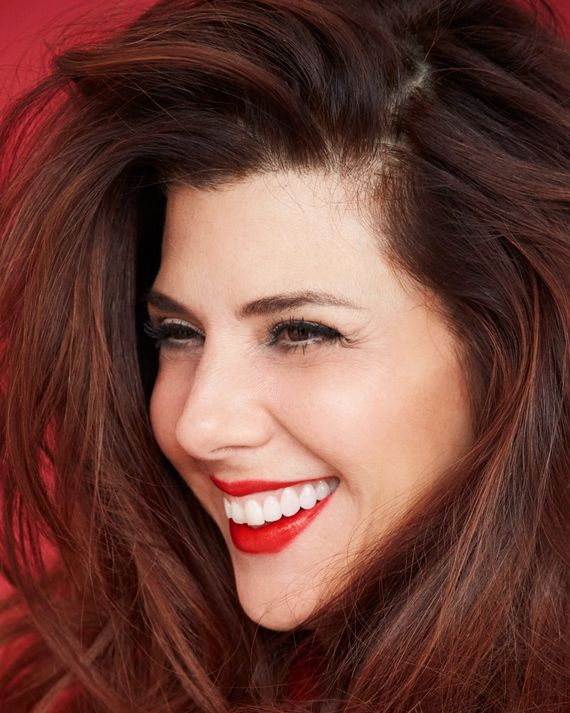 "In many things that I've been in, I find myself in the position of uniting the archetypes of Madonna and whore," says Marisa Tomei when we meet up after she finishes a long day of rehearsals for The Rose Tattoo, "making a passageway for us all to hold in our minds. These are not two separate things."
The Rose Tattoo is among the less-performed Tennessee Williams plays. "It's probably on the B-list or something," Tomei says. She stars in it as Serafina Delle Rose, a grieving Sicilian-immigrant wife and mother, and even though the 1955 film adaptation earned Anna Magnani her Oscar for the role, Serafina is less familiar to audiences than Amanda Wingfield or Blanche DuBois. The melodrama starts with the death of a husband, withers toward catastrophe, and then blooms into a love story, but it's strange and messy, and for many people, it doesn't quite, in a conventional sense, add up. "I like plays that are considered unresolvable in some way," Tomei says. "Maybe they don't work in a way that contemporary criticism thinks they should work, but they work on a mystical level."
Tomei had wanted to find one of those New York–staple Italian red-sauce joints to meet in, but the snoozy, mock-bohemian Marlton Hotel near Washington Square is quieter and more convenient. In person, she's both lively and serious, often at the same time, her focus simultaneously on the sacred and the profane. Unresolvable is one of those adjectives she holds tight. She wears oversize nerd-chic glasses and teases her hair with a finger as she speaks. In the middle of a digression about how she explored the history of the black Madonna on a recent trip to Sicily, she suggests that things are getting serious and we'd better order drinks. (She gets a Mezcal Mule.)
In The Rose Tattoo, Serafina is a devoted wife, unwilling to believe her late husband was unfaithful, who, while in mourning, falls for a man with a clownish face and a body that resembles her husband's. It's a sprawling play that calls for a cast of nearly two dozen and a goat (which could also explain why it's not often performed). Will there be a live goat on Broadway? "That's up for debate right now," Tomei says. "I don't know how you do it without one, but how do you do it with one?" When first discussing performing in the play at the Williamstown Theatre Festival in 2016 with director Trip Cullman, Tomei worried she might be pigeonholed by doing "that Italian thing," but the complexity and humor of the play won her over: "the love, the joy of the characters, and the joy of the journey that they take" — she pauses a beat — "and for the yuks!"
Tomei is more than a bit of a ham, which feels like the thing that turns the Madonna-whore duality into a sort of holy trinity. She was part of the Naked Angels theater company in the 1980s — known for its work and its parties — and skyrocketed to stardom with an Oscar for her yuks-filled, teased-hair-and-jumpsuit turn in 1992's My Cousin Vinny. Her next two Oscar nominations came for her roles as a mother caught up in tragedy in 2001's In the Bedroom and as a stripper in 2008's The Wrestler. She was last on Broadway in 2014 as a jumpy wife in The Realistic Jones.
Earlier this year, she appeared in both Avengers: Endgame (briefly) and the latest Spider-Man as a younger, bell-bottoms-wearing Aunt May (a role she's not yet sure she's going to get to reprise). This fall, she appears in Ira Sachs's CGI-free film Frankie with the French actress Isabelle Huppert, a friend whom she recently helped find an apartment in New York.
But if you ask Tomei, she'll say she had the most fun playing Edith Bunker in a live version of an All in the Family episode that aired on ABC earlier this year. Wearing a wig and speaking with a thick Queens accent, Tomei both mimicked Jean Stapleton's performance and brought her own warmth to it. "Now I know that my favorite genre is live-to-air sitcom, which doesn't even exist," Tomei says with a mordant laugh. "So I'm a little crushed." (If you'd like to write one for her, please get in touch.)
"At this time in my life," she says, "it's good to work as much as possible to get through this point where I could be pushed out and disappear from this business." Hollywood is finally able to talk about career-curtailing sexism thanks to the Time's Up movement, in which Tomei has been deeply involved. But, she notes directly, the offers she's getting haven't changed much in terms of an "equal or even fair salary." "That's been a great disappointment," she says. "But there's a lot more room to talk about it, which in itself is a great relief and another step forward. Having the courage to even vocalize that after feeling muzzled for generations, that's something beautiful." The idea of a woman being told to stay in her lane taps into "ancient cultural memory," she notes, which is part of what animates her take on the widowed Serafina, who is constantly being told to let her sexuality die alongside her husband.
This production of The Rose Tattoo incorporates traditional Italian music and dance, and Tomei has become especially fascinated with the tarantella, a spasmodic folk dance associated with trying to cure the bite of a tarantula, which has also become a metaphor for unrequited love or unfulfilled sexuality — "this way of moving your body and coming back into your body and getting your psyche together again," Tomei explains. Raising her arms, she briefly demonstrates. "In a sense, that's what Serafina goes through. She's got that bite."
The Rose Tattoo premieres September 19 at the American Airlines Theater. Buy tickets here.
*This article appears in the September 2, 2019, issue of New York Magazine. Subscribe Now!