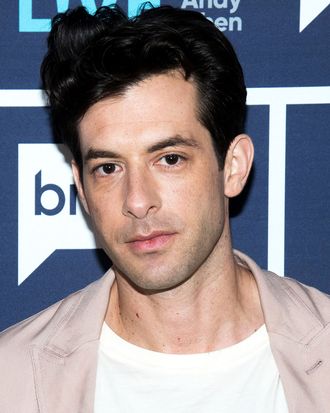 A totally normal heterosexual man.
Photo: Bravo/NBCU Photo Bank via Getty Images
Mark Ronson, the producer behind hits like "Uptown Funk," crushed the dreams of the millions of dumb people when he announced on Good Morning Britain that he is sapiosexual — meaning, sexually attracted to someone's intelligence, possibly over their gender. Twitter went wild, and Out magazine even covered his "coming out," but now, the producer is thinking twice. In a video interview with Rolling Stone Wednesday, he said it was all a misunderstanding, telling writer Patrick Doyle, "I went to sit down and talk about my album and things that I actually know about." Which, for the record, probably would've been a normal thing for a sapiosexual person to do. But the hosts had just done a segment about sapiosexuality, and when they explained it to him, he thought, "That sounds great, of course, who wouldn't be?" Sometimes we're just inexplicably attracted to dumb people, Mark, don't shame us for it, okay?
Ronson, who divorced model Joséphine de La Baume last year, stresses that he didn't mean to take on a marginalized identity. "It sounds like I went on a TV show to be like, guys, I got, I have some big news," he said, adding, "I would like to come out and say properly that I do not consider — where's the camera? — I do not consider myself part of any marginalized community, and I apologize if anybody misunderstood or took offense to it." So there you have it — if you happen to be a dumb person with a crush on Ronson, there's still hope.