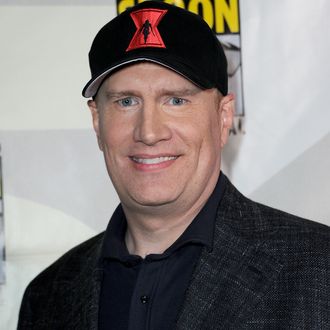 Photo: Albert L. Ortega/Getty Images
It seems the Force is now with the Feige! The Hollywood Reporter broke the surprising news that Marvel president Kevin Feige has been tapped by Lucasfilm to develop a Star Wars film. Feige seems more than up for the challenge as he is both a huge fan of the franchise and serves as the brains behind the Marvel Cinematic Universe, which is home to four of the top ten highest-grossing films of all time. Very few details about Feige's involvement in the franchise are known at this time, as Lucasfilm has another addition to the Star Wars cannon to focus on — the forthcoming J. J. Abrams-directed Star Wars: The Rise of Skywalker, set to bow on December 20.
Apparently, Feige began discussing a potential foray into the franchise in a late summer meeting with Lucasfilm president Kathleen Kennedy and co-studio heads Alan Horn and Alan Bergman. In a statement to The Hollywood Reporter, Horn said, "With the close of the Skywalker Saga, Kathy is pursuing a new era in Star Wars storytelling, and knowing what a die-hard fan Kevin is, it made sense for these two extraordinary producers to work on a Star Wars film together." As long as Feige does right by Carrie Fisher, he's alright with us.