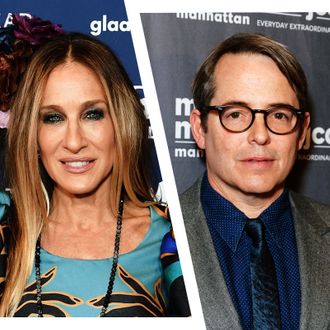 What if they just starred in
The Producers
though?
Photo: Getty Images
In what would be sufficient material for a Carrie Bradshaw trend piece, the hot new thing in theater is for acting couples to play couples onstage. There's Rose Byrne and Bobby Cannavale doing Medea at BAM, Corey Stoll and Nadia Bowers doing Macbeth at CSC, and, now, Matthew Broderick and Sarah Jessica Parker starring in a Broadway-bound revival of Plaza Suite.
The Neil Simon comedy, which originally premiered on Broadway in 1968, is made up of three one-acts, all set in the same suite in the Plaza Hotel. There's a married couple trying to rekindle things at their honeymoon suite, a movie producer revisiting his former sweetheart who's now a housewife, and another married couple on the day of their daughter's wedding. Parker and Broderick's production, directed by John Benjamin Hickey (who also happens to be in The Inheritance this season), will run for 22 performances at the Colonial Theater in Boston in Februrary, before a 17-week run at the Hudson Theater on Broadway starting March 13.
Now, who do we talk to about producing a revival of Sweeney Todd starring Becky Ann and Dylan Baker?