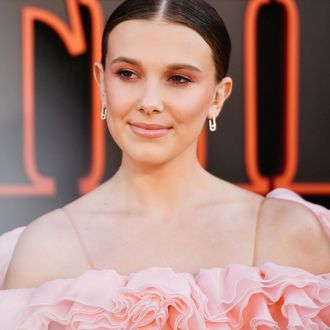 Photo: Matt Winkelmeyer/FilmMagic
We all know that Millie Bobby Brown is an incredibly talented young actress, one of the best of her generation, a breakout star, etc. We also all know that she has been maligned online and has suffered at the hands of trolls. These are all things we know. But we are here today to talk about what we do not know. And what we do not know is what on God's green Earth is happening in this video of Millie Bobby Brown demoing her new skin-care line. We are not trying to contribute to the aforementioned online bullying (she is still a revelation onscreen, perhaps even more so after this video). We truly just need answers.
Here are the basics: Millie Bobby Brown launched a new skin-care line for teen girls called Florence by Mills. Great, cool, terrific. Nothing strange yet. As part of the rollout of her brand, she posted a video of herself testing the products as part of her nighttime skin-care routine. Again, totally normal and good. In the video, she sprays on a face mist before removing her makeup, which is a little odd as far as skin-care routines go, but whatever. Fine.
But then, she tells us she is using a scrub on her face. She even tells us she is excited to use this scrub. Around the 30 second mark, she begins to "apply" the "scrub." Reader, I need you to watch the video and confirm to me that Millie Bobby Brown is not applying anything to her face. Her hands are dry. Her face is dry. She is rubbing her bare, dry hands on her face. Not even this generation's greatest young actress could convince me I am watching someone scrub their skin with air.
Perhaps you're thinking, "Well, maybe it's just poor camera quality, or the scrub is translucent and does not photograph well." I would encourage you to watch the rest of the video. She goes on to "apply" a "face wash" and later, a "moisturizer." There is no visible product on her face or hands at any point. Throughout the video she tells us (very convincingly) how lovely the products feel on her skin. She is so enthusiastic, in fact, you almost believe her. Almost.
What is Millie Bobby Brown trying to tell us here? Is this performance art? Is this an elaborate advertisement for the fourth season of Stranger Things? Have I lost my mind? Or is Millie Bobby Brown's nighttime skin routine a kind of moving Rorschach test, in which each viewer might see what they want to see in the blurry iPhone footage that will haunt my dreams for days to come? Watch and judge for yourselves.
Update, September 12, 12 p.m.: Hello, Notes app, our old friend. Millie Bobby Brown noted her disappoint at the reactions to her skin-care content in a little Notes app note, posted on Instagram. "I'm still learning the best way to share my routines as I get to know this space better — I'm not an expert," she wrote. "I thought doing a quick video replicating my personal process for that night was okay, but that's not what was conveyed." The Stranger Things star added that she appreciated everyone's feedback. We certainly haven't seen the last of beauty guru Millie Bobby Brown.