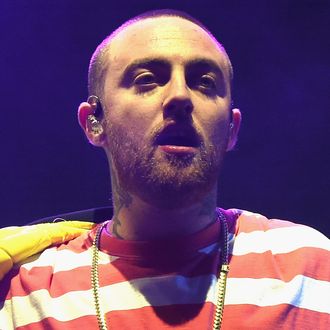 Photo: Kevin Winter/Getty Images
Two men were arrested this week in connection with Mac Miller's death. Stephen Walter and Ryan Reavis are accused of sourcing and distributing the fentanyl-laced counterfeit oxycodone pills that were in Miller's possession before he died last September. Cameron James Pettit was arrested earlier this month. According to Billboard, Walter is suspected of being Pettit's source for the pills, with Reavis acting as a runner. None of the men are directly charged with Miller's death. September 7 marked the anniversary of the rapper's accidental overdose from a combination of alcohol, cocaine, and fentanyl.
Police are asking that Walter remain in custody while he awaits trial, because they view him as a serious flight risk. He has already been ordered to serve five months for violating the terms of his supervised release for a 2005 drug conviction. Reavis was arrested Tuesday in Lake Havasu City, Arizona. Police found marijuana, a physician's prescription pad, and prescription-only pills at his residence.