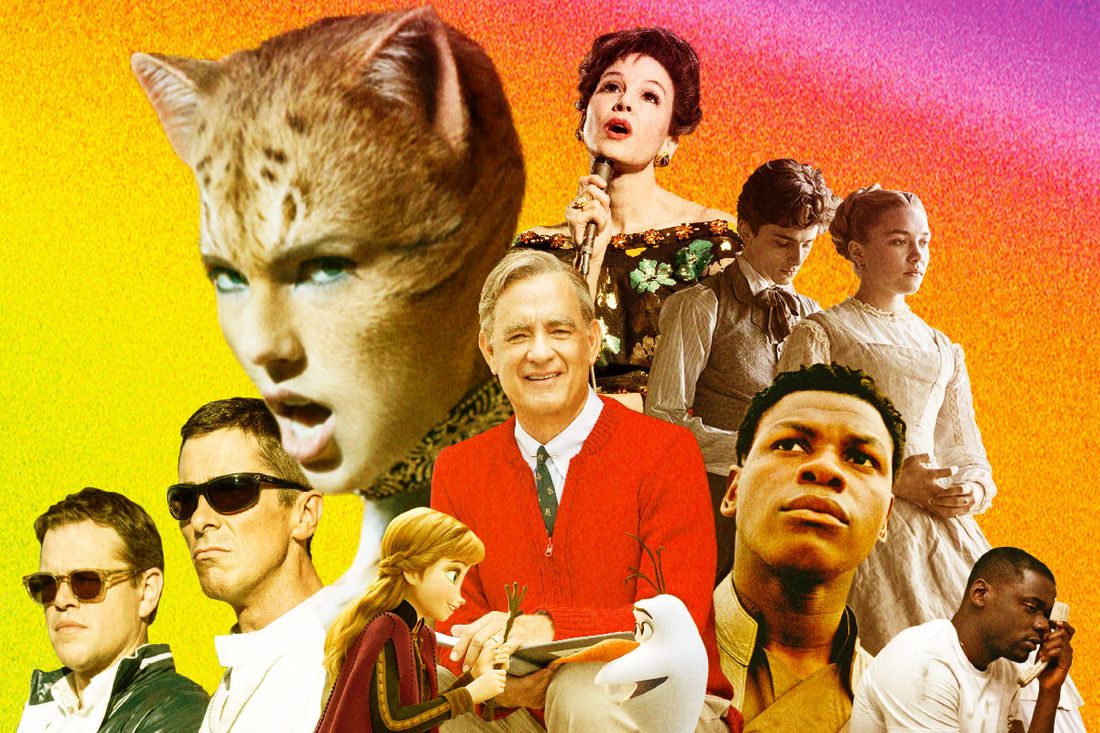 Photo-Illustration: Courtesy of Studios.
After what seemed like a lackluster summer, the year in movies is about to start showing some real signs of life. At least, let's hope so. The next few months are shaping up to be an endless stream of awards contenders, alongside attempts to revive dormant franchises, Stephen King adaptations, Disney blockbusters, and whatever the hell Cats is.
What We Think Will Be Great
By David Edelstein
September
Ad Astra (9/20)
I rarely plunder studio synopses, but this one seems unusually pithy: "An astronaut travels to the outer edges of the solar system to find his father and unravel a mystery that threatens the survival of our planet. He uncovers secrets which challenge the nature of human existence and our place in the cosmos." The weird thing is that the director is James Gray (The Yards, The Immigrant, The Lost City of Z), one of American cinema's more earthbound directors. But Brad Pitt is a space cadet (in real life and on film), and the otherworldly cast includes Donald Sutherland, Tommy Lee Jones, Ruth Negga, and Liv Tyler. The title could be a nod to the Latin phrase per aspera ad astra, which means, roughly, "Through hardships to the stars," so let's hope the hardships are the characters'.
October
Joker (10/4)
Despite the use of wild man to denote daringly unhinged (or just unhinged) actors, an actor without a hinge is only sporadically effective. An exception is the slurring, tottering, often galvanic Joaquin Phoenix, who gives you the sense that there's an emotional cost to what he does. His Joker origin story might be godawful, but I'm thrilled by someone giving Phoenix license to test the limits as the mad clown. And a Joker origin story is one of the few DC enterprises I'm excited about, especially since the studio made a mess of The Killing Joke.
Parasite (10/11)
The beloved though spotty Korean director Bong Joon-ho (The Host) stole the thunder from Quentin Tarantino at Cannes, where this scabrous comedy about a poor family that insinuates itself into the home of a rich one made off with the top prize. My colleague Bilge Ebiri called it a "nerve-racking masterpiece," and though my nerves are too well racked these days, I look forward to the prospect of Bong "making us cheer on depraved behavior and then pulling the rug out from under our sick expectations." Now, that's an ad quote!
November
The Irishman (11/1)
Martin Scorsese. Robert De Niro. Harvey Keitel. Joe Pesci. Before you say "Holy crap," there's another star in the cast who didn't appear in GoodFellas, Mean Streets, or Taxi Driver: Al Pacino (one hopes on a short leash) as Jimmy Hoffa. Basically, Netflix just threw money at these titans to get them together, which could be a recipe for disaster but not with its who-whacked-Hoffa subject. No, I don't see De Niro as an Irishman either [Ed.: He played one in GoodFellas] [D.E.: Proves my point] [Ed.: You really want to say that?] [D.E.: Leave it in], but crackerjack screenwriter Steven Zaillian's script is based on a mind-blowing memoir by Charles Brandt called I Heard You Paint Houses that makes you think Brandt knows not just who really killed Hoffa but John F. Kennedy, Roger Rabbit, and Jeffrey Epstein, too.
Marriage Story (11/6)
The undeniably talented Noah Baumbach has been acclaimed for so many smart but sour, emotionally curdled movies that I take the buzz over his latest drama warily. That said, The Squid and the Whale is an unnervingly incisive portrait of the impact a crumbling marriage has on two kids, and this one features two unpredictable actors, Adam Driver and the perpetually underrated Scarlett Johansson. It also sounds like a close-to-the-bone subject: the grueling demise of the marriage between a stage director and his actress wife. Substitute film for stage and consider Baumbach's ugly breakup with Jennifer Jason Leigh, and the prospects are sunny indeed.
Ford v. Ferrari (11/15)
I hate the title the filmmakers finally settled on, but this is the sort of process-oriented, ironic-capitalist, go-for-it movie Americans do well. James Mangold's drama centers on the ingenious car designer Carroll Shelby (Matt Damon) and the driven driver Ken Miles (Christian Bale), who attempt — underwritten by the oft-despicable Henry Ford (Tracy Letts; did you see him in All My Sons? Holy shit) — to best the Italian wizards of Ferrari at the 24 Hours of Le Mans in 1966. What makes it tantalizing: They're none of them angels.
The Report (11/15)
As in the CIA "Torture Report." As in George W. Bush saying, "This country doesn't torture," while people are being waterboarded, starved, sexually humiliated, and beaten. It's not a documentary: The committed writer and producer Scott Z. Burns makes his directorial debut, focusing not on what he didn't see (the ghastly Geneva Conventions violations) but on the Senate investigation and the congressional hearings that dragged the horror into the light. Sound dry? Not with Adam Driver, Corey Stoll, Jon Hamm, and Annette Bening as Senator Dianne Feinstein.
Knives Out (11/27)
Rian Johnson (Brick, Star Wars: The Last Jedi) isn't a great original, but he has a talent for doing parodic takes on the works that inspired him without drifting into camp or undermining his passion. Here, he plumbs that most gimmicky of gimmick genres — the all-star house-party whodunit — with a delectable cast that includes Daniel Craig, Christopher Plummer, Jamie Lee Curtis, Michael Shannon, Toni Collette, and Lakeith Stanfield. No, I don't see how those disparate actors can mesh either, but I hope to be surprised and delighted.
December
Little Women (12/25)
Greta Gerwig gathers an astounding, breathtaking (supply your own adjective!) cast in this version of Louisa May Alcott's beacon of girlish autonomy (at least in the novel's first half) with Saoirse Ronan as Jo, Florence Pugh as Amy, Emma Watson as Meg … I could go on, as the casting director did, with Laura Dern and Dame Meryl Streep. (She's not technically a dame, but I dub her.) Critics' darling (hell, my darling) Timothée Chalamet, Tracy Letts (did you see him in All My Sons? Holy shit), and Bob Odenkirk represent heterosexual white males. I just hope that as critics huzzah over Gerwig they also remember the excellent Gillian Armstrong version of 25 years ago.
What We Think Will Be Big
By Bilge Ebiri
September
It: Chapter Two (9/6)
Splitting the interwoven time lines of Stephen King's 1986 tome into two movies was a risky move, but the first film, released in 2017, was a huge hit. Now the characters are grown up and played by name actors, Jessica Chastain and Bill Hader among them. Can they vanquish King's eternal evil for good? Or are we looking at more sequels?
Rambo: Last Blood (9/20)
Can Sylvester Stallone reinvent conservative icon John Rambo for our troubled times? (And, uh, whose side will he be on this time?) Expect hot takes.
Judy (9/27)
Renee. Zellweger. Is. Judy. Garland.
The Laundromat (9/27)
Steven Soderbergh — who, let's not forget, claimed to have retired from filmmaking some years ago — is back with another movie, this one a star-studded caper but also a politically charged look at the Panama Papers scandal. (When we interviewed Soderbergh earlier this year, he had this one sitting on his laptop, all ready to go, so the fact that it's being released now, during awards season, is surely a good sign.)
October
Pain and Glory (10/4)
Pedro Almodóvar's most autobiographical film in decades looks at the many regrets of an aging ilmmaker, played by the great Antonio Banderas (who won the Best Actor award at Cannes in May).
Dolemite Is My Name (10/4)
For decades, people have longed to make a biopic of Rudy Ray Moore — the comic, blaxploitation star, and indie-film pioneer known as the Godfather of Rap. It's finally here, as Eddie Murphy's potential comeback vehicle.
Gemini Man (10/11)
Will Smith battles his younger self in this sci-fi thriller that Hollywood will be watching very closely to check out the current state and viability of digital characters. The director, Ang Lee, is both an artistic and a technological visionary, so that makes this immediately of interest.
The King (10/11)
Timothée Chalamet is playing Henry V, and everybody is very excited.
Maleficent: Mistress of Evil (10/18)
The first was a reimagining of Sleeping Beauty from the supposedly evil witch's point of view and gave Angelina Jolie one of her most indelible roles. It'll be interesting to see in what new direction this follow-up will take the story.
Jojo Rabbit (10/18)
Director Taika Waititi has taken all the goodwill produced by Thor: Ragnarok's success and parlayed it into a playful comedy about … an eager young German boy in the Hitler Youth. Oh, and Waititi himself plays Hitler.
The Lighthouse (10/18)
Robert Pattinson and Willem Dafoe are 19th-century lighthouse keepers who may or may not be slowly going mad in this period-authentic and deeply unnerving thriller from The Witch director Robert Eggers.
November
Terminator: Dark Fate (11/1)
We've been burned by Terminator sequels before, but dare we hope that this one — which returns Linda Hamilton to the role of Sarah Connor and boasts James Cameron himself as a producer — might break the curse?
Motherless Brooklyn (11/1)
Writer-director-star Edward Norton has spent well over a decade trying to make this film adaptation of Jonathan Lethem's beloved novel, and he's assembled a remarkable cast for it (including Gugu Mbatha-Raw, Alec Baldwin, Bruce Willis, and Willem Dafoe). But all eyes will be on Norton, one of our finest actors, who hasn't had a juicy lead role in many years.
Doctor Sleep (11/8)
Stephen King's 2013 sequel to The Shining was well liked as a novel, but as a film it'll have to contend with the legacy of Stanley Kubrick's 1980 horror masterpiece, which the author (who has an executive-producer credit on this one) famously detests.
Last Christmas (11/8)
Can this romantic comedy written by Oscar-winning screenwriter (and Oscar-winning actress) Emma Thompson and set to the music of the late George Michael bring back the rom-com? (And with hints of a dark twist, is it possible it's not actually a rom-com?)
Atlantics (11/15)
Earlier this year, Mati Diop became the first black woman to screen a film in competition at Cannes, then she went and won the festival's Grand Jury Prize for this bewitching supernatural romantic drama set in Senegal.
Charlie's Angels (11/15)
Elizabeth Banks directed and co-stars as Bosley in this latest reboot of the classic TV show, this time with Kristen Stewart, Naomi Scott, and Ella Balinska as the Angels. This one leans heavily on the comedy, it seems, which can only be a good sign.
A Beautiful Day in the Neighborhood (11/22)
The nicest man in film, Tom Hanks, stars in this film about the nicest man on TV, Mr. Fred Rogers.
Frozen II (11/22)
The first was not just the highest-grossing animated film of all time; it was a cultural phenomenon with its Hans Christian Andersen–meets–girl-power story line and viral soundtrack. It even turned Josh Gad into a star. The sequel will surely add to Disney's run of billion-dollar hits this year; fingers crossed that it also recaptures some of the original's magic.
Queen & Slim (11/27)
A first date (between Daniel Kaluuya and Jodie Turner-Smith) goes off the rails when a cop pulls the couple over. Described as a Bonnie and Clyde–style thriller, this was co-written by Lena Waithe (who calls the film "protest art") and directed by Grammy-winning music-video director Melina Matsoukas. It could be one of the breakout hits of the season.
December
Portrait of a Lady on Fire (12/6)
Céline Sciamma's alternately tense and tender queer period romance nearly set Cannes ablaze earlier this year and with good reason. Its pointed complication of the male gaze, coupled with passionate performances from leads Noémie Merlant and Adèle Haenel, might just turn this into one of this year's hot-button movies.
Uncut Gems (12/13)
Adam Sandler plays a Diamond District jeweler racing against the clock to pay off his debts in this thriller from Josh and Benny Safdie, indie poets of breakneck grit. (They made 2017's acclaimed Robert Pattinson thriller Good Time.)
A Hidden Life (12/13)
Terrence Malick's newest takes his wandering, lyrical, fragmented style and applies it to the real-life story of a devout Austrian dissenter who refused to pledge loyalty to Hitler. Film nerds will go to war as usual over Malick, but the resonant subject matter could also hit a nerve.
Jumanji: The Next Level (12/13)
Nobody thought Jumanji was going to be any good, and it turned out to be great. So it stands to reason that the sequel, which also looks quite terrible, will be even better.
Cats (12/20)
Sure, the trailer was ridiculous. Sure, digital fur on human actors looks weird. Sure, it's one of the strangest musicals ever made. Counterpoint: It's Cats. You'll still see it out of morbid curiosity.
Star Wars: Episode 9 — The Rise of Skywalker (12/20)
The big question with the final installment of the Skywalker saga isn't how much it'll make but whether J. J. Abrams will undo the idiosyncratic narrative revelations of Rian Johnson's The Last Jedi, the most entertaining Star Wars movie in decades.
Bombshell (12/20)
The Roger Ailes sexual-harassment scandal at Fox News gets the big-screen treatment in a year when we've already had the Showtime series The Loudest Voice, also about Ailes. But only this one's got Charlize Theron, Nicole Kidman, and Margot Robbie.
Full Calendar
September 6
It: Chapter 2
Zeroville
Blink of an Eye
Ms. Purple
September 13
The Goldfinch
Running with the Devil
Hustlers
Depraved
Freaks
Haun
Monos
Moonlight Sonata
September 16
3 From Hell
September 18
Midnight Traveler
Downton Abbey
Rambo V: Last Blood
Corporate Animals
Loro
Ad Adstra
Diego Maradona
Where's My Roy Cohn?
September 20
Between Two Ferns
September 27
21 Bridges
Abominable
The Day Shall Come
Judy
The Laundromat
The Death of Dick Long
Extra Ordinary
The Sound of Silence
In the Shadow of the Moon
October 4
Dolemite Is My Name
Joker
Lucy in the Sky
Pain & Glory
Wrinkles the Clown
October 11
The King
Gemini Man
Parasite
The Addams Family
Jexi
The Dead Center
High Strung and Free Dance
October 15
Jay and Silent Bob Reboot
October 18
Maleficent: Mistress of Evil
Zombieland: Double Tap
Jojo Rabbit
The Lighthouse
Greener Grass
October 25
Frankie
Black and Blue
Countdown
The Current War
The Last Full Measure
The Kill Team
Synonyms
November 1
Terminator: Dark Fate
Paradise Hills
The Irishman
Motherless Brooklyn
Harriet
Arctic Dogs
Burden
Waves
November 6
Marriage Story
November 8
Midway
Playing With Fire
Doctor Sleep
Honey Boy
Last Christmas
November 15
Charlie's Angels
The Lodge
Ford V Ferrari
Earthquake Bird
The Good Liar
All Rise
The Report
Atlantics
November 22
The Rhythm Section
Frozen 2
A Beautiful Day in the Neighborhood
21 Bridges
Dark Waters
November 27
Knives Out
Queen & Slim
The Two Popes
December 6
Playmobil: The Movie
The Aeronauts
Brams: The Boy 2
Little Joe
Portrait of a Lady on Fire
December 13
Jumanji: The Next Level
Shaun The Sheep: Farmageddon
Black Christmas
Uncut Gems
A Hidden Life
Cunningham
December 20
Cats
Star Wars: The Rise of Skywalker
Superintelligence
Bombshell
December 25
Spies in Disguise
Little Women
1917
Just Mercy
Clemency
*A version of this article appears in the September 2, 2019, issue of New York Magazine. Subscribe Now!