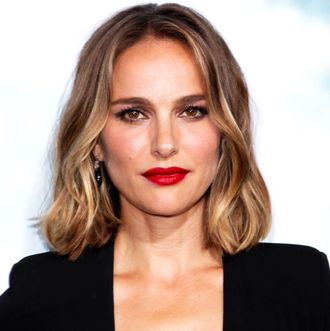 Natalie Portman.
Photo: Tibrina Hobson/WireImage
Recently, Vulture threatened to take the film Lucy in the Sky to the Supreme Court over the decision not to have lead actress Natalie Portman wear a diaper in the movie. Lucy is inspired by the true story of Lisa Nowak, an astronaut who allegedly wore a diaper to minimize pit stops during a long road trip she took to confront a former lover. When the movie premiered at the Toronto International Film Festival and it was revealed that no diapers made it into the story on screen, a backlash (of sorts) was born. Portman is aware of this, and she has explained to the Los Angeles Times why this one detail everyone is so fixated on got left out of her movie. Addressing "the diaper sadness," the actress said it was "the most salient, tabloid-y detail" of Nowak's story, and therefore including it would have too closely linked the real person to the fictional one. Portman wasn't playing Lucy Nowak. She was playing Lucy Cola, so they didn't want to more fully imply she was portraying this actual human being.
"It was an interesting detail, because it was something that seemed so radical to all of us listening to it," Portman told the LAT. "But actually it's part of an astronaut's life. They wear diapers the whole time because that's what you do in space. It's not like it would be an unusual choice. It seems a lot nuttier if that's not something you do every day. But I guess I still have a diaper movie in my future to fulfill everyone's expectations." Well there you go, Natalie. You've put "a diaper movie" on the record for fans, so be prepared to follow through. Unless you want to see us in front of the Supreme Court.