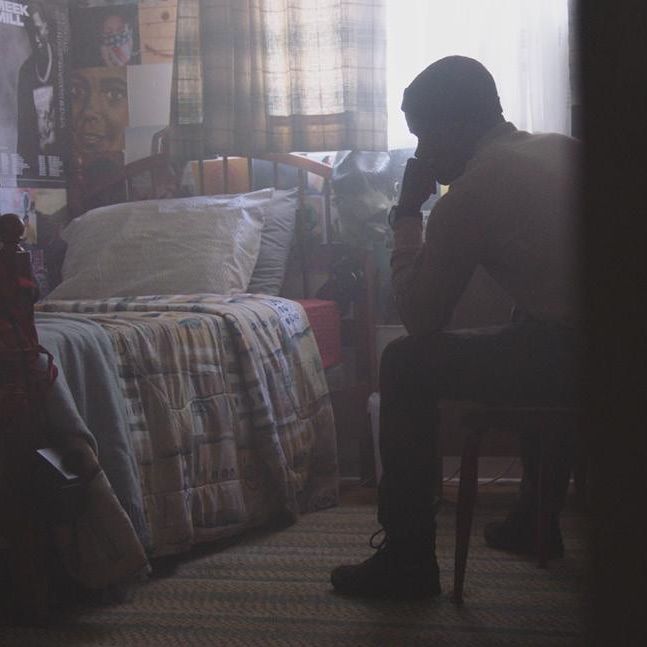 A still from Nate Parker's
American Skin
, which premiered at Venice Film Festival on Sunday.
Photo: Courtesy of Venice Film Festival
"You're a part of history," Spike Lee told a sold-out screening at the Venice Film Festival on Sunday. "40 years from now you can say you were here."
The filmmaker's hyperbole wan't surprising, but the fact that he was talking about Nate Parker's American Skin was. In 2016, Parker's Birth of a Nation premiered at another film festival, Sundance, as an early awards contender. Then details of rape allegations from his college years resurfaced. He and his co-writing partner on the film, Jean Celestine, were charged with rape, though Parker was later acquitted and Celestine was convicted. Birth of a Nation tanked at the box office, and not much has been heard from Parker since.
That changed with American Skin, which was added to the Venice lineup as a Special Screening. Spike Lee both produced and presented the film, about a black man whose 14-year-old son is killed by a police officer. "We shot this movie in April, with some sense of urgency," Parker told the crowd. "We needed to get this thing out there and maybe save lives."
Parker stars as Lincoln Jefferson (yes, Lincoln Jefferson), an ex-Marine and working-class father raising his son, K.J. After they're pulled over late one night, Lincoln's life is forever altered by the desperate actions of a police officer (Beau Knapp) who shoots and kills an unarmed K.J. In the wake of the tragedy, a 20-something student filmmaker, Jordin (Shane Paul McGhie), asks to follow Lincoln in his quest for legal justice. When it turns out to be in short supply, Lincoln takes a police station hostage and stages his own forced version of a trial for the offending officer. The result is a half-hearted retread of 12 Angry Men. Each character serves as a mouthpiece for Parker's stilted script — to the point where some finish each other's sentences as they discuss everything from race and class to education and violence in America.
Parker's gambit about victims of a corrupt criminal-justice system more than hints at the director's perspective on his real-life tribulations. In this way, it seems like a pointed protective decision for Lee to travel to Venice, where Parker addressed his refusal to apologize or speak about his charge and eventual acquittal for rape. 'Three years ago I was pretty tone-deaf to the realities of certain situations that were happening in the climate," he said. "And I've had a lot of time to think about that, and I've learned a lot from it. And being tone-deaf, there were a lot of people that were hurt in my response, in the way I approached things. I apologize to those people."