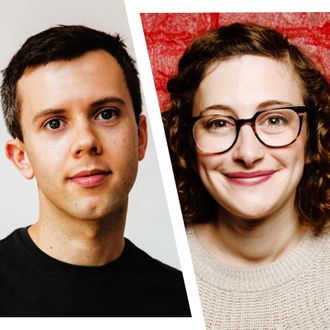 Cole Escola and Jo Firestone.
Photo: Cole Escola and Jo Firestone.
Thanks to new president (and former head of Seeso) Evan Shapiro, the National Lampoon brand is getting a facelift this year, and the most exciting new project to come out of it yet is the relaunch of The National Lampoon Radio Hour in podcast form. The original comedy radio show ran from 1973-1974 and featured comedy legends like John Belushi, Gilda Radner, Harold Ramis, Christopher Guest, Michael O'Donoghue, and Bill Murray, and now the Lampoon is teaming up with the Forever Dog podcast network to bring it back to the world. And the lineup of writers and performers is very, very promising.
Comedian and Difficult People alum Cole Escola has already signed on to perform and serve as head writer on the podcast alongside stand-up Jo Firestone, who will perform and also serve as senior writer. Joining them will be an impressive lineup of comedians from the New York alt-comedy scene: Rachel Pegram, Brett Davis, Maeve Higgins, Alex English, Lorelei Ramirez, Megan Stalter, Aaron Jackson, and Martin Urbano. The half-hour podcast will launch on Forever Dog sometime later this year ahead of National Lampoon's 50th anniversary in 2020.
"Two generations ago, National Lampoon brought together a group of hungry, talented comedy geniuses to create a radio sketch show. That group became the core of SNL's legendary cast and writers, and some of the greatest comedic minds that ever lived," Shapiro said of the news. "I can say with all confidence, this new cast deserves the mantle those talents created. The new show will be every bit as dangerous and subversive as the original … and far easier to get."
"Much as the original cast did in '73, we want the new generation of Radio Hour performers to modernize the sketch format and build a show that delivers for today's incredibly savvy and engaged audiences," Forever Dog co-founders Brett Boham, Joe Cilio, and Alex Ramsey said in a statement. "There may not be a group of people on planet Earth better equipped for that task than the team we've assembled here."
Escola also threw in a statement of his own: "We've all worked together in various capacities over the years. It's never resulted in good work, but we're hoping this time will be different."