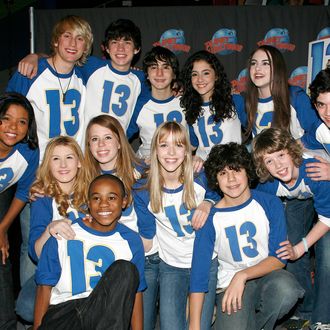 Ari and the rest of the Broadway cast of
13
in 2008.
Photo: Walter McBride/Corbis via Getty Images
Okay, Ariana Grande is not "morally obligated" to guest star in Netflix's upcoming adaptation of the musical that launched her career, so much as she "seems like the kind of person who would do something fun like that." Hopefully Grande's Victorious co-star Elizabeth Gillies feels the same way, as both performers made their professional debut in the 2008 Broadway production of 13, the first and only Broadway musical to feature an all-teen cast and band. According to the show's composer and lyricist, Jason Robert Brown, an adaptation of the musical, written by 13 co-writer Robert Horn and directed by Tamra Davis, is headed to Netflix.
For those who missed this part of the aughts, 13 follows tween Evan Goldman as he moves from New York to Indiana, deals with his parents' divorce, struggles to make new friends, prepares for his bar mitzvah and — if they can figure out how to pull it off — has a tween heart attack when Ariana Grande shows up at his party or something.