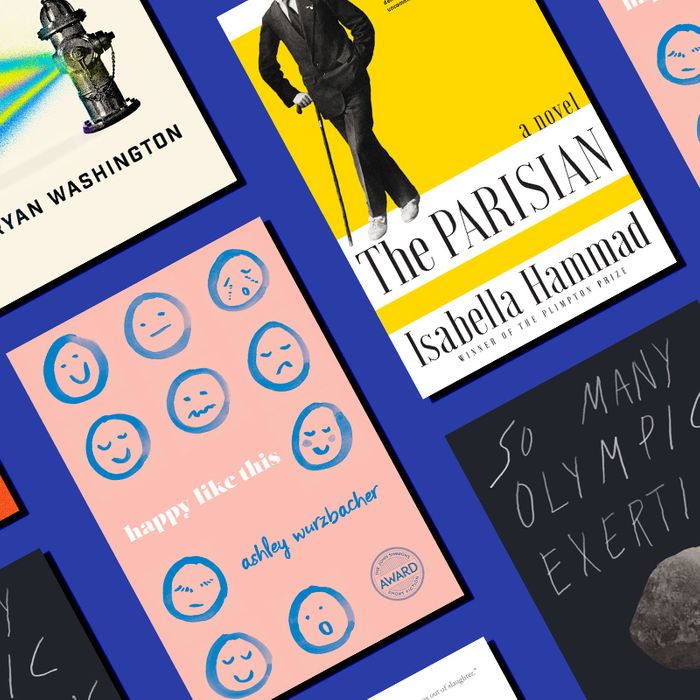 Vulture is excited to announce the National Book Foundation's "5 Under 35" list for 2019. The list, released annually during the foundation's run-up to November's prestigious National Book Awards, recognizes "five fiction writers under the age of 35 whose debut work promises to leave a lasting impression on the literary landscape." Each honoree was selected by a writer previously honored by the foundation. (Which is to say these are highly praised authors offering high praise for authors who will be getting a lot more in the future.) "Our 2019 5 Under 35 honorees are new authors of extraordinary promise, but their debut books are remarkable achievements for writers at any stage of their career," said David Steinberger, chairman of the National Book Foundation's board of directors.
On this year's list, which consists of three novels and two short-story collections, you'll find stories about Houston, Texas, and unconventional women pursuing happiness; stories about politics, LGBTQ issues, and addiction; a work of autofiction about life in the wake of a suicide; the imagined life of a young man in post-WWI Palestine and a fictionalized autobiography of a half-Swedish, half-American teacher working with refugees. Here are the honored up-and-comers:
Honoree: Anelise Chen, So Many Olympic Exertions
Description: Part memoir, part sports writing, part self-help book, So Many Olympic Exertions tells the story of a graduate student, Athena Chen, who has recently learned a friend has died by suicide and the emotional journey that follows.
Chen on writing autofiction: "I think I was suffering from what others have called novel nausea, or the sudden inability to read 'made up' stuff. I was drawn to two things at the time: watching sports and reading diaries. SMOE was the weird slurry that resulted from what I was consuming back then. A diary is this raw, unfiltered space, and you can be there in real time with a mind as it struggles to process something, some event that just occurred, some idea, some ungraspable emotion. That struggle really interests me. Then I started noticing that there was a natural pattern and flow to these diaries, how there were 'conventions' to the form as well. I'm still interested in blending fact and fiction. I wrote something resembling a fake diary with SMOE, but my next book will probably be an autobiography written as a fairy tale."
Selected by: Dana Spiotta, 2006 National Book Awards finalist for Fiction
Who picked it because: "Anelise Chen writes with gorgeous precision and brilliant wit. Her elliptical, subversive, and stylish novel builds moments of doubt and failure into something beautiful: a modern (but tender and true) rendering of our human condition."
Honoree: Isabella Hammad, The Parisian
Description: Midhat Kamal leaves his Palestinian home in 1914 for France to study medicine during WWI. When he returns, he finds his native land, now under British command, and his life have been forever changed.
Hammad on her work's relevance in 2019: "The book depicts Palestine before 1948, following the lives of ordinary people living in Nablus under Ottoman and British rule, and the beginning of the Palestinian struggle for freedom. So it has a very specific resonance for the present day in the sense that this struggle is ongoing. But it's also a personal story about one particular man, and, I hope, speaks more broadly of the importance, for Palestinians as for everyone, of storytelling for survival — as individuals, in our communities — and the trouble we run into when the bits don't seem to fit together, or when we have no one to tell, or when no one seems to be listening."
Selected by: Viet Thanh Nguyen, 2016 National Book Awards finalist for Nonfiction
Honoree: Johannes Lichtman, Such Good Work
Description: Jonas Anderson is a 28-year-old teacher who moves to Sweden for both his work and his sobriety, launching a novel about addiction and the refugee crisis. The New Yorker describes Such Good Work as "wary of affectation or grandstanding; it works small, as if from a sense of modesty, a reluctance to presume; it cuts sincerity with the driest of humor."
Lichtman on writing about addiction: "I wanted it to be an all-consuming problem that the narrator had to deal with before he could be consumed by more interesting problems. It was an obstacle to be overcome, but it was never meant to be the focus of the book. Addiction itself is pretty boring. Jade Sharma, who sadly passed away earlier this year, starts out her novel Problems — one of the best portrayals of addiction I've read — with the line, 'Somewhere along the way, there stopped being new days.' Which sums it up pretty well. Breaking out of addiction, and the things that can happen when it stops being the most important thing in a person's life, can be very un-boring."
Selected by: Garth Greenwell, 2016 National Book Awards Longlist for Fiction
Who picked it because: "Jonas, the protagonist, is young, smart, wounded, and desperate to do good, which is as perfect a recipe for disaster as I can think of. The book is better on what it means to engage meaningfully with the world than anything else I've read in recent years: like the good liberal he is, Jonas sees through his own pretensions and is aware of all the ways in which any engagement he can imagine will be problematic. And then, instead of withering into cynicism or inaction, he does the very best he can. Such Good Work is one of the best — one of the most beautifully written, one of the most thoughtful — novels I've read in the past several years."
Honoree: Bryan Washington, Lot: Stories
Description: A collection of stories that, according to NPR, "paints an unforgettable picture of Houston and the people who call it home."
Washington on writing when a city is a central character: "I probably sound like a broken record at this point, but it'd be impossible for any one person to offer a comprehensive look at Houston. We're the most diverse city in the States, so that's just not happening. Nor would I want it to. But what I think you can do — and what I'm trying to do — is attempt to show very specific experiences of the city through the eyes of very particular folks; and the first step to that, I think, is making them human, and giving them humanity, with their respective hopes and dreams and losses and pleasures. Because that's what will determine their experience in this city, with all of its ceilings and all of its lows. And that's pretty fucking difficult enough, at least for me — but loads of fun, too."
Selected by: Nafissa Thompson-Spires, 2018 National Book Awards Longlist for Fiction
Who picked it because: "The stories devastated me — scalpel sharp, impeccably paced, and devastating, they announce, with ferocity, the writer's dual talents of incisive observation and deep empathy."
Honoree: Ashley Wurzbacher, Happy Like This
Description: Ten stories exploring the lives of women, from dancers to plant physiologists, who are living their somewhat unconventional lives and looking for happiness. (Spoiler: They do not all find it.)
Wurzbacher on writing about women: "I've been as swept away by love for other women — maybe more so — as I have for any man. It's a love that's as intellectually intriguing to me as it is emotionally rewarding. There has always seemed to be something at the core of that love that's deeper and more mysterious than romantic love, and that 'something' is part of what I explore in the stories in Happy Like This. Many of my characters feel uncertain what they're 'supposed' to be doing with themselves and their lives, they feel burdened by the weight of their choices, and their uncertainty drives them toward other women who seem to have figured things out and found some form of happiness. They fall in a kind of love with each other. They try to understand and respect both other women's choices and their own, and sometimes they succeed and sometimes they fail in that effort. Perhaps what matters is that they bother to make the effort at all."
Selected by: Brandon Hobson, 2018 National Book Awards finalist for Fiction
Who picked it because: "Happy Like This, is an intelligent and moving glimpse into the lives of women searching for happiness. Each story pulses with electric writing, often humorous, but always full of authenticity and compassion. I can't wait for people to read this book."