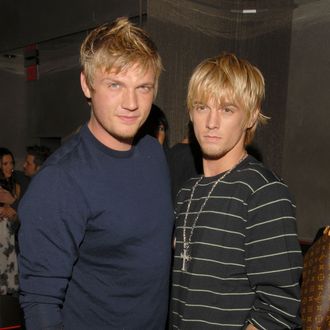 Nick and Aaron Carter in 2006.
Photo: Mark Sullivan/WireImage
The Carter brothers, Aaron and Nick, don't get along very well, but the Backstreet Boys singer said today on Twitter that the courts are about to get involved. Nick and his sister Angel are apparently seeking restraining orders against Aaron, who Nick says "harbors thoughts and intentions of killing my wife and unborn child." The tweet — which included the hashtags "mentalhealth" and "guncontrol" — comes about a week after Aaron went on a since-deleted Twitter spree calling out his brother for withholding his son from meeting Aaron and for apparently sensitive disclosures Nick made about the Carter family in his book. Below is the restraining order tweet from Nick.
Aaron responded with tweets of his own, saying he hadn't seen his older brother in four years and that they are now "done for life." Aaron also recently said on the show The Doctors that he is soon to inherit 500 guns from his deceased father, which might have something to do with Nick bringing up gun control with the restraining-order news.