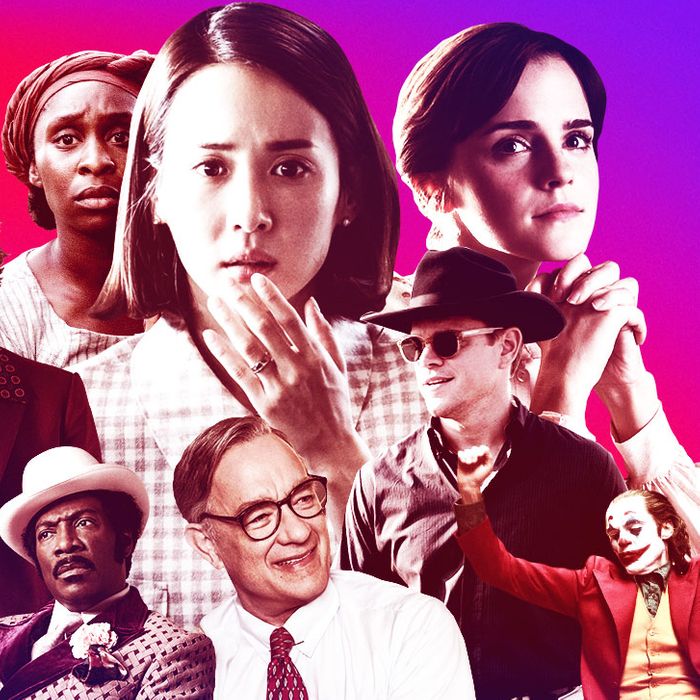 Clockwise from left:
The Report, Pain and Glory, Harriet, Parasite, Little Women, Joker, Ford v Ferrari, A Beautiful Day in the Neighborhood, Dolemite Is My Name
.
Photo-Illustration: Vulture and Photos Courtesy of Studios
Last August, the Academy's Twitter account announced three forthcoming changes to the Oscars ceremony. (1) There would be a brand-new category called Best Popular Film. (2) To keep the show from running over, certain categories would be presented during commercial breaks. And (3) the 2020 ceremony would air on February 9, about three weeks earlier than usual. You remember what happened to the first two — months of public outcry that culminated in a shamed Academy sadly placing each failed innovation back into the desk drawer from which it came. But the third is still with us, at least for now. (The ceremony will be back in late February for 2021.) Which means that, for one year only, every piece of the awards-season apparatus has had to adjust its schedule to the new Oscars date as well. It's like training for a 5K, then trying the run the sprints.
How will the abbreviated season affect this year's race? As with all Oscar predictions, it's hard to tell for sure until we get there, but from talking to a handful of awards insiders, I've tried to get a sense of how this particular hurdle will affect 2019's contenders. The primary takeaway? "It's going to be tough," says one awards strategist. "The schedule's just a lot more grueling."
"I think we'll find out quicker whether something's a contender or not," says another insider. One key date to watch is the Governors Awards, when the industry reconvenes in Los Angeles to honor the living legends who will be receiving honorary Oscars. This is when much of the behind-the-scenes talent wrangling occurs — roundtables, big magazine interviews, voter meet and greets — and this year they're happening in late October. That's eight weeks away. If you're not on the board by then, beware.
Past Oscar years have seen a handful of films, like Vice or Phantom Thread, successfully stage a late entrance to the race. (Incidentally, that sentence will also be the last time those two films are ever mentioned together.) But with a shorter late-season runway, trying to sneak into the last month looks like a riskier move. "I wouldn't go past mid-December," says one of our strategists. "You've got a lot of people who need to see your movie." Since they typically need every week of the season to gain momentum, smaller films, too, may be at a disadvantage. And no matter the size, campaigns with their eyes on Oscar gold will have to make doubly sure their logistics are in top shape; a screener snafu like the one that struck Selma could be even more fatal this year.
In theory, the shortened calendar should also give a leg up to films that hit theaters before the crammed fall season, which comparatively have had all the time in the world to find their message. However, speaking to industry sources, this doesn't appear to be a year like 2017, which saw multiple Best Picture nominees bow early. Of 2019's crop, the only pre-fall movie that seems sure to make a big Oscar splash is Quentin Tarantino's Once Upon a Time in Hollywood, which many observers are already penciling in for a Best Picture nomination. (More on that film later.) Past seasons have seen numerous early Oscar front-runners falter under the crush of a backlash. In a shorter race, is bursting out of the gate a safer play?
Absent a bevy of strong contenders from the spring and summer, the fall festival season becomes even more important. Like a cinematic version of Captain Planet, the programmers at Venice (water), Telluride (earth), and Toronto (heart) combine their powers to make the planet safe for thoughtful, adult pictures throughout the waning months of the year. With Telluride wrapping up last weekend, Venice still in full swing, and TIFF set to begin, which movies are coming into this shortened season with the most heat? Here's a very early guide to this year's field.
Best Picture
Let us begin, as this Oscar season did, with Tarantino. As one veteran strategist put it to me, on paper Once Upon a Time in Hollywood would seem to have everything the Academy enjoys in pictures — it's a movie about the power of movies and a stunningly authentic period piece and a star vehicle for a trio of beloved actors and a singular effort from an A-list director, who by the way has never won Best Picture. Bradley Cooper's Oscar could tell you that awards are not won on paper, but at the very least Once Upon a Time seems like a formidable contender. Of the rest of the movies that mainstream audiences have actually seen, the only other name I've heard bandied about is The Farewell, which has been stacking up pristine Rotten Tomatoes scores and Avengers-level per-theater averages in its platform release. But to have a shot at breaking through, that tiny family dramedy might have to hope that most of the fall's ostensible Best Picture contenders flame out on arrival. It could happen!
What will it take to win Best Picture in 2020? The past few winners have all sold themselves on political resonance, and with this year's home stretch overlapping with the Iowa caucuses, the traumas of the Trump era seem poised to define the race once again. Marielle Heller's Mr. Rogers biopic A Beautiful Day in the Neighborhood, which sees Tom Hanks step into the iconic red cardigan, may work like cinematic Klonopin on anxious liberals, while Todd Phillips's Joker, a portrait of the supervillain as the original incel, already seems poised to spark arguments about whether it's a critique of violent male entitlement or a fantasy of it. Jay Roach's Bombshell, following the women of Fox News in the waning days of Roger Ailes's reign, should test whether lefty audiences are ready to feel sympathy for Megyn Kelly again. There's also the fact-based political drama The Report, starring Adam Driver as an idealistic congressional aide hoping to expose Bush-era torture; the fact-based legal drama Just Mercy, starring Michael B. Jordan as an idealistic lawyer defending Jamie Foxx on death row; and the fact-based stripper drama Hustlers, starring Jennifer Lopez and Constance Wu as idealistic dancers passionate about issues of income inequality.
Like a Silicon Valley Regina George, Netflix arouses equal parts fear and envy in its rivals, and a year after coming thiiis close to winning Best Picture with Roma, the streamer will try to finally take home the trophy with the new crop of A-list filmmakers it's lured away from the multiplex. The app's hot new thing is Martin Scorsese, whose crime drama The Irishman features innovative de-aging technology on stars Robert De Niro, Al Pacino, and Joe Pesci, and which will premiere at the New York Film Festival before its limited release in theaters. Also in the fold are Noah Baumbach, whose his-and-hers divorce movie Marriage Story is being pegged as the best of his career; Steven Soderbergh, back with the zany Panama Papers exposé The Laundromat; and City of God director Fernando Meirelles, whose gentle Vatican two-hander The Two Popes wrung a surprising amount of laughs from audiences at Telluride.
With the Academy's expanding membership, another class of film will be hoping that the concept of "Oscar movie" expands accordingly. Joker is sure to inspire plenty of debate on this front, and I'm also curious to see if the industry goes for critics' faves like Taika Waititi's Jojo Rabbit, a wild satire set in Nazi Germany, and Korean Palme d'Or winner Parasite, a merciless black comedy about social climbers from Snowpiercer director Bong Joon-ho. With the Adam Sandler-led Uncut Gems, the Safdie brothers are trying to make the leap for Indie Spirit darlings to major award players. And Telluride saw the season's first festival surprise, as Trey Edward Shults's Waves, a two-act teen drama that's garnering comparisons to Moonlight and Euphoria, burst unexpectedly onto the scene, with some critics calling it the best film they'd seen all year.
More traditional Oscar fare includes Ford v Ferrari, a macho auto-racing drama that feels like the type of movie that used to compete for trophies in the '90s (in a good way!), literary adaptations The Goldfinch and Motherless Brooklyn, Todd Haynes's environmental drama Dark Waters, and this year's sad-dad-astronaut movie Ad Astra. In the world of costume drama, Eddie Redmayne and Felicity Jones reteam for the Victorian hot-air-balloon survival epic The Aeronauts, and every other British actor will reunite for the Downton Abbey movie. Holdovers from Cannes include Terence Malik's religious drama A Hidden Life, Céline Sciamma's French period piece Portrait of a Lady on Fire, and Pedro Almodóvar's semi-autobiographical Pain and Glory. All lost out to Parasite at the Croisette, but each has elements — Nazis, 18th-century lesbian romance, Spanish-language directors revisiting their youths — that have traditionally appealed to Oscar voters in the past. Could results differ once voting expands beyond the French Riviera?
Finally, unspooked by this year's accelerated calendar, a few high-profile films are set to make a splash later in the year. Bombshell is arriving December 20, and Christmas brings two more gifts: Greta Gerwig's star-studded Little Women seems to have already won over the coveted Online Millennial demographic, while their dads may flock instead to Sam Mendes's 1917, which is looking to do for World War I Belgium what Dunkirk did for World War II Belgium. And if you want to get really out there with your predictions, the last month of the year also sees Star Wars: The Rise of Skywalker, which may receive a sprinkling of that Return of the King magic, as well as Cats, an utter monstrosity that I am sure will nevertheless pick up at least one nomination. Meow, meow, meow!
Best Director
Last season the increasingly global makeup of the Academy's directing branch wasted no time making its presence known: European auteurs Yorgos Lanthimos and Paweł Pawlikowski made the cut over more familiar American names, and Mexico's Alfonso Cuarón eventually won the whole thing. That result has sparked a glimmer of hope that Parasite's Bong Joon-ho could make his way into this year's directing race, but he'll have fierce competition from some of the leading lights of American cinema. Of the swirl of possible nominations for Once Upon a Time, Quentin Tarantino might be due for some career-achievement honors — he's been nominated in this category twice before, but his only Oscar wins have come in Screenplay. Martin Scorsese has received more Best Director nods than any other living director, and after a snub for his tortured-missionary epic Silence, The Irishman sees him return to the familiar world of ultraviolent wiseguys. And following one of his periodic stints tinkering in his laboratory of micro-budget film, Steven Soderbergh has returned to working with movie stars again with The Laundromat, though that globe-trotting satire about international money laundering has been earning mixed reviews at Venice.
That's two past winners in this category. Throw in a third, Sam Mendes, whose 1917 fits into a long line of technically audacious war films that have scored with the Directors Branch, plus a fourth — Tom Hooper, of Cats! Then there are the past nominees hoping to make it to the podium for the first time. Pedro Almodóvar's valedictory Pain and Glory serves as a fitting capstone to his four-decade career. Greta Gerwig of Little Women somehow signed up not just the cast of Lady Bird again but also half of HBO's stable, too. The Two Popes' Fernando Meirelles is rebounding after a few years in the wilderness. Terrence Malick will try to get through the season without making a single public appearance.
Marriage Story's Noah Baumbach and Ford v Ferrari's James Mangold may be poised to take the leap from screenplay nominee to certified Oscar-nominated director, and while Baumbach might not be the filmmaker you'd immediately picture on the Oscar trail, I've heard that this year he'll be a ready and willing campaigner for his very personal film. (That Gerwig and Baumbach happen to be a couple is one of the race's most delicious coincidences.) Voters who were struck by the crooked wit of The Favourite may flock to Jojo Rabbit's Taika Waititi, possibly the only director in Hollywood who would cast himself as Hitler. (Though I could see Tarantino considering it.) If the career of Adam McKay tells us anything, it's that even the silliest Hollywood screenwriters harbor dreams of making art that's really saying something, man, which could pay dividends for former funnymen like Todd Phillips of The Hangover and Joker, and Jay Roach of Meet the Parents and Bombshell. And if Waves has legs, 30-year-old Trey Edward Shults could dethrone Damien Chazelle as the youngest Best Director winner in Oscar history.
Finally, you can't talk about this race without mentioning the Directors Branch's shameful history of overlooking female filmmakers, one of which tends to get thrown a nomination every eight years or so. But just as Charlie Brown thought that this time he'd surely kick that football, this season seems like it really should see plenty of female contenders. Besides Gerwig, the rare woman already let into the clubhouse, there's also Marielle Heller, who looks to have turned in her biggest, most accessible effort yet with A Beautiful Day in the Neighborhood, and Lulu Wang of The Farewell, who comes into the season with the year's best story. (The movie is based on her actual family.) "People want to champion female filmmakers," one strategist told me, but that excitement belies a frustrating point: For a female director to crack the lineup, she often has to be her season's lone standard-bearer. Here's hoping this is the year that pattern changes.
Best Actor
After a few weak years, the 2019 Best Actor race is shaping up to be particularly competitive, with one strategist characterizing it as "a nightmare." Cannes Best Actor winner Antonio Banderas is expected to campaign with zeal for his moving turn as the aging Almodóvar stand-in in Pain and Glory. (Banderas has never been nominated, which should only add to his efforts.) In Joker Joaquin Phoenix is inheriting the only superhero-movie role ever to win an acting Oscar. Reports from Venice say the thrice-nominated Phoenix is doing the most acting — in the words of Time's Stephanie Zacharek, "He leaves you wanting to start him a GoFundMe, so he won't have to pour so much sweat into his job again" — which may be catnip for an Academy that has recently gravitated toward showiness in this category. Either way, have fun imagining a future where the part of the Joker becomes the next Elizabeth I. It's closer than you think.
Venice also saw major plaudits for Brad Pitt's turn as a taciturn astronaut in Ad Astra, though after what happened with Ryan Gosling in First Man last year, some observers are waiting to see how that film does at the box office before saving a spot in their predictions. Fresh off his victory for The Revenant, Pitt's Once Upon a Time in Hollywood co-star Leonardo DiCaprio is another popular choice to make the cut, though fair warning: After taking home their own long-awaited Oscars, winners like Susan Sarandon and Julianne Moore have struggled to get nominated again. (When he's inevitably nominated, feel free to make fun of me for assuming that a rule that governs actresses over 40 would also apply to DiCaprio.)
A safer path is playing a real-life person, which four of last year's nominees did, as did six of the last seven winners. On that front we have never-nominated Jonathan Pryce as Pope Francis in The Two Popes, Eddie Murphy on the comeback trail as a blaxploitation pioneer in Dolemite Is My Name, Robert De Niro searching for his eighth nomination as the titular mob assassin in The Irishman, and Just Mercy's Michael B. Jordan looking to make the cut after a couple of near misses, plus Taron Egerton singing his heart out in Rocketman. ("They're going to try to charm his way in and perform everywhere he can," says one strategist.) Ford v Ferrari brings a pair of contenders in Christian Bale and Matt Damon, neither of whom is playing Ford or Ferrari. I'm told no decision has yet been made regarding who will run where, but Bale's freewheeling race-car driver seems a likely candidate to end up in lead. Given the strength of this field, I've seen speculation that A Beautiful Day in the Neighborhood's Tom Hanks may choose to run in the lesser category as well, which seems curious given Hanks's prominent place in the film's marketing. We'll have to wait for the Mr. Rogers biopic to premiere at TIFF before knowing whether that would be an accurate assessment or shameless category fraud.
Then there's Adam Driver, who will be faced with a big decision sometime soon. His performance as a dogged investigator in Amazon's The Report got excellent reviews at Sundance, and now, his turn as Baumbach's avatar in Netflix's Marriage Story is generating similar excitement at Venice and Telluride. In the Champagne version of a problem faced by many consumers, he'll have to eventually choose which streaming service's Oscar vehicle to back. Pundits tend to be assuming Marriage Story is Driver's stronger play (he gets a musical number!) though that could change if enough voters disagree.
If you're looking for a dark horse, consider these. After turning Robert Pattinson into a Queens lowlife in Good Time, the Safdie brothers have transformed Adam Sandler into a scuzzy jeweler for A24's Uncut Gems. The disorienting caper flick saw some walkouts at Telluride, but those who stayed are calling it the actor's best work since Punch-Drunk Love. (Sandler's tolerance for promo is famously low, but he did do a bit of campaigning two years ago on Meyerowitz Stories.) Expect Dark Waters's Mark Ruffalo to be a formidable campaigner for the Erin Brockovich–style drama — the man loves talking about the environment the way most people love talking about themselves. Another late arrival could be Daniel Kaluuya of the crime romance Queen & Slim, which is set to debut at AFI Fest in November. The British actor made a surprise entrance to this race two years ago — could he do it twice in three years? If so, I'll consider it a fitting justice for his Widows snub.
Best Actress
You can't spell "putative Best Actress contender" without B-I-O-P-I-C, and this fall brings an entire nonfiction section's worth. In first names, we've got Judy (as in Garland) played by Renée Zellweger, and Harriet (as in Tubman) played by Cynthia Erivo. The former was treated to a career-recognition tribute at Telluride, and went on to garner fantastic reviews: As Entertainment Weekly's Leah Greenblatt put it, the actress "doesn't just play the Wizard of Oz actress in the last year of her life; she makes it feel like a full-body possession." The film itself seems less beloved, but opinions vary on how much that matters in this category. Charlize Theron's transformation into Megyn Kelly turned heads in the Bombshell trailer (her makeup was done by Kazuhiro Tsuji, the same guy who turned Gary Oldman into Winston Churchill), and Theron is expected to be a passionate pitchwoman for the Fox News sexual-harassment drama. And judging by the trailer, Natalie Portman is returning to the world of strong accent choices for Noah Hawley's astronaut fantasia Lucy in the Sky, loosely based on the real-life tale of Lisa Nowak. (TIFF will tell if Hawley kept in Nowak's infamous diaper.)
Saoirse Ronan earns Oscar nominations as easily as you and I tie our shoes, but a win has so far eluded her. The Irish actress was caught in Frances McDormand's wake two years ago, but a reunion with her Lady Bird director Greta Gerwig on Little Women could provide a chance to finally take home that trophy. Four-time Golden Globe nominee Scarlett Johansson is still looking for her first shot with Oscar, and in Marriage Story she's earning the best reviews of her career. Says THR's Jon Frosch: "The actress makes you feel the clashing impulses and instincts — anger and longing, defiance and guilt, boldness and trepidation — in every step." Johansson has had a tough go of it on the promo circuit recently, but as we saw with Green Book, sometimes becoming an internet punching bag can only make voters like you more.
Most Sundance dramas choose to bow in the spring or summer, but Neon is holding the U.S. Grand Jury winner Clemency, starring Alfre Woodard as a morally conflicted death-row prison warden, until late December. For Woodard, who's got a single nomination for 1983's Cross Creek to her name, a career honor may be in play, though the small film will be swimming upstream in this shortened season. Awkwafina of The Farewell has more time to get on voters' radars, as well as the chance to become the first Asian-American woman nominated in this category. We always say that Oscar loves an ingenue, and this season brings newcomer Jodie Turner-Smith, a British model who may break out next to Kaluuya in Queen & Slim, as well as The Aeronauts' Felicity Jones, returning to the "inspirational historical Brits" lane that got her a nomination for The Theory of Everything.
No Oscars preview would be complete without at least one paragraph to Meryl Streep, who's at the center of The Laundromat as a widow trying to unravel a web of international shell companies. Accounts from Venice say the film is one of Soderbergh's lighter efforts, closer to The Informant! than Traffic, but considering Streep has recently been able to get nods for the likes of August: Osage County and Florence Foster Jenkins, I'm not sure if that will hurt her chances at a 22nd nomination. I want to see that bucket hat in an Oscars montage!
Best Supporting Actor
At this early date, most categories don't have anything approaching a front-runner, but pundits seem slightly more comfortable projecting Once Upon a Time in Hollywood's Brad Pitt as the early leader here. (The movie's team hasn't officially announced which of its leading men will run where, but Pitt going Supporting feels like a safe assumption.) Like his director, the 55-year-old actor has never won an Oscar for his main job — he got one for producing 12 Years a Slave — and the role of ultracapable stuntman Cliff Booth sees him employ the full force of that movie-star charisma. It'll be hard to bet against him, unless Ad Astra ends up splitting the pro-Pitt vote.
After Pitt, the field gets a little more muddled. Tom Hanks of A Beautiful Day in the Neighborhood may end up here, as might Matt Damon of Ford v Ferrari. The Irishman seems likely to bring a pair of supporting-actor contenders: Joe Pesci, an old Scorsese stalwart making his first film appearance since 2010, and Al Pacino, working with the director for the very first time. Alan Alda and Ray Liotta are both earning buzz as Driver's attorneys in Marriage Story, though it's unclear yet which will get the push. And if anyone pops from Waves, it will probably be the film's stern patriarch Sterling K. Brown, who seems to spend roughly 15 percent of his waking life standing at awards podiums.
As an innocent man on death row, Just Mercy's Jamie Foxx has the makings of a classic Oscar role. Anthony Hopkins reportedly brings warmth and humor to the role of Pope Benedict XVI in The Two Popes, which is another sentence I never thought I'd type. In Bombshell, John Lithgow is putting his Roger Ailes impression up against Russell Crowe's, while Taika Waititi is hoping for the rare directing-acting nomination combo for playing an even more terrible man, Adolf Hitler, in Jojo Rabbit. (It's actually an imaginary Hitler, but who's counting?) He'll have competition from co-star Sam Rockwell, who's looking to go three in a row in this category, this time as an actual Nazi. While we're talking weird movies, I suspect that Robert Eggers's The Lighthouse might be too bizarre for most Oscar voters, but the film's strongest contender is probably Willem Dafoe as the older and more grizzled of the film's two masturbating lighthouse keepers.
Best Supporting Actress
Finally, we come to a category so unsettled that some Gold Derby predictors have only listed three entrants. A wide-open field is good news for Annette Bening, who got great reviews at Sundance for her performance as Dianne Feinstein in The Report. Bening has been nominated four times without a win, and she and her wig are both wonderful in the film, though I wonder if Californians' waning enthusiasm for the real Feinstein may come into play.
I've heard that Laura Dern is a hoot as Johansson's lawyer in Marriage Story, and the extremely GIF-able actress is also one of the many possible contenders for Little Women, though I'm hearing that the ensemble's standouts are Meryl Streep and Florence Pugh (who, after Midsommar, really deserves some awards-season pampering). Bombshell has an equally stacked female cast, with Nicole Kidman as Gretchen Carlson and Margot Robbie as a composite character. Whether Robbie goes harder for that film or her nearly silent Sharon Tate in Once Upon a Time in Hollywood is one of this race's intriguing subplots, though since the actress will be busy shooting the Suicide Squad sequel, she may just leave it up to voters to decide. (Kidman is likewise doing double duty this season, popping up as a nurturing adoptive mother in The Goldfinch, a similar role to the one that earned her a nomination for Lion.)
Mothers do inordinately well in this category — four of the last five winners, in fact — and besides Kidman and Dern, we've also got Scarlett Johansson as a Mutti with a secret in Jojo Rabbit, and Penélope Cruz in flashbacks to the Almodóvar character's youth in Pain and Glory. If daughters are more your thing, consider Anna Paquin, playing De Niro's kid in The Irishman, a character who reportedly romances Pacino's Jimmy Hoffa. How about grandmothers? Maggie Smith won three Emmys for playing the Dowager Countess in Downton Abbey, and sheer force of habit may propel her into the Oscars race as well. And don't count out The Farewell's Nai Nai, Shuzhen Zhou, who could become this year's June Squibb.
At this early date, though, it's more fun to get unpredictable. Could J.Lo nab her first nomination for Hustlers? Could past winners Jennifer Hudson or Judi Dench claw their way into the race for Cats? Could Dark Waters win Anne Hathaway a second trophy, setting off another go-round on the backlash/rebirth cycle? Could Rise of Skywalker's Carrie Fisher get a posthumous nomination for a performance cobbled together from the cutting-room floor? It's September — speak your Oscar dreams into existence!