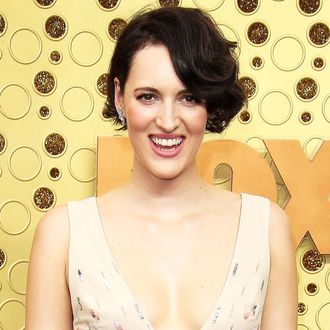 [
Looks directly at bank account.
]
Photo: Dan MacMedan/WireImage
It's the inspiring underdog story of a woman who created a little one-woman show that became an acclaimed television show that had an even-more acclaimed second season that won six Emmys that led to massive payout (for this narrative to work, you'd have to ignore the fact that the woman in question came from a comfortable background and, you know, went to RADA). Anyway, Phoebe Waller-Bridge has signed a big overall deal with Amazon Studios that, according to Variety, is worth "around $20 million a year," and means she'll be creating and producing a bunch of new TV that will premiere exclusively on Amazon Prime Video. "I'm insanely excited to be continuing my relationship with Amazon," Waller-Bridge said in a statement. "Working with the team on Fleabag was the creative partnership dreams are made of. It really feels like home. I can't wait to get going!" In addition to Fleabag, Waller-Bridge created BBC America's Killing Eve, has the series Run coming to HBO, and did some work on the next Bond script. In a Hollywood Reporter profile back in August, Waller-Bridge said of overall deals that "you can smell it a mile off when people are just saying, 'We want to pay for your name,' to be associated with their company and then have their own agenda" and that she didn't trust that, but admitted there is certainly "an appeal in not having to meet new people all the time." There is also certainly an appeal in $20 million a year, and on our end, in the idea that, if we're definitely not getting more Fleabag, we're getting some other Waller-Bridge ideas soon.