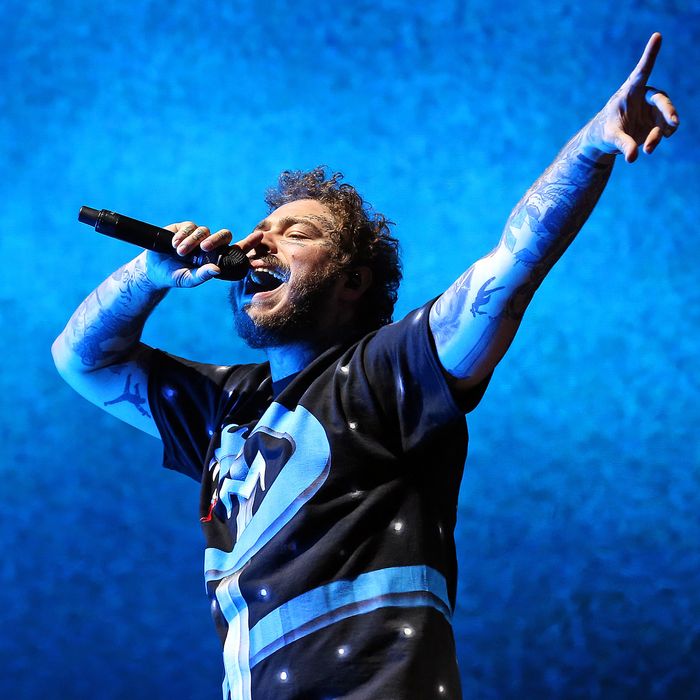 Hollywood's Bleeding
is Post Malone in a fitting room, trying new vibes on for size.
Photo: Simone Joyner/Getty Images
Every Post Malone album serves at least one 100-proof distillation of the New York–via–Texas star's odd standing as a singer-songwriter whose principle building blocks come from trap music but whose tastes suggest that his final destination lies somewhere farther afield. "Broken Whiskey Glass" opens 2016's Stoney on a hangover and a lyric about the painful day after a reckless night out that's closer in spirit to country drinking songs like "Sunday Morning Coming Down" than the pill-and-syrup anthems that count as its contemporaries. Last year, Beerbongs & Bentleys' "Over Now" recruited Mötley Crüe's Tommy Lee for a trip into the atmospheric sorta-rock typified of late by Imagine Dragons and Rag'n'Bone Man, as Post lashed out at people who doubt him, both in relationships and in the public eye. "Broken Whiskey Glass" and "Over Now" punch through party-rap tropes to peek at the motivations behind the drinking and drug use on the surface; it's hard to reconcile the cynicism prevalent in Post Malone's music with the general impression of him as a lighthearted stoner. He's saying something about fame, but we're not all listening.
This month, his third album, Hollywood's Bleeding, repeats the trick: Across a single rapid-fire verse and a melodramatic chorus, "Internet" melts down about leakers, aspiring Instagram models, bad press, and social-media slander, all in the build to a climax where Post sweetly proclaims, "I don't get on the internet no more." It's a page from the Kanye West playbook of public paranoia, the same mix of snark, stress, and holiday-jingle strings that were batteries for "Runaway" and "RoboCop." ("Internet" lists West as a producer, and fans will recognize it as "InstaLove" from the Yandhi leaks, with the placeholder Kanye verse scrubbed.) Post had a close call last summer when two tires blew out of a private Gulfstream jet meant to carry him from Teterboro Airport in New Jersey to Luton in London, forcing the flight to plot an emergency landing in Hudson Valley's Stewart International. Logging onto Twitter to assure fans that he landed, he discovered people wishing he'd crashed. Three weeks later, a Kia T-boned a Rolls-Royce carrying the singer through West Hollywood, after which he got out and tweeted, "God hates me lol." At 24, Post Malone is fortifying a house in northern Utah as an "oasis" from the bloodsucking social scene that soured him on Los Angeles.
Hollywood's Bleeding revisits the fearful mood of Beerbongs tracks like "Paranoid," a song written after Post was informed of a break-in at his old Hollywood home. He Ping-Pongs between stressing over the machinery of fame and having fun in spite of himself. The first half-dozen songs are a gauntlet of parties, worries, and venting sessions about toxic relationships. One minute, it's celebrating the spoils of hard work in "Saint-Tropez," and the next, it's linking with North Carolina sensation DaBaby for "Enemies," a passive-aggressive jab at backstabbing friends that's sort of like a Bro Code version of Beyoncé's "Sorry." (DaBaby steals the show as usual: "Friends are like the autumn / Every year they leaving / And I'ma rake 'em in a pile, throw 'em in a bag / Tie them bitches up and leave 'em.") There's wistful notes in even the upbeat songs; divorced from the vivid, psychedelic colors of Into the Spider-Verse, soundtrack staple "Sunflower"'s words about overcoming trust and compatibility issues stand out as much as the melodies.
"Sunflower" exemplifies Hollywood's Bleeding's approach to genre. The album rearranges shards of rap, rock, punk, and dance music into its own images. There's peppy pop-rock confections and standard trap collaborations, nods to hip-hop–soul and to house music. Post Malone is a sturdy bridge between Future and Halsey on "Die for Me," and the SZA jam "Staring at the Sun" is a rewarding trip back to the well of jaunting R&B-pop powering "Sunflower." "Take What You Want," a trap-rock tune featuring guest vocals from Ozzy Osbourne and Travis Scott, is a gem and a song only Post Malone would think to make. (When I met him during press for Stoney's "Too Young," he told me he grew up on Metallica, Pantera, Biggie, 2pac, and OutKast, and he dreamed of matching Future with Texas country legend George Strait on the same song. Having Travis and Ozzy feature on "Take What You Want" is the apotheosis of this kind of thinking.) He's restructuring his sound a little with each album, and it's here that the artist's occasionally jibing sphere of interests produce something that feels perfectly natural in its contradictions.
Hollywood's Bleeding doesn't always stick the landing. There's around a dozen slight, pleasant sad-boy autumn jams in this batch of 17. "On the Road" houses a killer Meek Mill verse but also rehashes bits of "Rockstar" in the melody. The pop-rock jams "Allergic," "A Thousand Bad Times," and "Circles" sound like different drafts of the same song, scheduled in a row up top. Hollywood's Bleeding is Post Malone in a fitting room, trying new vibes on for size. Some work, and some don't, but the willingness to take risks is admirable, even though Post Malone's reluctance to be pigeonholed as a rapper seems to come from a place of feeling limited by the genre. There were never limits. Run-DMC and the Beastie Boys made room for punk and hard-rock sounds in hip-hop in the '80s. In the '90s, Rage Against the Machine cut rap with metal and Tribe brought jazz. In the aughts, OutKast and Kanye jammed soul, funk, prog, and ragtime in a blender. In this decade, Alchemist is making great beats out of yacht rock. Hip-hop is collage art. Any material suffices. There's no need to escape it when you can shape it to fit your needs. Hollywood's Bleeding is a step toward this realization and a solid plate of downcast sounds for the passage into fall.