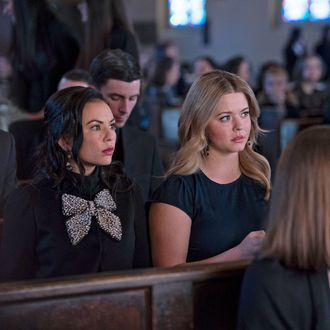 Photo: Allyson Riggs/Freeform
So perfect, in fact, it only needed the one season after all. According to TVLine, Freeform has canceled its Pretty Little Liars spinoff The Perfectionists after one season. As fans undoubtedly know, the series followed PLL characters Alison, played by Sasha Pieterse, and Mona, portrayed by Janel Parrish, to Oregon, where they joined the community at Beacon Heights University. Oh, and they were, of course, immediately confronted by a mysterious and shocking murder.
The show's ten-episode run premiered this past March and wrapped back in May, resolving the question of who pushed resident fiend Nolan Hotchkiss to his doom but leaving a larger mystery unanswered: Who is the Professor, the shadowy puppet master who is, well, puppet-mastering the residents of Beacon Heights? It's times like these you just wish you could just call up A.