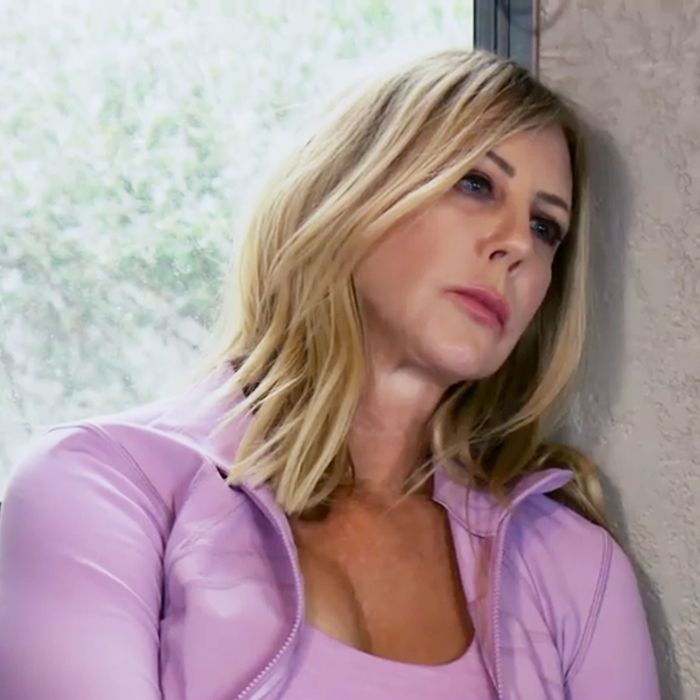 Do you remember on Cheers when a young Woody Harrelson sings a song to his paramour Kelly, but it turns into him just singing the word "Kelly" over and over? That's sort of what I was thinking in my head while watching this episode. "Oh Kelly, Kelly, Kelly, Kelly, Kelly, [breath] Kelly, Kelly, Kelly, Kelly," I said to myself. The thing is, I love Kelly Dodd like Fox loves promos for The Masked Singer. But she really is a truck full of dynamite that does not go in reverse. That is what Kelly needs more than anything: When things get heated, she needs to go back a few feet, consider what is happening, and then maybe change her course a little bit.
The thing is, more often than not, Kelly is in the right. Look at when she hit Gina in the head to illustrate her point about how nothing was really wrong with Shannon, which Gina was not able to take as the joke it was clearly intended to be. However, when Gina storms off and gets upset about it, Kelly, instead of saying, "Sorry, I was just joking, calm down," launches into something about how Gina got a DUI and (almost) had a warrant out for her arrest.
Once Gina calms down, they are having a more civilized conversation and Kelly tells Gina she is "not an accomplished woman." When Gina presses her on this, Kelly should have put herself in park, taken a moment, reversed course, and said, "No, sorry. You are an accomplished woman." Instead, Kelly makes herself look like a jerk by saying, "I have ten houses, I have millions of dollars." Gina tells her that she looks like an asshole right then, and she's not wrong. Kelly always doubles down on whatever she just said. Her natural inclination is to go on the defensive and hold on to her position. That, more often than not, is the wrong inclination.
While Kelly can make herself look like an asshole, you can see that her true nature is something a bit sweeter. When she finally goes in to talk to Gina, she gives her a hug and sees that's she's shaking. "Do you want a Xanax or something?" she says, the only question that one should ever pose to a friend in need. The answer should always be yes. The "or something" could be chocolate or some good head, but in a crisis, we all need "something" to get us through to the other side. Once she stops and actually listens to Gina, she feels bad for what she's going through and the two are able to move forward. If Kelly stopped to listen more and reflexively react less, she probably wouldn't be in so many fights (and would get fired in a heartbeat for being boring).
Oh, but we're not done with Kelly yet, because there is still whatever the hell is going on with her and Shannon in the aftermath of the Super Bowl, which is what Shannon had on her head when Kelly brained her with a mallet. Shannon goes to the hospital, where she gets a CAT scan to learn that everything is fine with her. Of course everything is fine with her. Well, at least physically. Anyway, in the car on the ride home from the hospital there is a phone call, and when Kelly hears that everything is fine with Shannon she says, "Of course she's fine!" which is the only actual response, but it is not the one to have right to Shannon's face. That is the reaction you have as soon as you hang up the phone. But that is why Kelly is a Housewife and all the rest of us are at home eating our own boogers like a bored parliamentarian.
The next morning, after Shannon stayed up drinking with Vicki until 4:30, concussion be damned, Kelly has another discussion with her. Shannon says, very calmly, that she has been looking forward to this wellness trip and Kelly has not been taking it seriously. That is a very valid point, and all Kelly has to do is say, "I'm sorry. I was just fooling around, I didn't realize how much this meant to you." Kelly, well, she does not. She gets up and says, "Why were you up all night drinking when you thought you had a concussion? What is wrong with you?" And, naturally, the situation spirals from there.
Despite all of this, I can't help but love Kelly Dodd. She has Tamra in her phone as "Tamra New Number," which is the most relatable thing I have ever seen on my television screen. I think that Tamra New Number is probably good friends with the 39 family members in my phone all under the last name of Grindr. Also, when Gina and Emily are yelling, she says, "We're at a wellness retreat, for Pete's sake," which I need made into a GIF, a cross-stitch sampler, and a nonironic tote bag stat. But the best Kelly moment of the whole night is when she calls up her boyfriend Dr. Brian Reagan, DMD, Ph.D., AMA, LGBTQIA, and tells him, "We're in a ding dong ding ding ding dong of a ding dong." He tells her he has no idea what she said, she just repeated "ding dong" a bunch, but I knew exactly what she meant, as if she'd beamed the messages directly into my brain.
I don't know what kind of energy maintenance is going on at Miraval, but that crystal whisperer needs to work overtime on these women. Everyone is skittering out of control, like a lopsided top on a skating rink. Gina just careens from blowout to blowout like a rag doll in a tsunami. First she's busting up at Kelly, then she and Emily get all into it, then she's threatening to go home, then she's fighting with Kelly again, then she gets mad at Braunwyn for making the innocuous comment that she's like the group's little sister. I get it, Gina is going through a lot, but maybe she needs a bubble bath and some CBD gummies or something.
The fight between her and Emily seems the worst because it really doesn't make any sense, and I hate to see what seems like a real friendship break up on television. (Unless that real friendship is Jill and Bethenny's, because then it is a classic of the genre.) Gina is mad that Emily is there for her but not there for her enough. She's upset she isn't checking in and wallowing with her about the ins and outs of her court case like Shannon and Tamra do. That might be because Tamra and Shannon don't have young children to care for like Emily does, and do have such a vested interest in remaining on the show that they will forge an alliance with anyone with a good story line in order to survive.
Emily, on the other hand, always answers Gina's calls and texts but isn't making enough preemptive inquiries into Gina every day. Also, Emily annoyed Gina by asking her to go to Vegas when she should have known that Gina didn't want to go to Vegas at all because she has a DUI. Emily is mad because Gina went with the popular girls when Emily has been there for her all along. It's the classic Janis Ian from Mean Girls defense, and Emily is not wrong about what is going on. Gina seems in a fairly indefensible position here, but the continued blowups between the two have this relationship tracking toward doom any day now.
Vegas also didn't end well for Emily with Shannon and Tamra, who were upset that they weren't invited to the event, or that Emily even brought it up. Emily is in a tight spot here. Shannon has blocked her from all social media and Emily claims they won't return her texts or phone calls. So they want Emily to reach out to them about her events, but they also want to cut her out of everything? I don't think life really works that way. Still, Emily ends up apologizing to them for now, instead of Shannon and Tamra apologizing to her about not being at all welcoming to her when she was cast on the show. Oh, poor Emily. Someone give her a hug (because we all know her husband won't do it).
In the end, Gina goes to a meditation circle and the meditation coach tells her to write something she wants to release down on a piece of paper. Gina asks if she can only write one, because she has a lot of things to release. After 20 minutes of her and Braunwyn winding their way through an intricate formation of rocks on the desert floor, she's finally confronted with the mandala in the middle. It is a rock formation with all of the pieces of paper placed by former guests still sticking out of the rocks, like so many forgotten bookmarks. Gina and Braunwyn each gingerly remove a rock, add their slips of paper to the litany, and walk away into the gloaming.
Behind them, barely perceptible, all of the rocks groan and shift their weight, exhaling under the pressure of all the requests that women in brightly colored yoga pants have left under them. These rocks are exhausted, they want nothing more than to be free of duty, to be free of all of these small emotional tempests roiling them. Each of these rocks would throw itself off a canyon into the deep dark abyss, but they are weighted down, tied to the earth by tiny troubles, and they will never know rest.