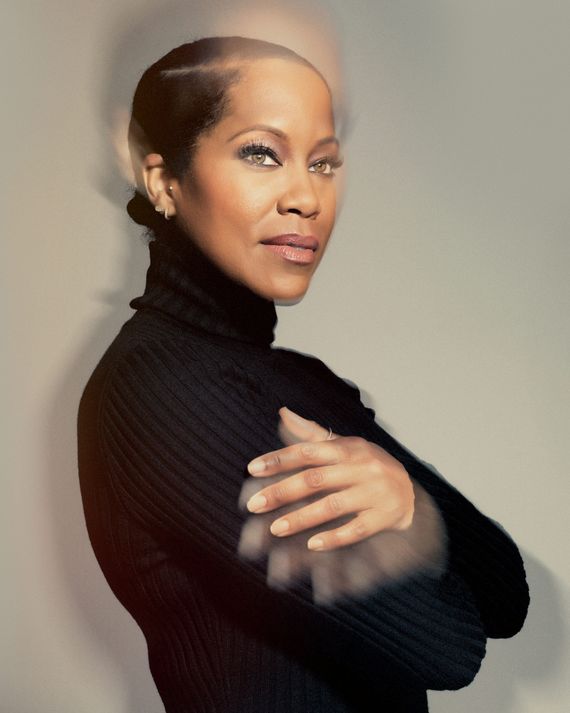 "There he is," Regina King says in her familiar soft contralto as we approach a small black-and-white photo of Tupac Shakur looking askance with his middle finger casually pointed toward the sky. "You could just get lost in his eyes. You could feel like you saw all the pain, all the joy, all the everything. All at the same time."
We're meandering through "Contact High: A Visual History of Hip-Hop" at the Annenberg Space for Photography in Los Angeles. The photo was taken at Club Amazon in 1993, shortly after King first met Shakur during the table read for the John Singleton film Poetic Justice. King had gotten into a car accident on the way to the set, hydroplaning into a pole. Shakur chauffeured her around for the rest of the day. "We just became peas in a pod after that," she says. "One Christmas, we drove out to Atlanta to spend the holidays with him. That was the last time I really got to spend time with him. God willing, your last time with someone can always be one of joy."
The rest of the exhibit too is a kind of memento book of friends and acquaintances King has met throughout her life. She crashed with Guru of Gang Starr when she first moved to New York; she had the "hugest crush" on the rapper Aceyalone. ("He never knew that I did. I can say it now.") Photos of a young Jay-Z in front of the World Trade Center prompt a memory of the first time she met him at Roc Nation CEO Jay Brown's wedding. "I was walking toward the dance floor" — she demonstrates a little shimmy for me, shoulders gleaming in her denim jumpsuit — "and he had the face that felt like he don't fuck with nobody. He don't smile. He just about his business. He saw me and he went —" She laughs and does the shimmy again.
Regina King has always been good. She was good when she first started her career at the age of 13 on 227. She was good as Janet Jackson's best friend with a drinking problem in Poetic Justice. Good as Cuba Gooding Jr.'s solid-as-a-rock wife in Jerry Maguire. Good as both Huey and Riley in The Boondocks. Good in a string of television shows that never quite got their proper due, like Southland and the Netflix series Seven Seconds. She has been so good for so long that you felt the danger of taking her for granted. In part, it's because she is skilled at playing supporting characters who feel of the world, modeling them on the people she knows until they become part of a vast suite of references to draw from. Her recent awards recognition — three Emmys, a Golden Globe, and an Oscar in four years — felt like the Establishment making up for lost time.
"Regina has done so much amazing work in her career that was not lauded in the way — I won't say it should have been — but it could have been," says Barry Jenkins, who directed King to her Oscar in If Beale Street Could Talk. "There are some people for whom the early ingenue career is the path and there are other people who have to become so undeniable that their work is finally recognized later in their career. Unfortunately for black actresses [like Regina], that's certainly been the case."
This October, she'll star as police officer Angela Abar in Damon Lindelof's HBO adaptation of the graphic novel Watchmen. Lindelof, who first worked with King on the second season of another apocalyptic HBO drama, The Leftovers, has a rule: He doesn't work twice with the same actor. And yet, during the writing and pitching of the show, he would often slip and refer to Angela as Regina, before catching himself and saying, "It's not going to be Regina!"
"I keep feeling like, Why is Regina King not the star when she's the star?"says Lindelof, whose series is an extension or "remix" of the original Alan Moore text, adapting its punk, meta spirit for 2019. In King, he saw someone the viewer could trust. "I would never write something for her where she had to be a liar," he says. "Regina doesn't lie." In his telling, the ostensible villains are a white-supremacist militia group, and King's character is a masked cop set to take them down. "[Regina] liked the idea of Angela in that it was not just about putting on a cool costume and beating up bad guys," says Lindelof. "It was understanding that she can beat up white supremacists, but she can't beat white supremacy. She likes the Sisyphean quality of that battle."
Also, she just wanted to play a badass. "I've wanted to be a superhero since The Incredible Hulk," she says. "Yo! I put on that [costume] and my shoulders go back and I feel like, Where's my theme music?"
King's son, Ian, ambles up to us in a bright-white tee and a Baltimore Black Sox cap, which he's wearing in honor of the old Negro League team. He's 23 and works as a producer and DJ; the pair are close in a way that feels uncannily like friendship. I ask him what his mom is like.
"She's blunt. Straightforward. I get it from her, so I respect that," he says.
"Okay, I'll walk away," King says, idling off to the side.
"Irresponsibility is something that's a pet peeve," he says.
"Everybody is irresponsible," she responds, circling back. "But it's when people are irresponsible and try to pretend like they're not. You own up to it. Yeah, I was fucking up, you know?"
Call it what you will — authenticity, honesty, owning your shit — the moral clarity she telegraphs in Watchmen has been a through line in much of King's work: as a grieving mother who loses her son to a hit-and-run in the Seven Seconds, or as a social worker in the third season of American Crime. It's perhaps why two of her most memorable scenes in recent years have played out directly to the camera. On the season-two episode of The Leftovers, "Lens," she and Carrie Coon face off in an extraordinary nine-minute scene, shot in hair-raisingly extreme close-up. Then there was the wordless scene in Beale Street, where King's character, Sharon Rivers, gets herself ready in front of the mirror, putting on her wig, before setting off to find the woman she believes has falsely accused her daughter's partner of rape. For an actor, there's nowhere to hide, no distance between yourself and the viewer. She's pure presence.
King's own sense of morality is undergirded by religion. She grew up in the Church of Religious Science and went to a school affiliated with it as a kid, where the students would start each morning by singing "Let There Be Peace on Earth." Religious Science — "not to be confused with Scientology" — was founded in L.A. in 1927 (Cary Grant was once involved). It holds a kind of pantheistic belief that God isn't a being so much as a universal presence. "God is everywhere," she explains. "Fear and love are both equal energies. Just one is applied positively and one is applied negatively, and it's a choice on which application you are using."
When she won the Oscar for If Beale Street Could Talk, she thanked her mother, Gloria — "I'm an example of what it looks like when support and love is poured into someone" — before adding the word GIMOSAS. It's an acronym for "God is my only source and supply." King invokes it like a daily chant: GIMOSAS, GIMOSAS, GIMOSAS. "It is to access the calm, to help you center all through the day," she says.
As we take our leave, a stranger walks up to her and asks, "Regina Hall, right?" — something that's already happened once today. I sense a slight impatience edging her eyes.
"No," she replies.
"You look so much like her," he presses on.
"No, I don't. I don't look anything like her," she replies steadily. "I look just like Regina King."
Watchmen premieres October 20 on HBO.
*A version of this article appears in the September 2, 2019, issue of New York Magazine. Subscribe Now!