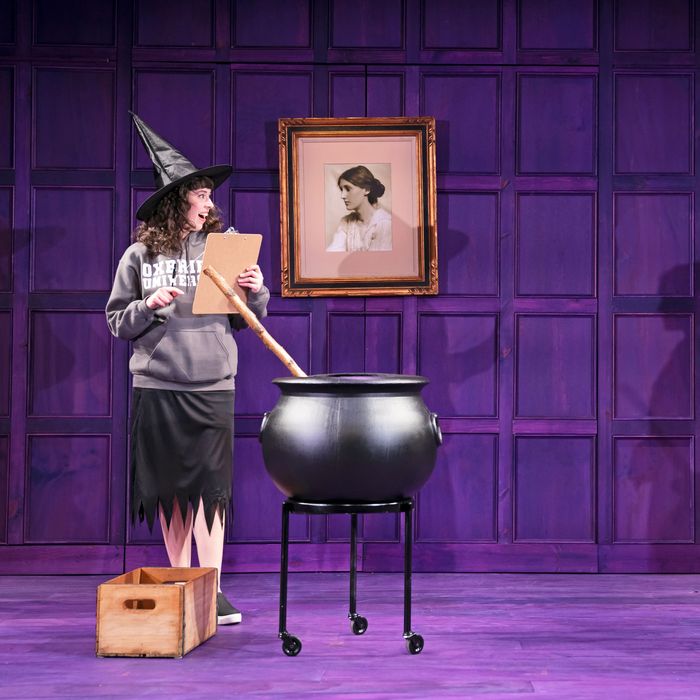 From
Wives
at Playwrights Horizons.
Photo: Joan Marcus
Jaclyn Backhaus's Wives, a swift and playful feminist manifesto, tells us flat-out that it's looking to mess with narrative norms. "Wouldn't it be more interesting if we actually grew to like each other?" a dead king's mistress asks that same king's wife in the play's first act. "A subversion," she suggests, "of what everyone wants and expects to happen." Three acts later (the play's only 80 minutes long, and it bounces quickly through its four sections — a game of hopscotch on a central theme), a college student joins a club for witches. "What does not exist yet?" she asks the universe, searching for a metaphor for herself that doesn't feel used, owned, colonized. "I am after a new form."
The "new form" Backhaus gravitates toward — modular, mischievous, a series of crescendos — strikes me as a popular one these days. It's one of the primary genre responses of our moment to our moment. Jackie Sibblies Drury's Marys Seacole, Jen Silverman's Collective Rage: A Play in Five Betties, Jeremy O. Harris's Slave Play, and Clare Barron's Dance Nation all perform their own variation on what I think of as the Exorcism Play — or, as a corollary, the Seance Play. Two related, uncoincidentally witchy practices, the former sometimes necessitated by the latter. It's anti-Aristotelian, implicitly — sometimes explicitly — femme and sexy (multiple climaxes), and deeply concerned with ancestry. It aims to challenge our assumptions about historical truth and about what makes a "well made" drama, digging down to the roots of individuals, social structures, and theatrical structures and attempting, sometimes violently, to purge the toxins it finds there.
Wives sits on the lighter end of the Exorcism Play spectrum, its tone for the most part winking and exuberant, its best moments when that exuberance stays weird. Backhaus's wackiness often serves as a direct antidote for a tendency toward schmaltz, and her play is always stronger when it's less dewy-eyed. The production's quartet of quick-shifting actors flourish under Margot Bordelon's crisp, comically assured direction: There's genuine warmth and readiness in their performances. They're there for each other, and watching them is like watching an enthusiastic game of four square.
That game begins in the mid-1500s in France, where the dippy, swaggering King Henry II (Sathya Sridharan) ostentatiously prefers his mistress, Diane (Aadya Bedi) to his wife, Catherine de' Medici (Purva Bedi). A talkative, rubber-faced cook named Augustine (Adina Verson) resolves to stay loyal to Catherine, but can't help pitying Diane and fixing her fancy "hangover sodas" made of "bitters and bubbling water … and gold." Bordelon adroitly handles the play's cantering, heightened-but-casual banter. Especially in its first act, Backhaus's text doesn't contain all that many layered actions — people say what they mean immediately and in the slangy squawk of 2019 ("What a fuckhead," says Catherine of Henri; "U fakeass bitch!" Diane snaps at Catherine). Pauses would kill the patter, and Bordelon keeps her actors flying. Meanwhile, the dense, delightful, period-hopping sound design by Kate Marvin provides vital fluidity and dimension: It takes a text that sometimes borders on thin and gives it body and buoyancy.
After Henri's untimely (and very dumb) death, Diane and Catherine make their patriarchy-smashing pact to become friends. We don't, however, get to see their friendship unfold — the play skips onward to its second act, perhaps somewhat giving the lie to its own commitment to find interest in female "harmony" rather than the "war" (in dramatic terms, "conflict") predicated by "a man's world." But that dissonance soon dissipates, because Wives' second act is by far its strongest, and in its new characters we can see the effects of the promise made by Act One's reconciled rivals. In Act Two, we meet the three wives of Ernest Hemingway (Sridharan) who succeeded in outliving him. In black frocks and black hats, Hadley Richardson (P. Bedi), Martha Gellhorn (A. Bedi), and Mary Welsh Hemingway (Verson) gather to reminisce and drink whiskey at the big man's wake.
While Wives still has several places to go—Act Three takes us to India under the British Raj and Act Four to a modern university, where two young women are, like Backhaus, searching for new forms, for independent voices, and for the "constellation of [their] Ancestors" — the wives of "Big Ern" leave the sharpest, most indelible impression. "The women catch up like they are old friends not just ex-wives of the same mythical human writer," says Backhaus's stage direction, and as Hadley, Martha, and Mary, the play's trio of actresses feels the most connected, the most tapped into something complex and excitingly insoluble. As Mary, the "Last Wife" and the one still tearfully attached to the dead genius, Verson brilliantly balances right on the edge of clown. She's constantly compelling: Her naïveté is broad, and so is her grief — and both are, also, real. And when the muscular, self-possessed Aadya Bedi's Martha stands defiant, drink in hand, and delivers her own eulogy, there's a fierce grandeur to it. "She was a better writer than him in every way," Martha announces of herself, without losing her wry smile, side-stepping tragic self-pity. "But his presence clouded everything, and people would confirm her betterness privately, but in public she was … a wife. Just a wife … I was a fish! I was a good swimmer, I had a fucking spear for a fucking nose, and here I am, dead, mounted on someone's wall forever. My life was taken for sport."
The wrench and the thrill of Wives' second act is that it manages to hold so many things in its hands at once. Despite its gleeful exorcism of Papa's ghost (Verson is wildly funny when Mary eventually explodes into unhinged but enlightened shrieks: "Shitty! They were shitty!! He was shitty!!!"), it doesn't, in fact, cancel Hemingway. If not forgiving, it's still fundamentally generous to a fellow artist, even in its quest to reveal the unacknowledged geniuses who suffered in his shadow. As Mary and Hadley and Martha perform a purgative ritual, spattering a huge trophy marlin with whiskey and chanting the words "je ne sais quoi"—that romantic little phrase that, as Mary puts it, reduces a woman's "years of existence and experience" to "an air, a manner, a wisp of fragrance" — Backhaus's play feels its most invigorating, its most shameless and free. Though Aadya Bedi delivers a long, semi-absurdist monologue of liberation in the play's final big crescendo, there's something fresher in the middle. There, as three angry yet ecstatic women dance around a giant fish, the self-consciousness of the search for "a new form" and the creeping sentimentality of ancestral communion fall away, and what's left is a funny, ferocious, long overdue celebration.
Wives is at Playwrights Horizons through October 6.