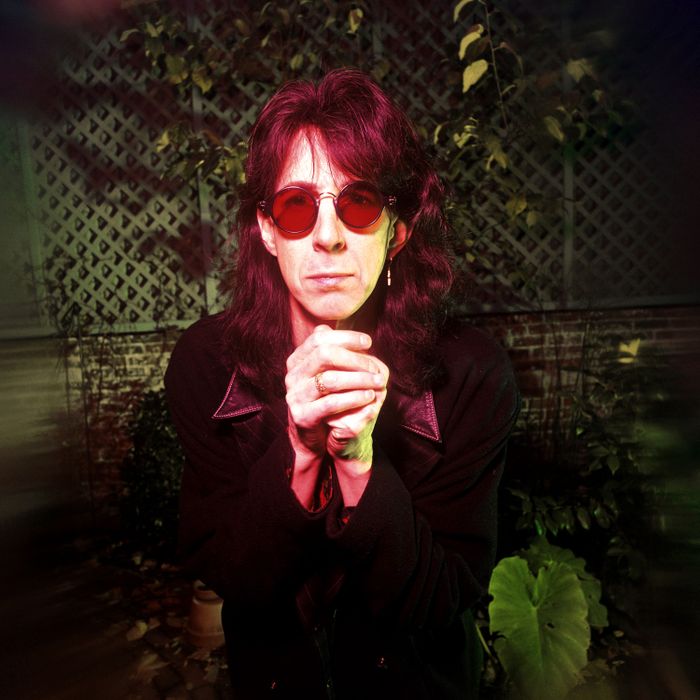 The Cars sounded at once like pop-music past and pop-music future.
Photo: Bob Berg/Getty Images
After hearing the sad news that Ric Ocasek, co-frontman for the Cars, died on Sunday, I immediately conjured an image of Ocasek in my head. That image was of Ric Ocasek as a fly.
Then, Ocasek as a tube of lipstick. And a coat hanger. And the face of an alarm clock.
All of these snapshots come from the Cars' video for one of their biggest hits, "You Might Think," a video I watched thousands of times in the 1980s and one in which Ocasek keeps popping up in the life of a woman with whom he's clearly unhealthily obsessed. Like many things from the '80s, it reads different now than it did then. Now, that video looks like exhibit A in the weirdest, worst stalking case in human history. But at the time, it was cheeky, clever, and an example of how inventive music videos could be. At the very first MTV Video Music Awards in 1984, it won Video of the Year. One of the nominees it beat? Michael Jackson's "Thriller."
In retrospect, Ocasek's role as a shapeshifter in that video speaks to what was so appealing about him and his band. The Cars released six albums during their core productive years (1978-1987) and a seventh after the death of bassist and frequent lead singer Benjamin Orr. Given that output, it's extraordinary how many hits they produced and how enduring those songs continue to be. Just look at the tracks on their eponymous first album: "Good Times Roll," "My Best Friend's Girl," "Just What I Needed," "You're All I've Got Tonight." All of them are among their greatest hits, all of them were released on their first shot, and all of them were written by Ocasek.
The Cars' appeal was wide because you could hear them in more than one way. If you were a traditional rock fan, you hooked into the guitar riffs of "Just What I Needed" or the infectious tempo of "Shake It Up." If you were more into New Wave, the synthesized accents on "Moving in Stereo" and the even heavier synths heard on just about every song on 1984's Heartbeat City, their most commercially successful album, were what grabbed you. They sounded at once like pop-music past and pop-music future.
The Cars were the kind of band that everyone in your family liked. (My mom loved them. So did my older brother. So did I.) No one objected to the Cars, because what kind of weirdo objects to the Cars? You could dance to their music, but you also could just chill out to it. Their bangers sent you out into the wild of a Saturday night ("Let's go / I like the nightlife, baby!") and their more downbeat tracks helped you mourn being dumped ("Oh baby, why can't I have you?"). All of their songs, still, sound like summer to me.
And all of their songs are associated, first and foremost, with Ric Ocasek. There's no debating the band could not have been what it was without its other members: Orr, lead guitarist Elliot Easton, keyboardist Greg Hawkes, and drummer David Robinson. But Ocasek, as the primary songwriter, constructed the Cars' entire sound. Even though he shared vocal responsibilities with Orr, Ocasek was the true face of the band, the guy you thought of first when you thought of the Cars. With his impressive, gangly height (he was reportedly six-foot-four), his long, striking face, and his tendency to wear dark glasses and '80s blazers, he looked like the cocktail that got poured after mixing up Roy Orbison, Joey Ramone, and David Byrne in a shaker. Again: the past, and also the future.
Just as he and the band do in the "You Might Think" video, Ocasek and the Cars have continued to insert themselves into the culture and our lives. You can still hear their sound in the music of Weezer, whom Ocasek produced and mentored, and in countless other bands whose work bridges the gap between pop and synth-inflected rock. You can hear them on television in shows like Dead to Me, where the still gorgeous "Drive" played a major role in a karaoke scene, and American Crime Story: The Assassination of Gianni Versace, where Aimee Mann performed a lovely cover of the same song, and in the departed but not forgotten Braindead, where "You Might Think" became a clever, quite literal earworm stalking Mary Elizabeth Winstead, who heard it everywhere she went. The Cars absolutely sound like the '70s and '80s, but there's also something timeless in what they put out into the world. A song like "Moving in Stereo" could play a key role in the most memorable scene in Fast Times at Ridgemont High, then be used again, more than 30 years later, to pay homage to the same Fast Times scene in season three of Stranger Things. If it's possible to hear music while stuck in a time loop, I'm pretty sure the Cars is one of the bands you'll hear if you ever get stuck in one.
The other image of Ocasek that immediately bubbled up in my brain after hearing of his death came from another video of a major Cars hit: "Magic." In it, a crowd of random people — hippies, a pair of twins in very '80s evening wear, a guy dressed as Uncle Sam, a pilot who is carrying two trumpets for some reason — gather around a Beverly Hills swimming pool to worship Ocasek, who is standing in the middle of it. All of these admirers seem to have little in common other than a belief that Ocasek is the messiah. Those of us watching this on MTV or Friday Night Videos from the comfort of our living rooms just saw him as the guy from the Cars who could suddenly walk on water thanks to special effects. Which, honestly, seemed almost as cool as being the actual messiah.
We saw something different than the characters in the video did. But our reaction — the desire to be closer to the guy responsible for making that sound — was the same. He had a hold on us. It was, indeed, magic.