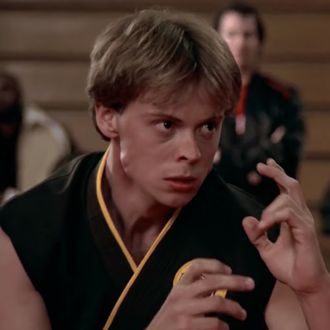 Photo: Rob Garrison as Tommy in 1984's The Karate Kid.
Actor Rob Garrison, best known as Tommy in The Karate Kid movie franchise, died Friday, September 27 at the age of 59. Appearing in the original 1984 film and 1986's The Karate Kid Part II, Garrison helped round out the menacing blonde Cobra Kai dojo villains who squared off against the series' titular hero, Daniel, played by Ralph Macchio, and coached to victory by Pat Morita's Mr. Miyagi.
Following turns in Brubaker, St. Elsewhere, and MacGyver, among other television roles, Garrison returned this year to the role of Tommy in the YouTube Premium show Cobra Kai, which takes place at the Cobra Kai dojo decades after the events of the earlier films. It focuses on Daniel, his main rival Johnny Lawrence, and the other now-adult pupils that battled Daniel for karate supremacy at the start of the franchise.
"Rob was a great person and ambassador to The Karate Kid legacy," Garrison's rep, Rick Henriques, told CNN on Friday. "His performance in season two of Cobra Kai, being his last, was simply amazing and he stole the episode. He will be missed by me and everyone he encountered."