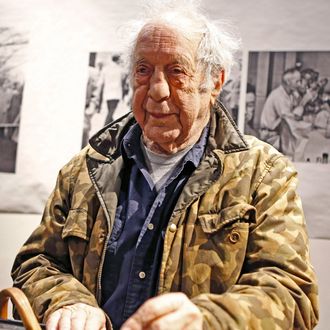 Robert Frank.
Photo: Kathy Willens/AP/Shutterstock
Robert Frank, prominent documentary photographer whose art captured a nation, died on Monday, in Inverness, Nova Scotia, at the age of 94. According to the New York Times, his death was confirmed by gallery owner Peter MacGill of Pace-MacGill Gallery in Manhattan. Best known for his innovative book, The Americans, Frank himself was born in Switzerland, immigrating to the United States at 23 years old. The Americans was his view at the country as he traveled coast to coast. The black-and-white photos come together to form a portrait of the 1950s in America, from the wealthy to the weathered. His tightly composed, well-lit style became the cornerstone for 20th-century photojournalism.
Frank experimented with filmmaking, including the movie Pull My Daisy (1959). A collaboration with writer and narrator Jack Kerouac, it starred Allen Ginsberg, Gregory Corso, and other members of the Beat movement. Frank would continue to photograph, moving toward constructed images and collages. After the deaths of both his daughter and his son, much of his work became about those losses.
Robert Frank's impact on photography lives on through his images and the words of those who witnessed him work. "That crazy feeling in America when the sun is hot and music comes out of the jukebox or from a nearby funeral," Jack Kerouac wrote in the foreword of the U.S. edition of The Americans, "that's what Robert Frank has captured in tremendous photographs taken as he traveled on the road around practically forty-eight states in an old used car (on Guggenheim Fellowship) and with agility, mystery, genius, sadness, and strange secrecy of a shadow photographed scenes that have never been seen before on film."