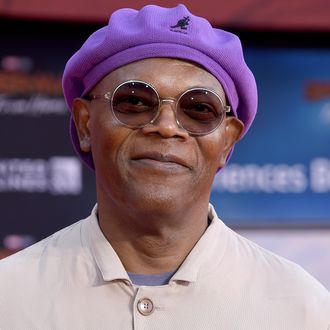 Photo: Gregg DeGuire/WireImage
Alexa, where is my super suit? Soon you'll be able to hear the dulcet tones of Samuel L. Jackson answer that question instead of your favorite personal robot assistant, Alexa. Variety reported on Wednesday night that Jackson will provide a voice option for the Amazon device Alexa, making him the first celebrity to lend his voice to the company's cloud-based digital assistant. Jackson's voice will be available to purchase for $.99 for a limited time only before prices skyrocket to $4.99 in 2020.
To activate Jackson's "voice pack," users will say a phrase that Gwyneth Paltrow has uttered to herself countless times: "Alexa, introduce me to Samuel L. Jackson." Users will then get to choose between explicit or non-explicit language, so the whole family can ask Alexa how to get those mother-loving snakes off of that mother-trucking plane!
Amazon also teased that more celebrities will be lending their voice to Alexa in the coming year. The mystery surrounding which celebrity might be the next voice of Alexa puts the mystery of who is Egg on The Masked Singer to shame. It begs the question: Which celebrity's voice is distinct yet soothing enough voice to welcome into our daily lives? Maybe James Earl Jones's? Holly Hunter's, perhaps? Solid options, but if we had our way, every Alexa would be voiced by Michelle Williams as Gwen Verdon.