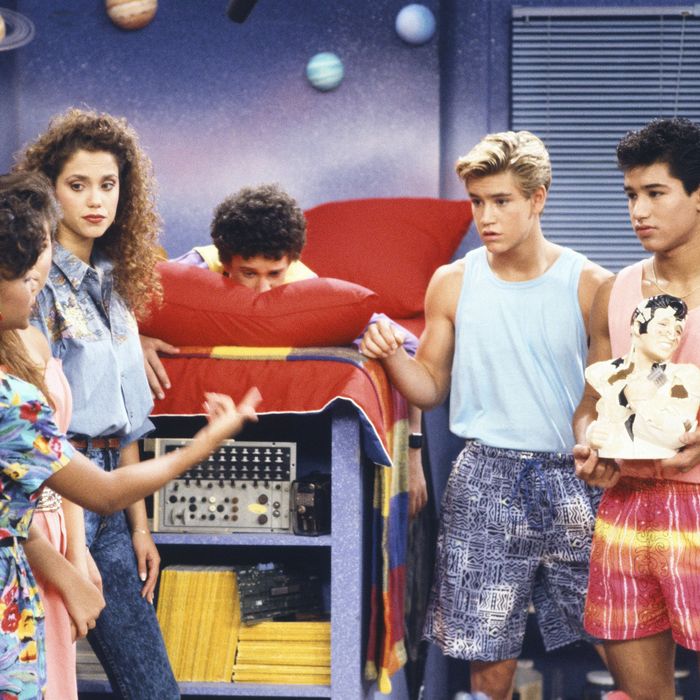 Saved by the Bell
, back in the '90s.
Photo: Paul Drinkwater/NBCU Photo Bank
After years of rumors, it's finally official: A new Saved by the Bell series is on the way as early as next year, and at least two stars of the original are set to star in the revival. Peacock, the new NBCU-owned streaming service launching next spring, has enlisted former 30 Rock writer and Great News creator Tracey Wigfield to deliver a new take on the classic '90s sitcom, with Elizabeth Berkley and Mario Lopez set to star and produce. And while Mark-Paul Gosselaar is currently attached to ABC's new Mixed-ish, the official description of the new Saved by the Bell indicates his Zack Morris character will be part of the revival in some form.
Per a press release confirming the revival, which has been rumored for more than a year, the new show imagines a world where Zack is now governor of California (no, really), but he's in political trouble for "closing too many low-income high schools." To fix his political problem, Governor Morris decides to "send the affected students to the highest-performing schools in the state — including Bayside High. The influx of new students gives the overprivileged Bayside kids a much-needed and hilarious dose of reality."
The Peacock-provided logline seems to suggest Gosselaar will not be a series regular, and his name isn't listed among the credits provided for the show. That's no doubt because the actor is contractually committed to Mixed-ish and it's unlikely he'll be available (or contractually able) to appear in the new Saved by the Bell. A Peacock rep declined to comment, but according to a source familiar with the matter, conversations are taking place with other actors from the original series, presumably including Gosselaar, about appearing on the updated show.
As for Berkley and Lopez, they'll presumably reprise their roles as Jessie Spano and A. C. Slater, who were a couple on the show for much of its run. The two last appeared together in character in the 1994 reunion film Saved by the Bell: Wedding in Las Vegas, which essentially served as a series finale for the original show, following the disastrous spinoff Saved by the Bell: The College Years. (Another spinoff, Saved by the Bell: The New Class, ran for seven seasons from 1993 until 2000.) Other series regulars included Tiffani Amber Thiessen, Dustin Diamond, Lark Voorhies, and Dennis Haskins as Mr. Belding. Original producers Peter Engel and Franco Bario will both serve as executive producers of the Peacock revival.
Saved by the Bell isn't the only NBC comedy oldie in line for a revival at Peacock. A previously reported revival of the '80s family sitcom Punky Brewster starring Soleil Moon Frye has officially landed at the nascent streamer, though the platform hasn't committed to make anything beyond a pilot episode at this point.