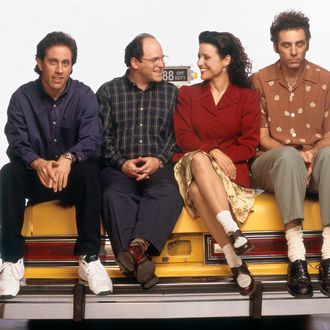 The cast of
Seinfeld.
Photo: George Lange/NBC via Getty Images
Days after Netflix snagged the streaming rights to Seinfeld away from Hulu, entertainment conglomerate Viacom has closed a big-money deal with Sony Pictures Television for cable-TV rights to the show about nothing. Starting in 2021, Seinfeld will jump from WarnerMedia-owned TBS to Viacom's various entertainment networks, including TV Land, Comedy Central, and Paramount Network. The deal will mark the end of a 19-year era in cable: Seinfeld has been part of the TBS lineup since 2002, following a 1998 deal to land the show.
Neither Sony nor Viacom would comment on the terms of the deal, but given how hot the market is for classic-TV reruns right now — and the high price Seinfeld has fetched from previous deals — it's safe to assume the cost of the agreement will be measured in hundreds of millions of dollars over several years. A person familiar with the situation told Vulture the rights to Seinfeld landed at Viacom as part of a highly competitive bidding process, and that WarnerMedia's TBS did make an attempt to keep the show. Still, with TBS parent WarnerMedia focusing so much of its energy (and money) on launching the new streaming service HBOMax, and with TBS shifting away from its focus only on comedy, it's perhaps not a shock that another company was willing to pay more for Seinfeld.
Viacom makes particular sense for Seinfeld because its cable portfolio is diverse enough for the show to logically run on more than one of its networks, with TV Land and Comedy Central both already home to numerous half-hour sitcoms. The new deal will let Viacom stream a handful of episodes on its various apps and websites, though not enough to let audiences binge full seasons. Viacom's press release named only three of its networks as homes for Seinfeld reruns, but unless the deal with Sony expressly prohibits it, it would seem logical for Viacom to sometimes run the show on other properties, including the classic-TV themed Logo or, assuming its merger with CBS closes, the Pop network. Viacom is also investing heavily in its ad-supported streaming video platform, Pluto, which has virtual linear channels devoted to classic TV and individual shows. Again, Viacom's announcement doesn't mention Pluto, and it could be that because it's digitally distributed, Sony's deal with Netflix (or its deal with local broadcast TV stations) would prohibit Seinfeld from airing there.
Kent Alterman, president of Comedy Central, Paramount Network, and TV Land, issued a statement joking that Viacom is "extremely proud to bring this little-known series to our viewers. With the right programming and promotion, we believe we'll finally get Seinfeld the recognition it truly deserves, as merely the greatest sitcom of all-time."