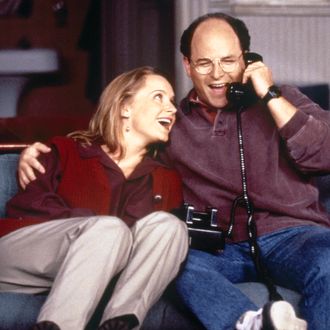 Tell a Friend.
Seinfeld
is coming to Netflix.
Photo: Gary Null/NBC/Getty Images
Netflix is set to lose two of the most popular titles in its library, The Office and Friends, but the company has stepped up to acquire one of your other nostalgia faves. The complete archive of Seinfeld will start streaming on Netflix in 2021. "Seinfeld is a one-of-a-kind, iconic, culture-defining show. Now, 30 years after its premiere, Seinfeld remains center stage," said Mike Hopkins, the Chairman of Sony Pictures Television. "We're thrilled to be partnering with Netflix to bring this beloved series to current fans and new audiences around the globe."
Seinfeld currently lives at Hulu, but based on reporting by Deadline, that Disney-owned company wasn't willing to engage in an arms race to keep the hit 1990s sitcom, especially since it's about to have an influx of Fox properties — another company Disney owns! There isn't an official figure out for the size of the check Netflix cut to house Seinfeld, but Sony was reportedly "targeting a deal of a size similar" to the one that landed Friends at HBO Max. And by that we mean more than $400 million. So it seems like they really, really wanted it.