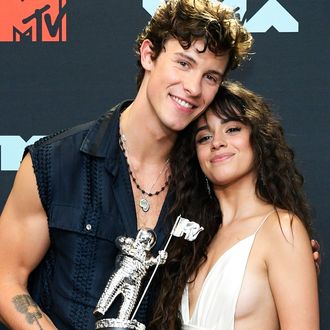 Shawn Mendes and Camila Cabello.
Photo: Roy Rochlin/Getty Images for MTV
Some things don't belong on Instagram. TikToks for one, and cringey make-outs for two. The internet already lost the battle against bad kisses, with Lily-Rose Depp and Timothée Chalamet's wide kiss haunting our feeds earlier in the week. Now, "Señorita" singers Shawn Mendes and Camila Cabello are doubling down. The new couple really trolled the haters, really got 'em last night when they posted a video of how they "actually" make out. But instead of being normal and just kissing, they tried to be funny and performed the nastiest kiss known to man. Who wanted this? It's even worse than the washing-machine-syndrome kiss from Angus, Thongs and Perfect Snogging. And the whole world is the friend who just has to stand there awkwardly and watch.
"We saw, like, on Twitter and stuff you guys saying stuff about the way we were kissing, and how it looks weird, like we kiss like fish," Mendes said in the clip. "We just wanna show you how we really kiss." Logic long gone, they share a tongue-filled, saliva-heavy kiss, then the video ends. Turns out we were all on a prank show. But hasn't summer 2019 been nothing but watching Camila Cabello and Shawn Mendes make out all over the world? We already know … how they kiss. And we stood by them. Streamed Señorita. Watched the MTV Video Music Awards. This is how you repay us? A nightmarish make out fake-out? Jokes on them, because Twitter has already turned their prank into a roast. Roll the reaction tweets!