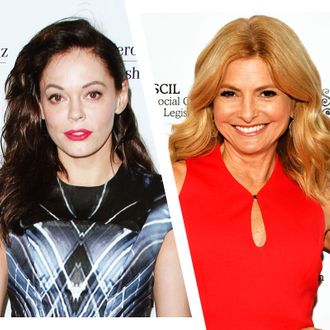 McGowan (left) and Bloom (right).
Photo: Getty Images
As the criminal case against disgraced Hollywood mogul Harvey Weinstein wages on, the New York Times has obtained a damning excerpt from She Said, a book by reporters Jodi Kantor and Megan Twohey, who first broke the story in 2017 about Weinstein's alleged behavior. Among other details that the Times excerpted, Kantor and Twohey unearthed that Weinstein's short-lived adviser, victims'-rights attorney Lisa Bloom, hatched a plan with Weinstein in late 2016 to discredit one of his most prominent accusers, Rose McGowan.
"I feel equipped to help you against the Roses of the world, because I have represented so many of them," Bloom wrote in a memo to Weinstein, before outlining a plan for how to undermine and intimidate accusers, or make them look like liars. "We can place an article re her becoming increasingly unglued," Bloom suggested for McGowan, "so that when someone Googles her this is what pops up and she's discredited." As the Times notes, Bloom and Weinstein visited the newsroom a day before the first sexual-abuse exposé against him was published in October 2017, where the duo tried to discredit other accusers — including Ashley Judd. Bloom would go on to quit as Weinstein's adviser, saying she "deeply regretted" representing him.
McGowan, who has now read the Times excerpt, said in a statement to Variety that Bloom should be immediately disbarred. "Her email is staggering. Staggering!" she said. "This woman should never work again." Bloom has also tweeted an apology to the women she worked to discredit.