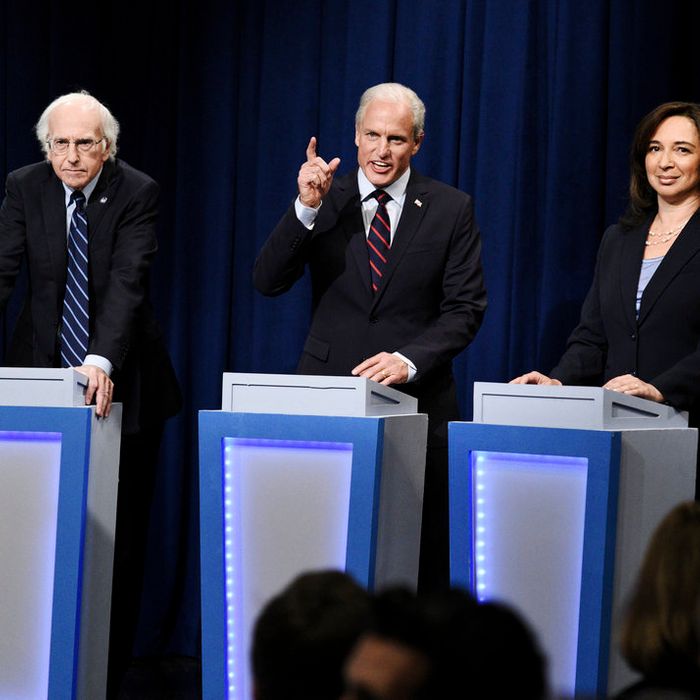 Photo: NBC/Will Heath/NBC
Back in the days when Woody Harrelson was essentially still seen as Woody Boyd from Cheers, he was happy to exploit that public perception that he was basically a doofus. As the decades scrolled by, and Harrelson was revealed to be more of a dreamy, distracted pothead than an outright dope, he was perfectly game to make fun of that, too. Despite his willingness to play to his persona, Harrelson's SNL gigs haven't really provided that many memorable moments. Sure, there are plenty of worthy sketches, including "Take Your Shirt Off" from '92 and "Match'd" from '14, but these owe more to fun ideas than anything writers did for Harrelson. This week's show didn't add anything particularly noteworthy to his SNL history, but as usual, he has a handful of bright moments, including him stepping into Jason Sudeikis's vacated shoes to portray presidential hopeful Joe Biden.
Though overall the season premiere isn't quite the bang for which SNL might hope, there are enough strong bits to keep things moving along. One of the most exciting elements of the show: New players Bowen Yang and Chloe Fineman got used quite a bit, popping up in several sketches and each given their own moments to shine.
As a reminder here at the beginning of the season, we list sketches from best to worst — so if you're not a completist, you can watch the first few and leave the rest behind.
DNC Town Hall
In order to thoroughly slow down the impeachment proceedings, the presidential candidates gather for a town hall. Though the stage is full of bodies, there are only four hopefuls that moderator Erin Burnett (Cecily Strong) identifies as potential winners: Joe Biden (Harrelson), Kamala Harris (Maya Rudolph), Bernie Sanders (Larry David), and Elizabeth Warren (Kate McKinnon). Warren wants to fight, Harris wants to be America's fun aunt, or "funt," and Bernie's Bernie. The scrutiny keeps returning to Biden, who defends himself: "I'm like plastic straws: I've been around forever, I've always worked, and now you're mad at me?" There's a bit too much going on to really drill down on many of the candidates, but the writers endow Uncle Joe with a distinct creepiness, confusion, and some antiquated notions about race. Many of the players have but mere moments to show off their impressions, and the most successful are those candidates who are a bit larger targets — including chummy Beto O'Rourke (Alex Moffat) and spacey Marianne Williamson (Chloe Fineman).
Apple Picking Ad
It's apple-picking season, and two farmhand sisters (Aidy Bryant and McKinnon) invite city dwellers to Chickham's Apple Farm — where, for $45, "you can bring home just $10 worth of apples." The groundskeeper is a "troubled man" called Hank (Harrelson), whom the sisters "pay in dentistry." There's also a depressed donkey ("He's like Eeyore with a plan."), lots of penis-shaped gourds, and a haunted hayride run by teen boys who take things a little too seriously. The sketch is stuffed with great, observational jokes about one of the great fall pastimes for yankees — too many to quote them all here. It seems likely that Anna Drezen and Alison Gates, who wrote last season's "Romano Tours," probably had a hand in this delightful 10-to-1, too.
Impeachment Cold Open
After impeachment proceedings begin, Trump (Alec Baldwin) calls just about everyone in his phone — Rudy Giuliani (McKinnon), William Barr (Bryant), Mike Pence (Beck Bennett), and on and on and on. He gets advice from Kim Jong-un (Bowen Yang), gets dumped by Kanye (Chris Redd), and receives a little pick-me-up from the sycophantic Janine Pirro (Cecily Strong). While players like Strong and McKinnon continue to sharpen their impressions, Baldwin's Trump carries on into further cartoonishness. It's interesting that his grousing over the summer that he hated playing Trump didn't stop him from coming back for more. At this point Baldwin's Trump, like these huge ensemble sketches that give everyone a line or two, feels more like a required gesture than incisive satire.
Inside the Beltway
On this political chat show, three white pundits talk about Trump's impeachment as "a turning point" for the administration, while one black man (Kenan Thompson) insists that "ain't nothing gonna happen." There are clips of this analyst saying much the same thing when the "grab 'em by the pussy" tape was leaked in 2016, and when the Mueller report came out in May of this year. This feels like a corollary to "Election Night," with Dave Chappelle and Chris Rock, in which all white people were crushed by Hillary's demise, while black folks were not at all surprised. The premise is clear and cleanly executed until a dresser's premature entrance kept the cast losing it through the end of the sketch. Happily, NBC opted to make this version available online—rather than the dress rehearsal — as mistakes like this highlight the joyful unpredictability of live TV.
Weekend Update
Much of Update's first chunk deals with the impeachment inquiry, which in Michael Che's understanding means, "He's getting fired? Let's get drunk!" Some of Colin Jost's best jabs are slipped in between the bigger jokes, including one bit in which he pokes at Trump's terrible grammar: "I'm sorry to be a grammar Nazi, I know you hate one of those things." It's odd that the quip-heavy Update has come to rely on as many news clips as it has; the segment is short, comparatively speaking, and there are languid recaps of Giuliani's unhinged behavior available on six other late-night shows.
Then Kenan Thompson comes on to play former Boston Red Sox player David Ortiz, who has been coping with being shot earlier this summer in the Dominican Republic. As it has long since found its formula, this bit remains the same: Ortiz fantasizes about food and does a few impromptu commercials for products such as "Hairbnb" and the "Possible Burger." While there's nothing surprising about the bit, Thompson's joy is infectious.
Downton Abbey Trailer
This movie trailer celebrates the release of the Downton Abbey movie, and all of its ostensible drama: The servants must clean everything before the king and queen arrive (in a year and a half), there's mud discovered at the bottom of the lake, and there must be other foods beside bread. "Were the stakes in the show always so low?" one review asks. Another says that the movie "feels like watching the sun set on white people as a whole." No matter, moms will love it. The sketch does a nice job of repurposing all of the staid cliches in Downton, and mannered British period drama in general, to confirm that there just isn't all that much going on. While most performances are meant to blend into a homogenous mass rather than stand out, McKinnon's cockeyed Dame Maggie Smith is a little show all its own.
Woody Harrelson Monologue
Riding high on his Esquire cover and being identified as a well-dressed celebrity, Harrelson is feeling his oats enough to forgo the writers' attempts to help him write a monologue. After announcing that he can't say anything wrong, he immediately catches himself talking about immigrants, Fox News viewers, and the Chinese in ways they might find unflattering. He starts apologizing, and it only gets worse. Eventually, he's apologizing for using the word "pussyfoot," just in case anyone watching has "pussy feet." This is SNL's way of addressing the hiring and subsequent firing of Shane Gillis without coming right out and saying his name. It's a strange way to start, given that most of the punchlines require some apologetic dissembling, but Woody seems more than game to play along. Surely SNL knows the difference between putting overt, silly slips in Harrelson's mouth and the casual racism that got Gillis in trouble, but so be it, let the show vent.
Dad
In an unnamed campy '90s TV drama, a kid named Scotty (Kyle Mooney) appeals to his busy professional of a father (Harrelson), a guy who always seems to be on his appropriately large cell phone. While waiting to explain something about a failed math test, Scotty imagines a big rap number in which he confesses his admiration for his dad and his own need for attention. The sketch returns to one of Mooney's preoccupations — the stilted, issue-based edutainment of the era — without adding much to it. The rap has an enjoyable cringe factor, though, and it's benefitted by the appearance of Scotty's religious pal Colby (Redd). There's also a nice zig as Dad prepares to participate in his kid's rap and ends up disappointing anyway.
Locker Room
During his inspirational halftime speech, the coach of the Timbrook Fighting Corgis (Harrelson) gets interrupted by his new wife, Trinity (Gardner). The young and less-than-clever lass won't stop talking about the coach's "thing," how its vein came all the way out, how it made sounds like Donald Duck. Soon, the guys on the team are more obsessed about coach's dong than they are about victory on the field. So, yeah, a prolonged dick joke. Gardner does her best to find a little nuance in the dumb blonde she's got to play, but there's not all that much to find when it's four minutes about a quacking dick and its gross-out veins.
Roadside Museum
In SNL's latest bit of sponcon, the Hodder family (Harrelson, Bryant, and Day) go on morning show Sun's Out Nevada! to tout the world's largest Cheeto museum and show off the world's largest Cheeto. They've sunk their fortune into the place, but unfortunately, the orange abomination slips from its ornamental stand, falls into a whirling fan blade, and explodes in a burst of cheese dust. The cast gamely looks for hooks — Bryant as long-suffering wife, Day as overenthusiastic son — but the material itself doesn't have much room for them to play. Eh, hopefully it paid a few bills.
Much of the show's energy this week comes through in its first two sketches, which felt like back-to-back cold opens; they might have saved the Town Hall for next week, and saved a chunk of the show's running time. Though it was nice to see a guest host as one of the political heavyweights, presumably Harrelson was only playing Biden as a pick-up, and either Jason Sudeikis will come back or someone else in the cast will step up. Next week, the rightfully beloved Phoebe Waller-Bridge hosts for the first time.