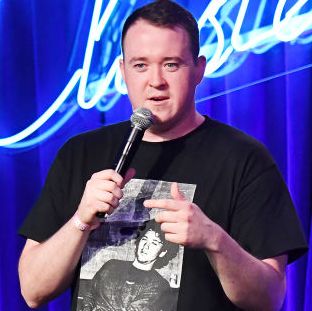 Photo: Jeff Kravitz/FilmMagic for Clusterfest
Hours after SNL announced stand-up Shane Gillis was one of the three new cast members hired for the upcoming 45th season, a video surfaced on social media that showed Gillis using racist and homophobic language on his podcast as recently as September 2018. Upon further investigation, Vulture discovered Gillis has a long history of using such language in his podcast and stand-up routines, and Gillis proceeded to offer an apology "to anyone actually offended by anything I've said." Now, Democratic presidential candidate Andrew Yang — whom Gillis referred to as a racial slur on his podcast earlier this year — is personally reaching out to Gillis in the hopes of discussing his comedic material.
"Shane, I prefer comedy that makes people think and doesn't take cheap shots. But I'm happy to sit down and talk with you if you'd like," Yang wrote. "For the record, I do not think he should lose his job. We would benefit from being more forgiving rather than punitive. We are all human."
In the same statement that addressed his racial and homophobic remarks, Gillis insisted he wasn't trying to insult anyone with his material. "I'm a comedian who pushes boundaries. I sometimes miss. If you go through my 10 years of comedy, most of it bad, you're going to find a lot of bad misses," he wrote. "My intention is never to hurt anyone but I am trying to be the best comedian I can be and sometimes that requires risks." SNL has yet to comment on whether Gillis's past remarks will affect his employment.