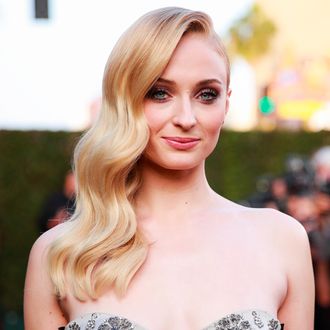 Photo: Rich Fury/Getty Images
Imagine it: celebrities, sent into the complete unknown, forced to overcome the odds or disappear, never to be seen again. Yes, launching a show on Quibi is bound to be an exciting adventure, hopefully as exciting as the logline for Sophie Turner's first post-Game of Thrones TV project, Survive. According to Variety, Turner stars as Jane, one of two survivors (get it? from the title?) of a plane crash, in a series based on the titular 2012 novel by Alex Morel.
A plane crash is never great, but on the plus side, the other survivor is Corey Hawkins, of Straight Outta Compton, 24: Legacy and BlacKkKlansman fame. On the minus side again, the pair didn't crash-land somewhere convenient, like Cleveland or Sacramento, but instead find themselves stranded on a snow-covered mountain, from which they must "embark on a harrowing journey out of the wilderness, battling brutal conditions and personal traumas." Mountain lions and avalanches are bad enough, but personal traumas too? Can't those wait until they find a ski resort or something? Hardly seems fair.