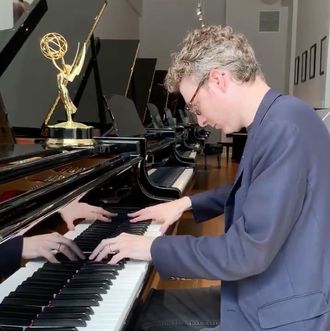 Photo: Nicholas Britell/Twitter
Daisy Buchanan, sweetie, I'm so sorry! The Great Gatsby character may have had a voice "full of money," but that voice does not have a six-pound, twelve-and-a-half-ounce trophy to prove it. Succession's theme — which sounds like tongue-kissing pyramids of cash — beat those of Castle Rock, Crazy Ex-Girlfriend, Good Omens, and Our Planet to win the Emmy for Outstanding Original Main Title Theme Music at Sunday night's Creative Arts Emmy Awards. Congratulations, Nicholas Britell, light of our lives and the internet's favorite composer. To celebrate, Britell and his bling gave us simple serfs a glimpse of him playing the theme on piano. "I can't express enough how honored I am by this recognition @TelevisionAcad! Thank you to @jessearmstrong1, @GhostPanther, to our incredible cast and crew on Succession, to @HBO, and to all of the support from fans of the show!" he wrote. The power that this has!
The Succession theme song, the greatest piece of music not made by Beyoncé, is a cultural phenomenon in and of itself. Some people — all right, us — want to dance to it, spend money we don't have on it, bathe in it! Maybe next year, Mrs. Buchanan.