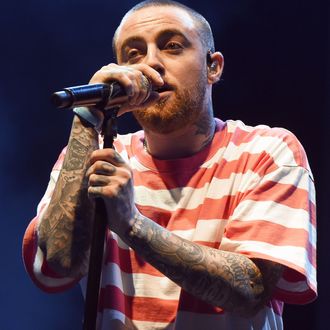 Photo: Kevin Winter/Getty Images
Cameron James Pettit, a 28-year-old from the Hollywood Hills, has been arrested by the Drug Enforcement Administration in connection with rapper Mac Miller's overdose, according to the Los Angeles Times. He has been taken into custody and charged with one count of distribution of a controlled substance. Court documents allege that Pettit had agreed to sell Miller 30 mg oxycodone pills, cocaine, and Xanax. But on September 5, 2018, he allegedly gave Miller counterfeit oxycodone that had been laced with fentanyl. Illegal fentanyl is a "potent and often deadly" synthetic opioid. Over 72,300 Americans died from opioid usage in 2017, according to the CDC. It's unclear if Miller knew the pills had fentanyl in them. Two days later, Miller died in his home of an accidental overdose — a combination of fentanyl, cocaine, and alcohol, according to the Los Angeles County coroner's office.
An affidavit supplied with the court documents alleges that Pettit sent a direct message to his friends on Instagram on the day of Miller's death, reading, "Most likely I will die in jail." If convicted, Pettit may face a maximum of 20 years in prison. The anniversary of Miller's death is September 7, just three days away. In the year since, Miller has been posthumously featured on songs including "Time," by the Free Nationals, and "That's Life," with 88-Keys and Sia, which deals with addiction.