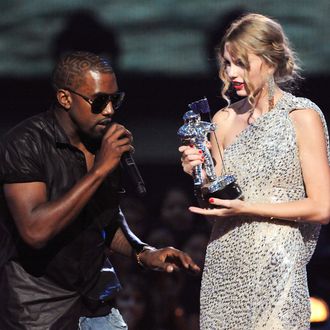 Kanye West and Taylor Swift at the 2009 VMAs.
Photo: Jeff Kravitz/FilmMagic
Hell hath no fury like Taylor Swift scorned. The nightmare dressed like a daydream has been through many a feud in her career, and now that she's celebrating the release of Lover, she has opened up to Rolling Stone about the perceived backstabbings and callouts that got her to this place, namely Kanye West, Scooter Braun, and Scott Borchetta. "I thought I knew what betrayal felt like, but this stuff that happened with him was a redefinition of betrayal for me, just because it felt like it was family," Swift said of Borchetta selling "the most feminine body of work" to Braun. "To go from feeling like you're being looked at as a daughter to this grotesque feeling of 'Oh, I was actually his prized calf that he was fattening up to sell to the slaughterhouse that would pay the most.'"
Her experience with betrayal lingers to this day. Ten years later, we're still talking about the MTV Video Music Awards acceptance speech interrupted 'round the world. A lot more happened in between the mic grab and the "Famous" lyric debacle of 2017, Swift revealed to Rolling Stone. And it all came to a head six years later, yes, at the MTV VMAs, where Kanye asked his new friend Taylor Swift to present his Video Vanguard Award. "And so I wrote this speech up, and then we get to the VMAs and I make this speech and he screams, 'MTV got Taylor Swift up here to present me this award for ratings!'" Swift recalled. West actually yelled, "You know how many times they announced Taylor was going to give me the award 'cause it got them more ratings?" but, still, it gave her "chills" as she stood off to the side watching, realizing he is "so two-faced." Even though she pushed past it and tried to maintain their friendship, hearing the lyric "I made that bitch famous," brought it all back up.
"If you want to be on bad terms, let's be on bad terms, but just be real about it," she said, adding that she's not the only one who's been burned by West. "He gravely affected the trajectory of Drake's family and their lives. It's the same thing. Getting close to you, earning your trust, detonating you. I really don't want to talk about it anymore because I get worked up, and I don't want to just talk about negative shit all day, but it's the same thing." (Rolling Stone notes that Kanye West denies involvement in Pusha T's feud with Drake and apologized for any "negative energy" he emitted.) Looking positively to the future, in 2020 Taylor Swift is rerecording the music Scott Borchetta sold away and throwing her fans a Lover music festival. Hey, maybe new ally Drake will be there.