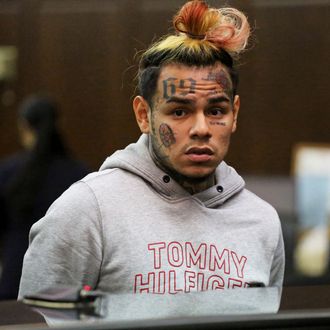 Tekashi.
Photo: Jefferson Siegel/NY Daily News via Getty Images
Tekashi 6ix9ine and his driver were on their way to a pal's house when a car hit them from behind.
The "FEFE" rapper, legally named Daniel Hernandez, stayed in the car while his driver, Jorge Rivera, went to see what was up.
"He takes longer than usual," Hernandez said Wednesday in Manhattan federal court. "I see a guy running up to the passenger side with a gun."
"Damn, they caught me. It's over," Hernandez recalled thinking. "I couldn't hit the lock to the door."
So began Hernandez's detailed description of a July 22, 2018 incident which left him fearing for his life. He provided this account while testifying in the racketeering case against purported Nine Trey Gangsta Bloods members Anthony "Harv" Ellison and Aljermiah "Nuke" Mack. Tekashi and prosecutors allege that Ellison kidnapped him. Mack allegedly pushed drugs such as heroin and fentanyl.
"He opens the door and has the gun pointed at me," Hernandez alleged, identifying the man as "Sha." Ellison also stood there with a gun.
"I'm pleading with him," said Hernandez, who started to choke up on the stand. "I'm like, 'Bro, I gave you everything. I put money in your pocket.'"
Hernandez's pleas fell on deaf ears, he alleged.
"They told me to get into the car before they shoot me," Hernandez alleged.
Hernandez complied and climbed into the back of their car.
They drove off. Rivera was following behind them, calling OnStar in a panic.
"I need you to call the police," Rivera told the operator. "My brother has been kidnapped!"
Ellison and Sha managed to lose Rivera.
At one point, both men got out of the car.
Sha pulled Hernandez out.
"Sha had me pinned down by the hair," Hernandez said. "He just kept hitting me on my face."
They told Hernandez to say "not Billy" — a way of saying he wasn't part of Nine Trey.
"I said it three times," Hernandez claimed.
Sha wasn't satisfied, it seemed.
He "kept repeating, 'We should do this n—a,'" Hernandez said.
"You're right," Ellison allegedly replied. "Nobody's ever gonna know, this is a stolie anyway."
"A stolie?" the prosecutor asked.
"A stolen vehicle," Hernandez explained.
Harv allegedly asked, "'Yo, what you got?"
He told Harv that he didn't have any jewelry  on him.
"We came to an agreement, if I gave [them] jewelry, they would let me go."
Hernandez called up his daughter's mom, who was at his house, and told her to bring down his jewelry. Sha met her downstairs.
The loot included a Presidential Rolex, a spinning 69 chain, four "fully diamond" rings, Cuban bracelet, and a My Little Pony chain. (The mane of this pony was made out of Hernandez's own rainbow hair.)
After the men drove a bit more, they stopped near a housing project which many referred to as "Smurf Village."
"Get out the car," Harv allegedly said.
"I said, 'No, because if I get out the car, you'll shoot me in the back.'"
After they went back and forth about getting shot, Hernandez darted out.
"I just took my chances and ran."
Hernandez hurried down the street.
He reached for the handle of a car. The backdoor opened and he got in.
"'What the f–k n—a, get the f–k out of my car,'" Hernandez recalled the driver saying.
"Shut up — I'm about to die!" Hernandez said. "I was like, 'Bro, you need to relax, at this point, just drive.'"
Then Hernandez noticed: The car right behind them was Ellison's.
"Do not turn your blinkers on!" Hernandez told the driver. "I told him to drop me off at the precinct."
Hernandez eventually wound up at Kings County Hospital. His former manager, Kifano "Shotti" Jordan, got him discharged because there were a "whole bunch of fans in here." They instead went to a hospital on Long Island, where Hernandez got a CAT scan and concussion meds, he said.
When he returned home later that night, Jordan brought him "a big assault rifle."
"Do you recognize this?" the prosecutor asked, showing a large black gun wrapped in plastic.
"Yes," Hernandez said, it's "the assault rifle Shotti brought."
The gun was taken out of its plastic. The prosecutor stood with the gun in front of the jury box for several moments, allowing jurors to view the weapon.
Ellison's lawyer has contended that the kidnapping is a hoax concocted by Hernandez to get more attention.
Hernandez returns to the stand on Thursday.