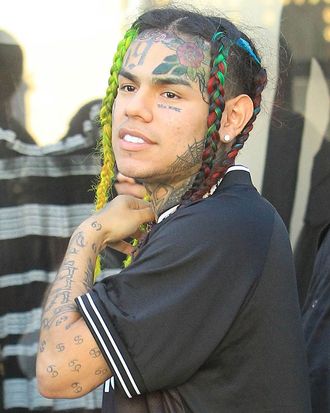 Photo: SMXRF/Star Max/GC Images
Tekashi 6ix9ine continued dropping dimes against former associates Wednesday in Manhattan federal court, outright naming several rappers' purported gang affiliations and detailing attacks on rivals such as Trippie Redd.
The rapper, whose legal name is Daniel Hernandez, was testifying in the racketeering case against two purported Nine Trey Gansta Bloods members, Anthony "Harv" Ellison and Aljermiah "Nuke" Mack. Federal prosecutors allege that Ellison kidnapped and robbed Hernandez in July 2018; they also say Mack pushed drugs such as heroin and fentanyl.
Hernandez was asked whether there were beefs with other artists.
"There was a lot," Hernandez said, explaining his main rivals as Trippie Redd, Cassanova, Chief Keef, and some Rap-a-Lot Records associates.
He identified Trippie Redd as a member of "another set of Bloods" — echoing his testimony Tuesday that he was in Five Nine Brims. Casanova was also in "another" Blood group, whereas Chief Keef was part of the Black Disciples.
He quipped that Rap-a-Lot is "not a f*cking gang. They're like, a wannabe mafia kinda thing."
He then described how his dispute with Trippie Redd spiraled into violence.
While he and Trippie had been on the same label — even recording a song together that "did really well" — jealousy spurred an online dispute.
"Was there violence?" Assistant U.S. Attorney Michael Longyear asked.
"We attacked him at his hotel," Hernandez replied matter-of-factly of the November 2017 incident.
Hernandez said he was in a restaurant with former manager Kifano "Shotti" Jordan when Trippie Redd's manager called.
"Trippie Redd's manager said that he wanted to squash the beef … the online verbal attacks," Hernandez said. "At the time I was upset with him, I was like, 'Naw, I don't want to squash the beef.'"
"He said, 'If you change your mind, here is the address of the video shoot. If you have time, stop by, we'll take a picture and let the world know you're friends again.'"
Hernandez and Jordan did go to the shoot location in Red Hook.
They spotted Trippie Redd's "sprinter van" — a large vehicle that can hold over 12 people — and waited.
"We camped out," Hernandez said. "We surveillanced it."
Trippie Redd eventually left the shoot and got into the van.
"We followed him for about an hour and a half, two hours, on the highway," Hernandez said. "We're, like, cutting between lanes."
Trippie Redd's sprinter van eventually rolled up to the Gansevoort Hotel. Ellison also arrived and parked parallel to the hotel.
Kifano, Ellison, and others in their group went into the hotel.
"Shotti comes out screaming, 'It's f*cking TreyWey. It's the f*cking mob! We got that n- - - -!" Hernandez recounted. "He said that Harv punched Trippie Redd in the mouth."
Hernandez said he and Ellison became close after the incident.
In March 2018, Hernandez said he and other Nine Trey members headed to Radio City Music Hall to confront Trippie Redd at his show — because he didn't check in with them after arriving in New York City.
Once again, they staked out Trippie Redd's sprinter van.
When the sprinter hit the road after a few hours, Shotti drove to the right side of the van.
"Shotti sticks his hand out and empties his clip," Hernandez said.
One month later, Hernandez and other Nine Trey members headed to Times Square to confront Rap-a-Lot for disrespecting him at South by Southwest.
Hernandez's pals wound up robbing Rap-a-Lot affiliates, stealing a bookbag, a passport, and "some fake jewelry."
Shotti got back in the car.
They didn't make it two blocks before they heard sirens.
"Shotti starts panicking. 'I ain't going to jail!'"
"He throws the gun on my lap and says 'Bix, get the f*ck out the car!'" Hernandez said. "I'm like, 'Bro, I'm f*cking famous at this point.'"
Jordan booted him from the vehicle anyway. Hernandez tucked the gun into his hoodie and went into the subway.
"I saw the turnstile and I was like, Naw," Hernandez said. "If I get on the train right now, someone is gonna recognize me … I've got a loaded gun."
He left the subway station and saw another pal, Crippy, outside.
"We tried to flag some cabs down, but they weren't stopping for us," Hernandez said.
Hernandez passed the gun to Crippy chest-to-chest.
"Keep your head down," Crippy told him before they got on the A train. "Pull the strings on your hoodie."
Hernandez, who might need witness protection for cooperating against Nine Trey, started naming names in his first hours of testimony Tuesday.
He said Jordan showed him the gang handshake, and when he showed jurors the Nine Trey sign he said Mack taught him how to make it. (The sign, unsurprisingly, features a thumb-and-index finger shaped like a nine digit, with the three other fingers sticking out.)
Hernandez said he wasn't initiated in Nine Trey but was nonetheless a member. He was supposed to keep "making hits" and bankrolling Nine Trey. In exchange, he got "street cred."
Hernandez is testifying under a plea agreement he made with the Manhattan U.S. Attorney's Office; under the deal, he agreed to nine federal counts and agreed to cooperate with authorities.
"The defendant's obligations under this agreement are as follows: That he shall truthfully and completely disclose all information of the activities of himself and others to the U.S. Attorney's Office and that he cooperate fully with law-enforcement agencies," Assistant U.S. Attorney Michael Longyear explained during the plea proceeding in January 2018. "It is understood that the defendant's cooperation is likely to reveal the activities of individuals and that witness protection may be required at a later date."