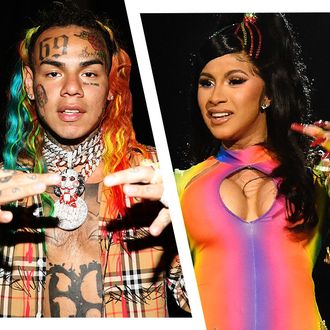 Yikes.
Photo: Getty Images
Tekashi 6ix9ine snitched on still more rappers in Manhattan federal court on Thursday, matter-of-factly claiming that Dipset rapper Jim Jones was in the East Coast gang Nine Trey, and Cardi B a member of the Bloods.
The "FEFE" rapper, whose legal name is Daniel Hernandez, made the disclosures during his third and final day of testimony in a racketeering case against alleged Nine Trey Gangsta Bloods members Anthony "Harv" Ellison and Aljermiah "Nuke" Mack. According to federal prosecutors, Ellision kidnapped Hernandez at gunpoint in July 2018. The Feds allege that Mack peddled heroin and ecstasy.
As the prosecution wrapped up its questioning of Hernandez, assistant U.S. Attorney Michael Longyear asked him about Jim Jones.
"He's a retired rapper," Hernandez said. (Jones, in fact, released an album just this May.)
Was Jones in Nine Trey?
"Yes," Hernandez replied.
The prosecution played audio from a November 2018 call. In the conversation, intercepted via wiretap, Jim Jones and alleged Nine Trey "Godfather" Jamel "Mel Murda" Jones complain about Hernandez publicly trash-talking gang members.
"Now he gotta get violated," Jim Jones said.
"Yeah, super violated. Super duper," Jamel Jones said.
"Just tell that n- - - - that he not a gang member no more. He kicked out the whip. He was never a gang member," Jim Jones said. (He has not responded to Hernandez's allegation at time of publication.)
Hernandez said at one point that Cardi B was a Blood. (She has discussed Bloods affiliation before, but talking about other people's gang ties is poor form, which is probably one of the reasons there's a #Tekashisnitch9 hashtag.) A rep for Cardi has since denied Hernandez's allegation, telling TMZ, "This is not true." Later, TMZ reported that Cardi admitted Bloods ties but made clear she had nothing to do with Nine Trey.
There was also a brief repartee in which Longyear asked Hernandez to explain "dry snitching."
"Dry snitching is like … snitching without snitching," Hernandez said. "You're telling people what happened …[but] you're not putting your name on it."
He also discussed his beef with rapper Chief Keef, which culminated in a shooting outside a Times Square hotel in June 2018. Hernandez said he asked his friend Kooda to shoot at Keef, agreeing to pay him $20,000 in return. Hernandez met up with Kooda after the June 2, 2018 shooting; he testified that he only wound up giving him $10,000 because Kooda fired into the air.
The courtroom drama was intensified by several embarrassing security breaches at the courthouse.
Recording audio and video in federal courthouses is strictly prohibited. People aren't allowed to take electronics into the courthouse unless they have special permission. Somehow, however, illegally recorded audio and video of Hernandez's testimony leaked. Audio was posted to YouTube on Wednesday. A still photo and video of Hernandez's testimony was posted to DJ Akademiks's Twitter account Thursday. (Hernandez has referred to the Complex host as a "friend.")
Hernandez, whose credibility has repeatedly come under question, also admitted that he lied in interviews following his alleged kidnapping.
"Why did you lie?" Longyear asked.
"Because I was humiliated," Hernandez said. "Humiliated because I constantly bragged that no one could touch me — that I was untouchable. The king of New York."
Hernandez said he lied "that I blacked out."
The rapper also revealed that his "My Little Pony" chain — stolen during his alleged kidnapping — didn't cost him any money. "We had a deal," he said of his jewelers in South Florida. "They gave me the chain free, to promote it." As Hernandez boosted the chain on social, the jewelers would make smaller versions and sell them, he said. He also claimed that the total value of jewelry stolen during his alleged kidnapping was some $365,000.
Ellison's lawyer, Devereaux Cannick, continued to portray Hernandez as a fabulist who staged his kidnapping to promote the "FEFE" video.
"You were kidnapped on the 21st?"
"No," Hernandez said. "July 22."
"And when was 'FEFE' supposed to be released?"
"July 22."
"So this alleged robbery and kidnapping happened hours before 'FEFE' was supposed to be released?" Cannick said.
"Correct."
As part of this strategy, Cannick also asked Hernandez about trolling — which Hernandez had said "can mean a lot of things but, to me, it means agonizing, mocking … showin' off a little bit of my personality."
"Did you tell others to suck your body parts?" Cannick asked.
"Correct."
"Who did you tell that to?"
"Everyone," Hernandez said.
The Brooklyn-born rapper also talked about his plea deal: He copped to nine federal counts in January and agreed to cooperate against Nine Trey in the hopes of landing a more lenient sentence.
Under normal circumstances, Hernandez would face a minimum of 47 years in federal lockup. If Hernandez meets the terms of his plea deal — "to tell the truth, to testify," he explained — prosecutors can write a "5K1" letter, which would let the judge sentence him below the minimum. (To be clear, the sentence would still be totally up to the judge.)
"What type of information goes in the letter?" Longyear asked.
"The good, bad, and the ugly," Hernandez said.
Hernandez's next court appearance will likely be his sentencing, which is expected to take place in January 2020.
Update, 6:28 p.m.: Cardi B has responded to Tekashi 6ix9ine's testimony that she is involved with the East Coast gang Nine Trey. Via Instagram, Cardi shared the now-viral clip of Keke Palmer being asked who Dick Cheney is and not having any idea.
This post has been updated throughout.