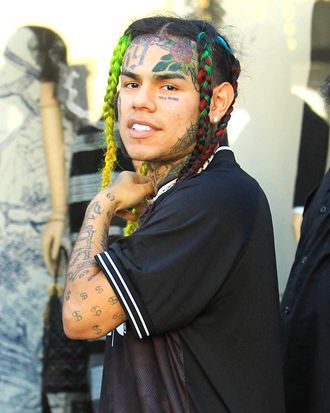 Photo: SMXRF/Star Max/GC Images
While Tekashi 6ix9ine's cooperation against alleged Nine Trey Gangsta Bloods members might require that he enter witness protection, the rapper seemed to enjoy his own music when it played in court on Tuesday, bopping his head along with the beat during his appearance.
The rapper, whose legal name is Daniel Hernandez, testified in the racketeering case against accused Nine Trey Gangsta Bloods members Anthony "Harv" Ellison and Aljermiah "Nuke" Mack," with whom he allegedly associated. Ellison stands accused of kidnapping and robbing Tekashi at gunpoint in July 2018. Mack allegedly peddled drugs such as heroin, fentanyl, and ecstasy.
The prosecution played excerpts from two music videos of Hernandez's songs, "Gummo" and "Kooda." At prosecutors' request, Hernandez pointed out alleged gang members who appeared in these vids.
When the excerpts played, Hernandez subtly but perceptibly nodded with the rhythm, sometimes moving his head from side to side in a swaying motion.
"I asked them if we could get some Nine Trey members to be part of the videos," Hernandez said of discussions about "Gummo" prior to production.
Hernandez said he wanted the "aesthetic" of "Gummo" to reflect the Bloods offshoot.
"I wanted the video to be full red," Hernandez said, explaining that he bought dozens of red bandanas in preparation for the shoot.
Jurors were also provided transcripts of "Gummo's" lyrics, including the lines "N- - - -s iffy, uh, blicky got the stiffy, uh. Got the blicky, uh, drum it holds fifty, uh" and "In the hood with them Billy n- - - -s, and them Hoover n- - - -s."
When asked to explain the meaning of "Gummo," Hernandez said, "It was actually a diss song" directed toward rapper Trippie Redd — who he also alleged was a member of another Bloods offshoot, Five Nine Brims.
Hernandez and Redd were on the same label.
"He signed first. I signed after," Hernandez said. "There was a lot of jealousy involved."
At the beginning of his testimony, Hernandez was asked to point out Ellison and Mack.
"Uh, Harv … he has a gray suit on," he said.
"Nuke … has the white thing on his head," Hernandez said, referring to a knit religious cap Mack was wearing.
He also said his former manager, Kifano "Shottie" Jordan, taught him the gang handshake. He then demonstrated the Nine Trey sign. He curled his thumb into his index finger, like the nine-digit's shape, and let his three other fingers fan out.
Asked who showed him how to make the sign, he replied, "Nuke."
Hernandez, who sported navy jail scrubs and fading pigtail braids, recalled that he decided to cooperate with the Feds one day after he and his former cronies were busted for racketeering.
He also recounted his entry into the business. The prospect of rapping came up when Hernandez was working at a grocery in Brooklyn. A man who bought tilapia and "things like that" at the store told him Hernandez he "got the image for it, looked cool."
A few years later, in fall 2017,  Hernandez dropped "Gummo" on YouTube.
"It was [an] instant success, I would say," Hernandez testified.
He quickly picked up on the fact that Bloods-centric work would propel him to success.
"I knew I had a formula," he said. "That's what people liked."
He also said his role in Nine Trey was "keep making hits" to financially support the gang.
In return, Hernandez got "street cred" and protection, he said.
Hernandez's testimony stems from a plea deal he brokered with the Manhattan U.S. Attorney's Office; under the agreement, he copped to nine federal counts and agreed to cooperate with the Feds.
"The defendant's obligations under this agreement are as follows: That he shall truthfully and completely disclose all information of the activities of himself and others to the U.S. Attorney's Office and that he cooperate fully with law-enforcement agencies," Assistant U.S. Attorney Michael Longyear said during the plea proceeding. "It is understood that the defendant's cooperation is likely to reveal the activities of individuals and that witness protection may be required at a later date."
In his opening statement Monday, Assistant U.S. Attorney Jonathan Rebold portrayed Ellison and Mack as men who used violence to make money. Ellison was the gang's "second-in-command, enforcer, muscle." Hernandez promoted the gang through his music videos, making "money, lots of money, for Hernandez and for Nine Trey's leaders and money for the gang."
"In this role, Ellison and others committed multiple violent crimes," Rebold said.
Ellison was eventually booted from his role as Hernandez's protector.
"This did not sit well with Mr. Ellison," Rebold said.
During the defense lawyers' opening statements, they cast Hernandez as an unreliable witness — a master troll who would do anything to go viral.
Ellison's lawyer, Devereaux Cannick, called the kidnapping a "hoax."
"It's a Jussie Smollett," Cannick said, referring to the former Empire star who was said to have faked a racist and homophobic attack on himself in Chicago.
Hernandez will continue testifying on Wednesday.