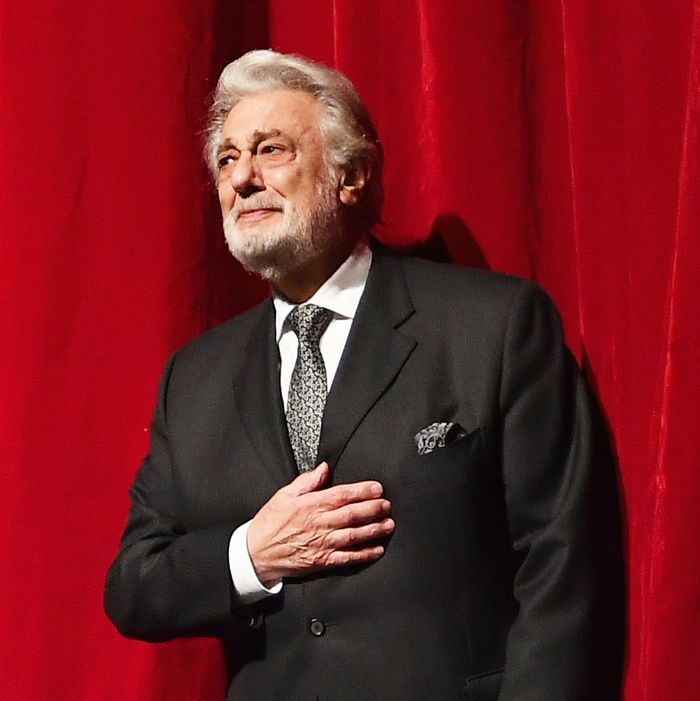 Plácido Domingo onstage at the Metropolitan Opera last November.
Photo: Angela Weiss/AFP/Getty Images
On many occasions, I have watched as the tenor Plácido Domingo, bellowing at full volume, grabbed a woman by the wrist and hurled her to the floor. Sometimes he jammed a knife in her gut. He has behaved this way as Don José in Carmen, as the title character in Otello, as Manrico in Il Trovatore, and in dozens of roles that have made him the most consequential opera singer of the last 50 years. Now that gold-tipped career has ended, at the Metropolitan Opera at least, because Domingo apparently let some of his characters' more odious qualities bleed into the offstage world. He has not been accused of violence, but more than 20 women at several different companies have reported that he harassed them tirelessly, flattering, cajoling, cornering, calling, and stalking them for years, so that they felt unsafe venturing through their workplace or walking alone to their cars. Like the princes and warriors and demigods he gave voice, he believed himself to be supreme and sincere. And nobody told him otherwise.
Until now. Shortly before Domingo, his 78-year-old voice having graveled into baritone range, was to start a run of Macbeth at the Met, orchestra and chorus members revolted. As full-time employees of a company that relies heavily on temporary talent, they are the ones who have to live with the institution's approach to sexual harassment. In light of that hostility, Domingo "withdrew" from Macbeth and all future performances. General manager Peter Gelb issued a breezy see ya. Less than six months after the company held a gala dinner on its stage honoring the 50th anniversary of the supertenor's Met debut, the relationship came to an unceremonious end.
If only it were that easy. Operatic conventions don't die when the soprano sinks to the stage, and the dynamics of sexual power don't vanish when one aging tenor retires a few years before he had planned. Just weeks ago, the Met settled a dispute with its disgraced former musical chieftain James Levine. Now the company faces a reckoning of its own.
Most opera pros have no trouble distinguishing the blood-soaked exploits of fictional characters from the rigors of their art. Lots of tenors who regularly act scenes of what in real life we would call domestic violence are puppy dogs offstage. But much of the standard repertoire revolves around 18th, 19th, and 20th century assumptions about sex and power that still linger backstage too.
I am, of course, unhappy that such a marvelous singing career should come to such a shabby end. But the immense pleasure he gave me over the years came at someone else's expense, and in retrospect maybe that cost should have been clear. His voice was unique and instantaneously recognizable, infused with the distinctive urgency and warmth that seemed to spring directly from his personality. If in his prime he was such a convincing Don José in Carmen, it was because the character's callowness and impetuousness were unforced, the sexual urgency genuine. Even at his height, Domingo could be bored, and then he sang with a muffled professionalism that made me just want to go home and turn on the TV. More often though, he was fully on, and when Don José transitioned from adoration to violence, Domingo sang so convincingly that the character's self-destructive delusions made perfect sense: Of course he was never going to let himself be spurned, not without retribution.
I don't for a minute mean to suggest that the best or only way to perform the role of a frustrated lover is to be one yourself, or that Domingo should have been free to oppress his female colleagues if it helped loosen his vocal cords. But the opera world coddles stars who live in their own bubbles of shiny ego, and Domingo was rewarded for forgetting to step all the way out of his greasepainted persona.
In person, I have found him warm and wry, generous about his colleagues, and possessed of a bottomless work ethic. In a world where divo and diva are often fancy terms for jerk, he was considered the rare celebrity gentleman. Like many people, I wrote off talk of his womanizing as gossip about his private life, presumably painful for his wife but nobody else's business. That's especially true because a career in opera can be brutal on families. Opera singers live in an international jet stream, drifting from house to house and role to role, meeting and parting on various continents, members of a roving society who look to each other for a sense of home.
Singers know the tradeoffs and choose which sacrifices to make for themselves, but the crop of public complaints suggests that Domingo forced others to suffer for his art. He belongs to — and, for decades, dominated — a strangely insular professional society that can get mixed up about where the past ends and the present begins. Operas written in the era of silent movies get treated as too contemporary, and some of the most successful new works are those that recapitulate tropes that are a couple of centuries old. Maybe, if the Met broadened its repertoire to reflect the society it ostensibly belongs to, it might become more familiar with the 21st century mores.
As a tenor, Domingo never sang the baritone title role of Mozart's Don Giovanni, about a serial sexual harasser and swaggering pussy-grabber who finally gets his due. In some productions, the women who have it in for him are played with a certain comical stuffiness, while the score urges the audience to root for the unrepentant protagonist. Gelb surely never wanted to play the role of the dead Commendatore, whose grim statue pronounces a sentence that brings the curtain down on the don. Instead, he chose the role of Don Giovanni's servant and sidekick Leporello, who grumbles, ducks, and does his best to keep the star happy at all costs.
Society has changed, and the Met is limping to keep up. When the news about Levine's transgressions broke, the company called in lawyers to run an investigation, bury the results, and settle the case. The Domingo protest makes it clear that's not enough to restore harmony within and trust without. In Levine's case, the Met's leaders claimed they had no idea that the man most widely credited for the company's artistic luster, who spent virtually all his waking hours in the building during a 40-year tenure, had a darker side. Met employees kept Levine's schedule, reserved his tables, carried his bags, and arranged his travel, yet the official position is that none of them saw or reported a thing. Those same powers of unobservation applied to Domingo, too. Hours before the divorce, Gelb was still claiming that the multiple accusations were "not corroborated."
There's more at stake here than Gelb's leadership or Domingo's reputation. The Met is a global beacon of an art form that is hugely expensive to produce and pricey to attend. More than most forms of culture, it depends on the public's good will. For the sake of its artists and its art, the Met needs to change its culture, not just cover its ass.