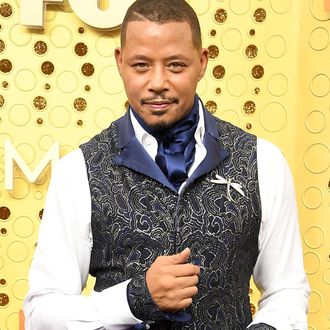 Photo: Steve Granitz/WireImage
To the wider world, Terrence Howard is an actor. To those who have been paying closer attention, he's also a self-styled mathematician and philosopher who invented his own math. (Remember how 1x1=2?) Those two aspects of Howard collided last night on the Emmys red carpet when local L.A. correspondents from KTLA asked the actor about his previously announced plans to retire after Empire concludes its run. Fear not, though. Howard is only retiring from the hamster wheel of Hollywood. You will see him again because he's got a generation to teach about how to fully open the flower of life. Which, again, is what he explained on the red carpet of the 2019 Emmys.
"I've spent 37 years pretending to be people so that people can pretend to watch and enjoy what I'm doing," Howard said, kind of shading his own career and audiences when asked if he really was planning to quit acting. Then he added, "I've made some discoveries in my own personal life with the science that Pythagoras was searching for. I was able to open up the flower of life properly, and find the real wave conjugations that we've been looking for 10,000 years. Why would I continue walking on water for tips when I've got an entire generation I can teach a whole new world." One of the KTLA hosts responded, "That's a big remark!" which is really the best possible answer if you're just trying to keep things moving at an awards preshow broadcast. Howard went on to talk about motion, waves, conjugations, and, obviously, more about the flower of life. You can watch it all right here.
Howard is receiving a star on the Walk of Fame this week, during which time he says he will "be able to prove that gravity is only an effect and not a force." That will be a little different than most Walk of Fame presentations, but props to Howard for spicing up the proceedings. So, give a light round of applause to the KTLA anchors for weathering all that so well, and here's Howard's new math, if you're interested.