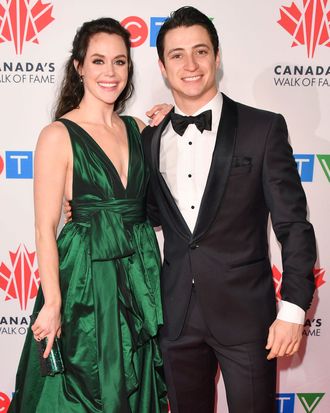 Photo: George Pimentel/Getty Images
Quick. Stop what you're doing, take that Canadian flag that you definitely own, and fly it at half-mast. Pour one out from your two-four of Molson. Tell Alexa to play "My Heart Will Go On." Watch this YouTube compilation of every time David and Patrick kiss on Schitt's Creek and cry big, fat, frozen tears. For today is a somber day, not only for Canadians, but for fans of physical beauty and athletic excellence the world over, and for all believers in true, quasi-platonic, sultrily choreographed love. Like an ice pick to the heart, Tessa Virtue and Scott Moir announced their retirement from the sport — nay, the art — of ice dancing on Tuesday. Needless to say, this news made us all feel like Justin Trudeau falling down the stairs. The two-time gold medal–winning duo, who skated their way into our hearts when they won their first gold at the Vancouver 2010 Olympics, announced that it was time to hang up their skates from their 22-year partnership, one that's definitely just professional, certainly just ice-acting, in a video posted to their Twitter accounts:
In the selfie video, the two wear funeral black and skate around the rink, the stands in the background empty like our hearts, addressing the camera. Thee footage cuts to videos of Virtue and Moir growing up on the ice before our eyes, a supercut of Virtue dramatically stage-fainting into Moir's arms, as children and teens and adults, and Moir catching her every time. It cuts back to Tessa gazing up at Scott in ways that make you second-guess whether you've actually ever felt true love before. Moir puts his arm around her. Tessa says, "After 22 years, it feels like the right time to step away from the sport […] this is so personal and emotional for both of us. We're just so grateful." Scott says they feel like "the most fortunate kids in Canada." The music swells. They assure us they still love us, essentially saying the ice divorce isn't our fault, and that they still care about each other very much, and that we'll still be able to see them.
It isn't goodbye, though. Tessa and Scott have come out of retirement once before, to win gold at Pyeongchang, so it's not unheard of that they'll skate again. Also, in the video they tease that we can still catch them on their upcoming "Rock the Rink" tour, which will see them melting hearts and rinks in 20-plus Canadian cities, and also Cleveland. So if you ever wanted to visit Newfoundland in late November, you finally have a reason.