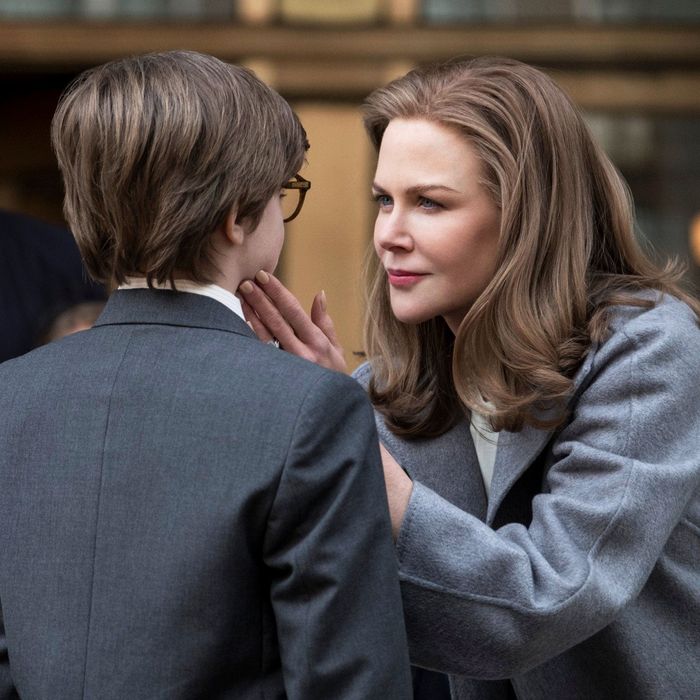 Nicole Kidman and Ansel Elgort in
The Goldfinch
Photo: Warner Bros.
It was November 2016 and producers Nina Jacobson and Brad Simpson had already put nearly three years into developing a film adaptation of Donna Tartt's Pulitzer Prize–winning The Goldfinch. They'd enlisted BAFTA-winning screenwriter Peter Straughan, who spent more than a year winnowing the sprawling 771-page novel down to manageable movie length. They'd hired director John Crowley, whose previous literary adaptation Brooklyn landed three Oscar nominations including Best Picture earlier that year, and who continued to toil over the script with Straughan for six more months. Accompanied by Crowley, the producers marched onto the Warner Bros. Burbank lot to lay out a mood board for top studio executives, explaining what The Goldfinch was going to look and feel like onscreen, who they wanted to cast, and, perhaps most importantly, how much it all was going to cost. At which point the project came close to falling apart.
A Dickensian coming-of-age story, Tartt's novel is filled with big swings at enormous themes — parental loss, unrequited love, addiction, redemption, tragedy's power to shape lives, the immortality of artwork. The story spans two decades but coalesces around the unlikely trajectory of a literal goldfinch — at least, an exquisite 13-by-9-inch painting of one by the 17th-century Dutch artist Carel Fabritius — which disappears from the Metropolitan Museum of Art in the aftermath of a terrorist bombing that kills the mother of a young patron. That character, Theo Decker, is subsequently uprooted from his citified Manhattan existence to the wilds of suburban Las Vegas (where he befriends a druggy, precocious, similarly motherless Ukrainian teenager named Boris). When calamity strikes again, Theo returns to the Big Apple where he becomes a wunderkind of antiques restoration (and later, art forgery). In the book's final act, Theo is transplanted once more, this time to Amsterdam where he gets roped into a veritable gangster drama.
Interpreting all that trans- and intercontinental action, with an ensemble cast and prestige production design, was never going to be done on a shoestring budget. But in an era when serious, adult-skewing dramas are edging closer to extinction every year (by dint of their dwindling commerciality), Warner Bros. studio bosses felt the money Jacobson and Simpson needed to accomplish their adaptation was too much. "The executives wanted to make it there. Question was, how do you offset the costs?" Simpson recalls. "Usually you go to one tax-credit city and shoot everything there. But this book is set in Amsterdam, New York, and Las Vegas. It was a real quandary … There came a point where it was like, 'What is it going to cost? How do we justify those numbers internally?'"
The fact that a two and a half hour big-screen version of Tartt's book — starring Ansel Elgort and Nicole Kidman — exists at all speaks to a groundbreaking partnership between Warner Bros., which will theatrically distribute the film worldwide, and Amazon Studios, which nabbed streaming video-on-demand rights in exchange for footing a substantial chunk of the movie's budget. What can't be overstated is that at a time of dwindling theatrical attendance, major movie studios and streaming giants don't generally see eye to eye, and never co-finance films together. But this deal has the potential to change the calculus of how such serious dramas get made in modern Hollywood. "This could be a game-changer for our business model," several people close to the production quoted Toby Emmerich, chairman of Warner Bros. Pictures Group, as having said. (Studio spokespeople at Warner Bros. and Amazon Studios declined to make any of their executives available to speak to Vulture for this article.)
To this day, Jacobson, the former president of Disney's Buena Vista Motion Pictures Group turned independent producer, still marvels at Warners' and Amazon's agreement to effectively share custody of The Goldfinch — under ordinary circumstances, the drama's SVOD rights would have gone to the studio's corporate sibling HBO. "Every studio has a certain way all of their movies work in terms of output to streaming or the post-theatrical market," she says. "So to break with that history took a lot of desire and willingness on the part of Warners, up and down the corporate ladder."
The origin of this deal can be traced back to early 2013, before The Goldfinch had even been published, when Tartt's veteran book-to-movie agent Ron Bernstein sent the manuscript to Jacobson and Simpson (partners in the production company Color Force). It was a natural fit: The production company had enjoyed a run of success with previous literary adaptations like the Hunger Games franchise. The executives had a reputation for maintaining writers' authorial vision in transposing their books to the screen, as they would do with 2018's Crazy Rich Asians.
The producers loved the book and became "attached" to shop its rights and develop the book into a movie or miniseries in May of 2013. But they held off on approaching major studios, networks, and streaming services for financing until the book finally hit shelves in September. They knew persuading studio development executives to read some random 800-page book would be an uphill battle. "We made a plan to wait and let the book explode — which we felt sure it would do," Simpson says.
Sure enough, The Goldfinch exploded, spending more than a year on the New York Times best-seller list and selling millions of copies around the world. In 2014, it won the Pulitzer Prize for Fiction, and Hollywood came calling. In addition to Warner Bros. — which tried and failed for almost a decade to mount an adaptation of Tartt's 1992 debut novel, The Secret History — three other studios took a run at buying The Goldfinch rights. According to people briefed on the matter, Tartt blanched at the idea of turning the book into a miniseries on a streaming service (back in 2013, the only antecedent would have been Netflix's House of Cards) and Warners emerged victorious, with Brett Ratner boarding the project as an executive producer by way of a slate financing deal his RatPac Entertainment banner had struck with the studio. (Through a Warner Bros. representative, the reclusive Tartt declined to comment for this article.)
In November 2014, Color Force brought on British playwright-author Straughan, who earned a 2012 Oscar nomination for adapting John le Carré's Tinker Tailor Soldier Spy for the screen. He felt that The Goldfinch's chronological odyssey could never boil down to a two-hour movie, so he decided upon the movie's most radical departure from its source material: The film begins with adult Theo in Amsterdam in the present day, then flashes back in time to 13-year-old Theo, and later leaps forward to the dubious dealings of pre-Amsterdam Theo. Roughly half the film showcases actor Oakes Fegley as the junior version of the character, with Elgort playing the man he develops into. "Moving back and forth and focusing in on just two time periods of the story meant that we would be casting two actors rather than three or maybe four," says Irish-born Crowley, who joined The Goldfinch in 2016, the year Straughan's first draft had been delivered. "That made it not just practically possible but cinematically possible. It allowed us to visually tell a story in which the past is constantly sitting on the present's shoulders."
Even without a green light from the studio, Color Force continued assembling its creative quorum, which included Oscar-winning cinematographer Roger Deakins and production designer K.K. Barrett (who frequently works with filmmakers Spike Jonze and Sofia Coppola). At the 2016 meeting with Warners executives, Crowley produced an A4 book featuring a dozen or so images pulled from the internet, explaining the "feeling" of each section of the movie as well as its color palette and "what kind of cinematic language it could translate into," the director remembers. That's when budget negotiations between the studio and the producer broke down. "This is the big moment where you go in and say, 'Here's the movie and here's the ask,'" says Jacobson, who with Simpson offered to reduce their producers' fees as a show of good faith. "You hope that it's a week or two and then you're off to the races. But that was not to be."
The producers credit Crowley's agent, Dan Aloni of the powerhouse William Morris Endeavor talent agency, with the eureka idea that ultimately willed The Goldfinch movie into being: What if the studio partnered with a streamer and gave them the on-demand rights that would have gone to HBO? This rather straightforward proposition, however, violated typical protocol. Under the prevailing business model (which has been in place since the dawn of pay TV) studios make movies, show them in theaters, and accept a licensing fee from cable channels and streaming services to make that content available on their platforms after the movies have receded from the multiplex. Disney licenses its films to Netflix; at Lionsgate, the go-to is Epix. For Warner Bros., operating under the corporate umbrella of Time Warner at that time, the feeder platform for its post-theater movies was HBO.
Amazon Studios, for its part, has an original film division that has produced and distributed such titles as Manchester by the Sea, The Big Sick, and You Were Never Really Here. Like Netflix, it licenses films from other studios, and those fees represent the majority of Amazon's expenditures on content. The proposed Warners deal would not fit into either category.
The Color Force producers initially explored bailing on Warner Bros. altogether and setting up The Goldfinch exclusively with Amazon, but a co-finance deal began to seem sweeter — and more possible. Aloni remained instrumental in the deal-making process. Over the course of nearly a year of shuttle diplomacy, top executives at both companies met repeatedly to hash out an agreement. Among them: Jason Ropell, Amazon's vice-president and worldwide head of motion pictures, and Ted Hope, its head of motion-picture production. At Warner Bros., production president Courtenay Valenti, president of worldwide business affairs Steve Spira, and chairman Toby Emmerich were among the executives representing studio interests. (Like Emmerich, neither Valenti or Spira were made available for comment.)
"We had a long history with Ted Hope but a lot of new ideas had to be explored in order to make the partnership work, given that there was no precedent for it," Jacobson says. Adds Simpson: "Amazon made sense because obviously, this book had been featured on their platform. It makes sense to have a synergistic partnership where they had direct access to fans of the book through their site."
The negotiations reached the top of the corporate totem pole in both companies with Ropell traveling to Seattle to the tech giant's corporate mothership to plead the case for partnership to Amazon's top brass. Warner Bros. then–chief executive Kevin Tsujihara huddled with Time Warner's then-CEO Jeff Bewkes — who had top-down oversight on both Warner Bros. and HBO — in order to enact the deal. In the end, Amazon agreed to shoulder more than 30 percent of The Goldfinch's reported $40 million budget in addition to paying a licensing fee for the pay TV rights, according to a person with knowledge of the deal who declined to be identified.
The upsides for both companies were obvious: Warners could suddenly afford to be in the prestige drama business in a moment when studio slates are increasingly dominated by reboots, sequels, and spinoffs; and if The Goldfinch succeeded at the box office, Amazon's equity stake would pay for its streaming licensing fee.
"This is a great model for us," Emmerich reportedly said at the time. "It creates a model that potentially allows Warner Bros. to make dramas or urban-skewing or domestic-skewing films for a higher budget through a partnership with Amazon."
Throughout the deal-making, Crowley and Straughan continued hammering away at the script. "We kept focusing on, 'What could feel like Masterpiece Theatre?' and dissolve them away and, 'What could feel like a more lucid version?'" Crowley says. Kidman's character (Mrs. Barbour, who takes in an orphaned Theo) was beefed up in the page-to-screen translation. "She is a key character opposite both versions of Theo and in a lot of ways expresses something very difficult to express in film which is him missing his mother," the director explains.
But real-life dramas surrounding the production weren't over yet. In November 2017, six women came forward to accuse Goldfinch executive producer Brett Ratner of sexual harassment and misconduct. "When all of the news broke, we had to call Warners and say, like, 'This just can't be,'" Jacobson recalls. "We would often look at our department heads and ask ourselves, 'Are we doing everything we can to be inclusive as a team and in major roles of responsibility?' So in terms of representation and visibility behind and in front of the camera, no. There was not going to be any kind of gentle way to proceed other than not at all. And Warners was very responsive and right away the change was made and RatPac became unattached."
Cameras finally began to roll in January 2018 in New York City, with later shoots taking place in Amsterdam and Albuquerque, New Mexico (which stands in for the desolate suburbs outside of Las Vegas described in the book); principal photography wrapped that May. Fast-forward to this month, when the film premiered at the Toronto International Film Festival to mixed reviews. Variety called The Goldfinch a "skittery cinematic transcription" of Tartt's novel, while IGN opined, "John Crowley and Peter Straughan have largely succeeded in doing justice to this lovely tome."
As The Goldfinch enters the prestige-movie scrum in the opening days of awards season, its hybrid-financing pedigree presents certain questions for a Hollywood rapidly becoming populated by new streaming services (including Warner Bros.' impending corporate stepsister HBO Max — which ultimately means no more team-ups between the studio and Amazon). Have we entered a new era of cooperation between streaming giants and once-circumspect studios? Can any industry observers reasonably expect other studios — Sony, Lionsgate, Focus, Paramount — to enter into similar deals in the near future?
When asked what ideas he hopes audiences will take away from his film, Crowley waxes philosophical about the Dutch masterpiece whose theft powers the plot. But his remarks serve as a handy metaphor for the making of The Goldfinch. "The idea for me is that something as beautiful as The Goldfinch was created to live in light, and that the greatest sin is that it's hidden from view," he says. "You can debate the purpose of art endlessly. But I think we can agree that art is there to be seen, read, experienced. There's actually a big idea about culture — or maybe civilization — passing something on that lurks within."