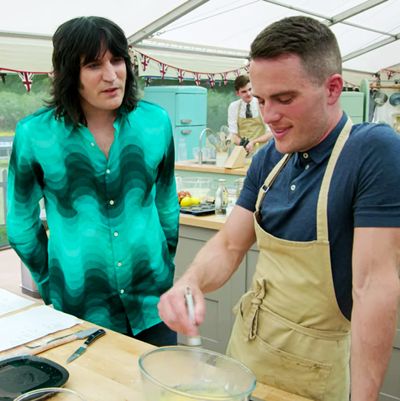 Last week, we learned that this week would be the Great British Baking Show's first-ever Dairy Week, and to be honest, I've been waiting with bated breath ever since. What could dairy week possibly entail? Cheesecake? Goat's milk? Breast milk?! With GBBS, one never knows exactly what to expect — except who's going home, because it's called having eyes.
Well, my expectations were not only met, but exceeded. Because as it turns out, a lot can go wrong with dairy, especially when you ask ten British people to make an Indian milk sweet that eight of them are completely unfamiliar with. Shall we?
In the previous episode, Michael, of the big glasses and even bigger emotional reactions, was crowned star baker while sweet but messy Amelia was sent home for her inability to make appealing bread. But as Michael points out, dairy is different from bread, which is molecularly true. And since there's never been a Dairy Week, no one quite knows what to expect.
Paul and Prue, however, decide to be kind and ask the bakers to create something they know — cake — with whatever cultured dairy they want, whether that be yogurt ( Alice, Phil, David, Henry, and Priya), buttermilk (Steph, Rosie, Michelle and Helena), or sour cream and cream cheese, which Michael plans to use in his Cheesecake Surprise, which in ten attempts he's only managed to pull off once. Some people would call that a warning sign, but Michael, still riding high on his Star Baker status, decides to go through with it.
As Paul and Prue walk around it becomes fairly clear that none of the bakers know how cultured dairy will affected their bakes, including Steph, who describes blowing off her mom/boss when she said buttermilk adds lactic acid. Come on, Steph. She's one of your three employers.
With no grasp on the science, many of the bakers decide that the only way to zhuzh up their cakes is by baking them inside over-the-top bundt tins. Michelle's looks like the bottom of a pineapple, which she gets so excited and nervous about unmolding that she ends up breaking a beautiful floral cake stand (RIP). As Michelle stares in shock, Michael realizes half her cake is about to fall off and comes to the rescue, proving once again that this is the world's kindest reality-TV show.
Michael is unable to save himself, though. With only a one in ten chance of surviving, his cake splits in half horizontally, sending Michael into a deep depression. The color drains out of his usually rosy cheeks and goes straight to his ears. But somehow, Sophisticated Toddler Henry seems to take it the hardest, covering his mouth with an oven mitt to keep from screaming.
As judging begins, Paul and Prue give glowing reviews to four bakers in a row: Rosie's cake featuring homemade limoncello and meringue kisses gets a "beautiful" from Prue, while Helena's almond cake receives a similarly good feedback. And Prue literally bobs with joy over David's Limoncello lemon and poppyseed-yogurt cake. Steph's "Answer to Everything" chocolate and raspberry cake also gets a thumbs-up.
From there it all gets worse, though. Alice's cardamom and pistachio yogurt cake is "bland," Phil's rose cake is neither flavorful nor neat, Michelle's rhubarb cake is "claggy" (ouch), and Priya's chocolate-chip banana-bread cake, like the woman who made it, is middling. Then it's over to Michael, whom you'll remember tried to defy math. Henry, whose autumn-inspired German breakfast cake went over well, looks on in what can only be described as abject horror as he waits for the judges to hand down their verdict. Paul quickly lists all the problems with the cake and then admits that it's quite delicious. Michael is both relieved and miserable, as are we all.
Onto the technical. (Anyone else hear that in Sandy's voice?) Now that Bread Week is over, Prue is finally allowed to set the challenge and she'd like the bakers to make Maids of Honor, a weird-ass dessert featuring rough puff pastry, cheese, lemon curd, and a powdered sugar Tudor rose because apparently Henry VIII ate himself to death on these. Fun.
Because none of the bakers were alive in the 16th century, they all do HORRIBLY, making this one of the worst technical challenges to hit the tent since Stroopwafelgate 2017 (another challenge set by Prue, no less). To start, every single baker fails to get their Maids to the desired height. Paul loses it. Half of them are dry, some have bad lemon curd or bad cheese curd, and Priya straight up doesn't finish. Still, someone has to win and that someone is Steph, followed by David and Henry. Helena, Priya, and Alice round out the bottom three.
It's a painful thing to watch. And so is the Showstopper Challenge, albeit in a much more enjoyable way. Have you ever watched ten hardcore Brits make something so foreign to them that success becomes secondary to just surviving? Well, that's this week's Showstopper, where the bakers are asked to make mishti doi, a milk-based dessert native to the state of Bengal. And that makes it all the more enjoyable.
As far as this season's bakes go, this challenge is the hardest to comprehend. The bakers are asked to make the mishti out of khoya condensed milk, which they must make themselves with the exception of one of their bakes. Phil says that this is so far out of his comfort zone that it's across the room. Still, the bakers must keep calm and carry on, which involves a whole lot of stirring.
David, Michael, and Priya create Indian-themed mishti with flavors like mango, saffron, rose, cardamom, and pandan. (David casually mentions that he has an Indian friend.) The rest of the bakers go for mishti-themed around ideas of Britishness, like afternoon tea (Alice), 19th-century English sweet shops (Helena), rice pudding made by your husband's nan (Michelle), and English gardens (Phil). Rosie and Steph get a little bit more abstract, with Rosie creating Prohibition-era cocktail desserts and Steph making pink mishti in rose and pistachio, mango and coconut, and date and walnut, in an extremely transparent bid to beat David at his own game and win Star Baker.
What about Henry, you ask? Well, Henry immediately shoots himself in the foot in stunning fashion. This man, nay, sophisticated toddler, attempts to make ICE CREAM. Ice cream! The chocolate of dairy products. Has he even seen this show?! Oh Henry. But the difference between Henry now and Michael earlier is that Henry makes ice cream knowing he has a 66 percent chance of success because his other two bakes — orange and coconut — aren't ice cream. Now that's how you do maths. Not a typo.
In the end, Henry ends up getting a mostly positive review of his Seaside Mishti, even the melted one. Alice saves herself with her carrot cake and coffee-flavored mishti after having a disastrous turn in the Signature Challenge and getting 8th in the technical. Priya and Michael pull off their mishti as well, as does David, who proves yet again that he's a master of both style and substance and a strong contender to take this whole thing. And with the exception of the Technical, Helena has the best week she's had in the tent so far with her lemon sherbet, parma violet, and coconut chocolate mishti. Finally, rounding out the top six is Rosie, whom Prue says should be proud of herself. Rosie smiles meekly. The much more confident Steph, however, seems hardly surprised that she smashed her Showstopper. She's out for baked blood.
That leaves Phil — who at this point just wants to get home to his wife — and Michelle, the show's first Star Baker. Phil certainly tries to create something beautiful, a bunch of edible dirt and mishti cut out in various shapes, but his overuse of extracts is his undoing. Michelle, meanwhile, is failed by her late grandmother-in-law's rice pudding, which Paul says isn't even rice pudding. Her grandmother-in-law feels that barb all the way in the afterlife.
Once again, the judges float the idea that this could be the week that they send two bakers home. But, once again, they don't use it because that would mean sending Michelle home and she was Star Baker once. So it's Phil who's sent home, and for the first time this season, a baker can't believe they're the one going home. Which must be hard to do when you're not watching yourself on a tightly edited episode of reality television, because we saw it coming a mile off.
After four weeks, we're no more certain of who's going to win this than we were when the show started, especially since there's been a new Star Baker every single week. Really makes you miss the days when Richard won Star Baker five times in Series Five … but didn't win the show. Classic Bake-Off. Here's to another week of unpredictability.