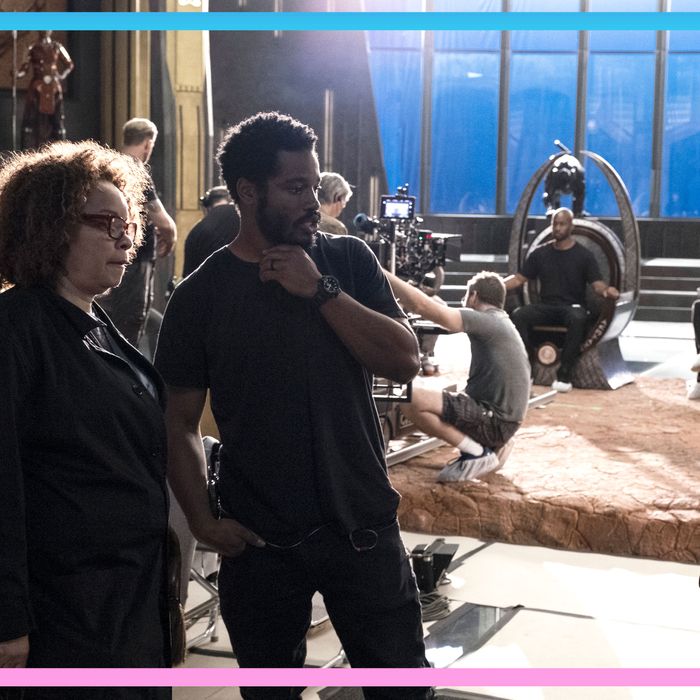 Costume designer Ruth Carter on the set of
Black Panther
.
Photo: Vulture/Warner Bros/null
What does it take to be a costume designer in Hollywood? "You need to be a therapist, and you need a therapist," jokes Lou Eyrich, Ryan Murphy's go-to when it comes to the wardrobe department. She and her ilk are sterling multitaskers who juggle the needs of all sorts of personalities on set. They work with directors and showrunners to make sure the costumes they're creating are in sync with grander visions of characters, settings, and stories. They collaborate closely with stars to make sure the costumes fit, both physically and with an actor's idea of the role. They communicate with heads of other departments — hair, makeup, production design — to verify that the clothes gel within the broader palette of a scene. They've always wrangled extras and closet space, but these days they interface with animators and CGI artists, too.
According to several costume designers who spoke to Vulture, the already significant demands on their field have risen in recent years, particularly as the ambitions of motion pictures leak into prestige TV. As the production value being sought lurches upward, costume designers working in television find themselves facing shorter preparation periods and longer hours — but not necessarily better pay. "The studios get away with this because TV has historically paid less than film," says Salvador Perez, a designer who frequently works with Mindy Kaling and is president of the Costume Designers Guild's board of directors. "But as TV shows are getting grander in scale and the studios want to attract feature-film costume designers, they are starting to pay feature rates to get notable costume designers to work on TV shows. TV rates are starting to rise, and we are working to make this the industry standard."
"We need to address it," adds Cynthia Summers, an Emmy nominee this year for her costume work on Netflix's A Series of Unfortunate Events. "We need people to be paid for what they're doing and for their work, and producers, they need to step up to that, I think. Some of them are, which is fantastic and so appreciated. Some of them are not. It's going to take a while."
In the meantime, costume designers continue to provide a wide array of services to both makers of film and TV. Here, some stories about those challenges.
Black Panther, the Dora Milaje costumes
Ruth E. Carter (numerous Spike Lee movies, Selma, the upcoming Coming 2 America): The challenges I faced on Black Panther were the biggest challenges I think that I've encountered in my career in a long, long time. One was to create the Dora costume as authentically as possible to [reflect] ancient African history by using leather and bead work and metalwork [and] coming up with a way that we could do the neck ring and the arm ring that were wearable. Because the ancient African technique of wearing the neck rings — they were something that was put on you as an infant, and you lived with these rings on your neck and added to them so they became a part of your skin and your structure. But we're making a movie. We still want these rings to have that seamless, bent, and twisted appearance but, at the end of the day, [allow the actors to] take them off and go home.
We made them out of plastic tubes that we painted gold or silver, and we attached them with magnets. But that was very difficult to manage because of the amount of physical activity that was happening on set, so you know, a little gaffer's tape during the filming went a long way. They came apart a lot, and you don't have time to stop the action and go back to the workshop. You just had to take the gaffer's tape, tape it on the back, and let the postproduction help you out with a little movie magic. Technology has allowed us to be much more authentic than I think we could when we had a special piece that was vintage or antique and we only had one. Because in this business, one is none. You have to have multiples of everything, and technology has allowed us to take all the aspects of that special piece and print it.
We based Queen Ramonda's crown off of an existing Zulu married woman's hat called an isicholo. The isicholo was scanned, so it had the same weave pattern as the actual weavers who make it, and then we printed it out. So when you see her hat, it's 3-D printed, it's not woven. It's perfect, because it's cylindrical and it has the same style lines as the weave pattern of the original hat.
[In Hollywood now], we have shorter amounts of time and prep and we have less money and 3-D printing is very expensive. So you have to be very clear about what you're making, and you go through the steps very carefully. Hopefully, maybe ten years, 20 years from now, every department will have their own 3-D printer and scanner and we'll be able to do it in-house for pennies on the dollar.
Burn After Reading, George Clooney's and Tilda Swinton's entire wardrobes
Amy Roth (Madam Secretary, The Looming Tower, the forthcoming film Motherless Brooklyn): I was assisting Mary Zophres, and we were doing Burn After Reading with the Coen brothers. She called me out of the blue, and she said, "I really need your help. Can you come with me to Scotland and Italy to fit George Clooney and Tilda Swinton?" I said, "Are you kidding me? Yes."
We only had one fitting with each actor, and they had multiple changes throughout the film. So I just kept loading up boxes of great things from wonderful stores for them to wear, and Mary was doing the same on the West Coast. We met in the airport, I believe, in Scotland, with more boxes than you've ever seen.
We go into Tilda's house and, there's no closets there, because she's in this 18th-century home that has no closets. So we're laying things all over the place. There's no organization. Anyway, I got a hernia. I was in so much pain, and I was nauseous beyond belief, and people kept wanting to give us food. Her husband at the time was John Byrne, this really handsome man, who was making us beans and coffee. Imagine: somebody with a hernia. Then we had to put everything back on the truck and drive out of Scotland, back to the airport, put it on a little plane, fly to Milan, get a people-mover bus, with all of our costumes. The whole time you're thinking: I wanted to do this.
Anyway, we get to George [in Italy]. Now I'm having acid reflux, off-the-chart bad. And he apparently had lost all this weight because he had an injury on Syriana, so none of the clothes that we brought fit him. We had this four-hour fitting of trying to take what we had and kind of mold it to his 20-pound-less body. The saddest part was, I wanted to have fun, because he sat down on the bed and he started talking about Obama, who was running for president at the time, and he was telling us how he's really the real deal. All I kept thinking is, I'm going to throw up on George Clooney, on this bed. I'm going to throw up on George Clooney. It was the worst day of my life, and it should have been the best. That is, like, show business to me. The truth is it's just always a lot of hard work, and there is no glam.
Mad Men, Betty Draper's black-and-pink dress
Janie Bryant (Deadwood, It, Why Women Kill): Mad Men in those days, especially season one, the prep time was just so much shorter. We literally had three to four days to prep an episode. I remember that my supervisor did the costume breakdown [on one episode, "Shoot"] and January Jones, who plays Betty Draper, had 14 costume changes. We have two days to prep it. I was like, "Oh my God."
It's not only Betty, right? It's the rest of the principal cast, it's the day players. It's the children. Add in 200 extras. Everybody has to be costumed head to toe. That episode I will never forget. I had to remake a vintage dress for Betty. The black-and-pink strapless 1950s dress that she wears in the audition at the beginning of the episode — that was just a solid plain black strapless dress. Then I had it rebuilt with the bow across the top, at the bodice, and then adding all of the pink godets in the skirt. Matt [Weiner] and I had talked about the scene, and what he really wanted to convey was that Betty used to be a model and that she's too old to be a model. Her style when she was a model is out of fashion now. So a 1950s dress was perfect for that scene.
It's so funny. Betty's pink-and-black dress: Because we had rented it, and I had rebuilt it at the shop, it ended up back at Western Costume, because we had to return it at the end of the season, right? At the end of every year, Western Costume will have a huge costume sale, where they sell things — maybe they're too damaged, or too old, or there's a whole bunch of different reasons why they sell off some of their stock. Somehow Betty's dress got put in the annual Western sale. Long story short, a couple of years later, I was fitting Aaron Stanton, who played one of the boys in the office, Ken, starts telling me about his friend's wife who ended up buying Betty's dress from the Western sale. She actually wore it to a book signing that I had at Playclothes. Then I actually contacted her later — because Mad Men costumes, some of them were in different museums. So we contacted her to say, "Could we borrow Betty's dress?" And she refused us. She said, "Absolutely not. I'm not letting this dress out of my hands."
Hobbs & Shaw, Idris Elba's super-suits
Sarah Evelyn (Fast and Furious Presents: Hobbes & Shaw, American Horror Story: Cult, Ryan Murphy's forthcoming Hollywood): My last project, Hobbes & Shaw — there were a lot of challenges on that. Really, the most challenging thing was Idris [Elba's] super-suits: What were we going to do that was going to work within the world of our movie, and work on Idris, and not all of the sudden be a superhero suit, which we didn't even have the budget for?
Idris didn't roll in until really late, so I already had to have it basically completely conceptualized, figure out exactly how I was going to get it made and show it to him as, essentially, a completed suit. We had his measurements. It was actually built onto a body form. We found another show he was on, we got his measurements, then we flew our shopper to wherever he was and a body scanner who scanned his body, and then made a 3-D mold of him. Then we worked off the 3-D mold, which is actually becoming more and more common because availability of big actors is becoming more and more scarce. So if you can't get people in for a fitting, what are you going to do?
It was incredibly nerve-wracking when he tried it on. I mean, lucky for me, Idris just walks into clothing and looks amazing. He just does clothing favors. He's the kind of guy who can put anything on and it looks good. But the question was, is he going to feel like this is what his character is? Is he going to be down with it? Because that's really important. And he was, thankfully.
The second challenge was he needed multiples, and not only did he need multiples but the stunt guys were wearing it, too. So they needed multiples that we could destroy. Every time you need multiples, you need to think about that in your design. Is this going to rip? And then when it does rip, you need to be ready to act on a dime, because inevitably, something got sewn with some rotten thread or, especially because [director] David Leitch is just so amazing with stunts and is such a creative guy, of course you're doing some stunt you didn't consider. So then the pants rip and then the second pair of pants rip and then the third pair of pants rip and then the knee rips up and now you're down pants. It's just all hands on deck, getting pants put back together. Those are incredibly, incredibly challenging moments.
Alice in Wonderland, a CGI Red Queen's neck line
Colleen Atwood (nearly every movie Tim Burton has directed, Chicago, Fantastic Beasts and Where to Find Them, the forthcoming live-action Little Mermaid): When I did the first Alice in Wonderland, it was the first time I'd really dealt with the digital language that has become a huge part of filmmaking. I was approaching it with some trepidation and a little bit of fear, and it ended up a really exciting and interesting prospect to me, which, as a costume designer, kind of opened up a whole new realm of possibility.
The challenges were specifically trying to make clothes that did the work with, for instance, the Red Queen: figuring out neck lines and different lines on her costume that could look kind of close to the same if they changed her head size [with effects]. You bring the sides of the collar up against the neck so it can make the neck not get so huge when [the effects artists] make the head huge. The shape of the waist and where it was dropped a little bit to allow proportion with the giant head.
You do your work, you give it to [visual effects], and look at what they manipulate, and then after they do that, you look at it and adjust the actual physical costume to give it the optimum performance for what they want and still have it work in the room on a human body. The things that you need for a period or fantasy movie, if you don't have it around you — if you can't feel it — it's very difficult for the actors. I mean, people have great skills, but you run around in a green unitard pretending you're a queen in a huge gown? It's a stretch. I think the two together [CGI and practical costumes] is the ideal world, not just one or the other.
A Series of Unfortunate Events, Detective Dupin's hat
Cynthia Summers (UnREAL, Altered Carbon, upcoming TV adaptation of Snowpiercer): The hardest [costume] I want to say, from the two seasons [of A Series of Unfortunate Events] that I did was Count Olaf as Detective Dupin. People asked me, "Well, where is the illustration for that?" And the reason that there isn't one is we basically came up with the concept for that costume five days before camera.
He had to be in disguises as this scat-singing, sleazy detective. I started with the great jazz singers of the '50s and '60s, but it really wasn't that. There's a little bit of that in there for sure, but it really wasn't specifically that. And then we went Elvis in his Vegas '70s phase. But nothing was working. It felt too contrived, and not right, especially compared to all the other disguises.  So we just went to the '70s, kind of the disco era, and then took some things from that.
We made the jacket, the shirts, the pants. We purchased the hat, because we didn't have time to have that straw hat made, but we painted the hat so it was the right color of gray and distressed it and broke it down. [Neil Patrick Harris] brought the Jason Mraz hat to the table and [suggested wearing a hat like] how Jason wears a hat. Those small details being brought to me by someone else are what helped me turn something maybe ordinary in the scope of Lemony Snicket to something really kind of amazing.
I had 20 minutes to try on his costume before he worked in it that day. That means me, my tailor, a seamstress or a seamster, and my breakdown artist standing on set with her pots of paint and our needles and thread in case we had to do a last-minute whatever before he went to camera. Yeah, it was one of my scariest but most gratifying moments on the series.
Scandal, Olivia Pope's vintage black-tie gown
Lyn Paolo (The West Wing, Shameless, the forthcoming Little Fires Everywhere): On the second season of Scandal, Olivia Pope was going out to this amazing big black-tie affair. We had all this press on the show by then. A lot of it was about her fashion. We did struggle to find the perfect dress for her, and I ended up doing maybe eight or ten sketches, like, What do we want her to look like? You have such a short time span to get it all together.
We ended up literally finding an old, vintage Jean Fares dress that was in a box at a PR company, and it was shredded. The silk chiffon was gone. It was just dead. But it just had something intrinsically beautiful about how it was constructed internally and also the beading, which I don't think — maybe you could find it now, but it would be a struggle.
That dress was … first of all, it was a risk to say, "We're going to go with something that's falling to pieces, and we're going to remake it and restructure it." We had to replace all of that chiffon and remake whole sections of the bodice. In a four-day timeline. And also the thing itself was quite expensive to buy. I don't think I'm supposed to say [how much it cost]. I called [the production] and said, "Look, we're not finding it. We're just going to do this." Mary Howard, who is our producer and who I still work with to this day, said, "Oh my gosh, that's a lot." She said, "Is it going to be worth it?" And I said, "I think it is."
God bless Shonda Rhimes and [producer] Betsy Beers, because they said, "We trust you and it's going to be great and we know you're going to make this work." They supported me and we made that dress and it's one of the most, I think, iconic looks from the show. On the day, God bless Betsy Beers, she came down to the set to see it. She just turned to me and said, "[Kerry Washington] looks fantastic." And I was like, "Okay, good."
Sorry to Bother You, Tessa Thompson's custom suit
Deirdra Govan (The Sun Is Also a Star, BET's The First Wives Club, the forthcoming new season of The L Word): Sorry to Bother You — that was an out-of-the-box unique project because it had its own specific challenges, in terms of being an independent project. We had very little money.
For the characters of Detroit [Tessa Thompson] and Cassius [Lakeith Stanfield], a lot of their clothing was from vintage stores. There would be some things that I'd modify for Detroit. She had one flight suit that she wore in her gallery scene, and that was just a plain, beige flight suit. But I said, okay, well, how does this speak to her character? It's not just a flight suit. I have this thing where I really love working with fabric, and painting, and taking clothes apart, and reworking them into something completely new. It's how I was trained. But with her clothing specifically, it needed to match her.
The director [Boots Riley] had a friend who was a painter. I was running out of time, so the director said, "Hey, he's going to be painting some of the artwork in the gallery scene. Why don't you ask him if he could take a look at some of the pieces of clothing, and tell him what you want, and he'll do it?" So I reached out to him, and he did it. Not only was his artwork featured on the wall, he was able to also use his hand to paint Detroit's jumpsuit. To me, that's the use of resources — meaning time, meaning budget, all of which were very limited.
Never Have I Ever; 150 sarees, jutes, and lehengas
Salvador Perez (Party Down, the Pitch Perfect movies, The Mindy Project): I'm doing Mindy's new show called Never Have I Ever. Mindy writes that they're going to an Indian Ganesh Puja ceremony, which is a holy ceremony and everybody goes in Indian dress. That was a bit of a challenge because you have six to seven days to pull off 150 people in full Indian dress. Sarees, jutes, lehengas. Luckily, I've done sarees my whole career and with Mindy for the last eight years. You know, you're trying to make people look individual but also part of the group — and you overbuy. So when you have to dress 150 people, you buy 250 outfits, and they have to be head to toe, jewelry, shoes, and all.
And they have to be individual. It has to look like individual people bought them, and you didn't just go to the store and get the red one, the purple one, the green one.
If you've ever seen somebody wrap a saree, it's tricky. Normally, you wrap a saree, and if it falls down — you know, you just fix it all day long. Well, we're having to have continuity, and we shoot this over four days, across two weeks, so we had to rig the sarees so that they look like they were hand-wrapped, but they weren't. There's a way you wrap a saree, and … you fold it, pleat it, and tuck it in. We painstakingly measure that out so the pleats are sewn together and then where the thing wraps around you, we mark all the wrap points and we put snaps on it. It's completely engineered.
The beauty of a saree is how it's wrapped and folded on you, and Indian women who do it — we had an Indian actress who had wrapped herself. It was beautiful, but once they wrapped it, then we had to go in and safety-pin it and tag it in place. There's an artistry to how they're folded. I brought in six people to help wrap sarees — two Indian women, and then costumers — because I wrap the saree in a very particular way. But if I wrapped every woman, they would look exactly the same. So we brought in several different people. Then the same people that wrapped the first time had to wrap the second time because they had to maintain the continuity.
When we finally got it all on-set — it's episode three of the show — it's glorious on-camera, And it looks seamless. It looks like, Oh, they just brought their own clothes. And it's like, no, I dressed every single one of them.
Unnamed Production, a pinstriped ensemble for a famous actor
Mona May (Clueless, Enchanted, Santa Clarita Diet): We were in the final preparations to shoot this film, and this one particular costume was made — it was a pinstriped suit for this one famous actor.
I made the suit. The fabric was purchased from South Africa with some beautiful wool that we had, that [the actor] approved, and the director approved. Here's the final fitting, it's 6 p.m. We are shooting that particular scene with the suit the next morning; it will be a 5 a.m. call, so this is the final rehearsal. The actress comes into the fitting room, we try this suit on, and she looks at it and decides that she hates the suit because the pinstripe on the fabric is too wide. The pinstripe is making her look fat.
Now, the fabric store is basically closing in an hour. I have to call the fabric store, hope to God that there's a different pinstriped fabric available. I have to call my seamstress, alert her that now she has to make a suit overnight. We hold this store open. I drive there as fast as I can. Thanks to God there was some type of beautiful wool where the pinstripe was a little less wide. We buy the fabric, I go to the seamstress. She stays up pretty much all night. We go pick it up at 4:30 in the morning, deliver the suit to the set for 5 a.m. call. And, luckily, it was accepted and we were able to shoot. But it was the most nerve-wracking night of my life, pretty much. This is not just making a cute little skirt or something. This is real tailoring. And we pulled it off.
[The actor] just had a lot of power at that moment in her career, and that was that. There was no one that I could go to, producer, director. They just said: "Do it. If that's what she wants, do it." So, this is one of those stories that really tells you that it's also living on the whim of the actor, sometimes. We try to accommodate all their wishes and make them feel comfortable, because our job is to give them everything they want, 100 percent, when they walk on set.
Unnamed Productions, moth-eaten clothing from the 1940s
Lou Eyrich (just about every Ryan Murphy series, including Glee, American Horror Story, Pose, and the upcoming Ratched): Ten years ago there were 40 shows [total] and now there's over 400 because of the streaming possibilities. Absolutely the costume houses can't keep up with the demand. Right now I'm working on '40s [clothes]. And there's four other shows going '40s, and it's really trying. So we're just having to make a lot of it, but it's always a trick so that things don't look made to order or homemade. I mean, I have really good tailors so they never look homemade. But it's finding the fabrics. It's all about the fabric. If it doesn't have the right drape, it's not going to look right.
'40s clothes are falling apart because they're old, and they're moth-eaten, shoulder burned. Also, our bodies are different now than they were in the '40s. Our body shapes have shifted. Women are much taller. There are very few period shoes bigger than an eight. So there are definitely some really good shoe companies who are doing repros, but now all of us period shows are shopping from the same shoe stores. We paint them and we age them and we make them look different. There are certain vendors we all shop from, and they're madly trying to pick more up.
For any other designers who have a great hardest costume story to share, let us know at stories@vulture.com.