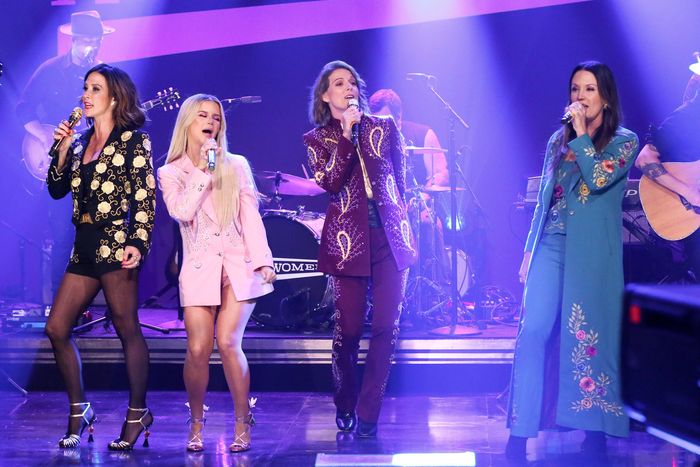 Highwomen
is an ambitious, panoramic exploration of these women's stories and more.
Photo: NBC/NBCU Photo Bank via Getty Images
"Highwomen," the opener and cornerstone of country supergroup the Highwomen's self-titled debut, is a chilling montage of destruction. In five verses, vocalists Brandi Carlile, Amanda Shires, Yola, and Natalie Hemby take turns recounting the moment the life was snuffed out of an ambitious woman. Each story is more crushing than the last. After Carlile's character gets caught up in the Nicaraguan revolution, and Shires's New England mystic is hung in Salem, Massachusetts, Yola plays a freedom fighter who risks everything to fight for equality, and Hemby embodies a preacher killed for daring to take a role in church leadership as a woman. Verse five is the kill shot: "We are the daughters of the silent generations / You send our hearts to die alone in foreign nations / It may return to us as tiny drops of rain / But we will still remain."
"Highwomen" is a sister song to Johnny Cash, Kris Kristofferson, and Waylon Jennings's 1985 single "Highwayman," "Wichita Lineman" writer Jimmy Webb's lurid dream about a life on the run. Played by outlaw country elders in a commercial lull, it is a word about resilience. The updated version scans over 300 years of oppression in less than four minutes, the message being that in spite of radical changes in the human experience, the main theme — people in power keeping other people out of power — endures. These women just wanted to live, love, and be loved, but the planet couldn't handle that. Coming from musicians working in an industry so hungry for fresh perspectives on gender that it's spawning singles like "Different for Girls," "Woman, Amen," "Speak to a Girl," "Woman," "Girl," "Women," and "Girl in a Country Song," "Highwomen" is protest music. Hegemony is a business not just of egotism but of the fear of loss of power. Evening the field means ceding a measure of control. Most people believe in equality, but their numbers tend to thin when you ask what they're willing to sacrifice to secure it.
Highwomen's depth of perspective is vast because each of the group's members occupies a unique space in country music. Maren Morris is a petite country radio star with a titanic voice; her triple-platinum certified Zedd collaboration "The Middle" is proof she could follow Taylor Swift in hopping the fastest train to the top of the pop charts whenever she pleases, but she's sticking it out with Nashville. Brandi Carlile is a veteran queer singer-songwriter whose refined lyricism and arresting vocals got noticed in a major way this year, when she was nominated for six Grammys, including Record and Album of the Year, and took home three. Natalie Hemby is the sought-after writer behind gems like Miranda Lambert's "Automatic" and Kacey Musgraves's "Butterflies" (and a formidable solo artist in her own right). Amanda Shires is a Texas writer, vocalist, and fiddle player who divides her time between elegant roots-rock solo albums and stints as a player in the Texas Troubadours and the 400 Unit, her husband Jason Isbell's backing band.
These intersecting experiences shine in Highwomen's songwriting. It's informed by the road and the writers' room, the Music City mainstream and the woolier scenes outside of it. It celebrates heterosexual romance and same-sex love, family life and freewheeling self-sufficiency, churches and honky-tonks. Highwomen is an ambitious, panoramic exploration of these women's stories and more. "Redesigning Women," a nod to writer and director Linda Bloodworth-Thomason's brilliant southern workplace comedy Designing Women, crystallizes the spirit of the album in its chorus: "Some of us are saints and some of us are surgeons / Made in God's image, just a better version." Highwomen deals in dualities. "Loose Change" escapes an unhealthy relationship, and "Crowded Table" fantasizes about settling down. "My Only Child" radiates first-time-parent joy, but "My Name Can't Be Mama" stresses about responsibility, and "Old Soul" cuts a path down the middle, reminiscing on a youth enriched by the wise words of elders.
Anchoring these stories is a palette of stately traditional country workouts aided by friends of the band. Isbell plays guitar, as do Carlile's friends Tim and Phil Hanseroth. Hotshot producer and regular 400 Unit collaborator Dave Cobb produces. Hemby corrals Miranda Lambert for a co-write on "My Only Child." The music is a launchpad for remarkable vocals; the Highwomen sound great on their own and transcendent together. Miles of gorgeous harmonies set this album in the direct lineage not just of the Highwaymen, whose legends traded verses the way rap-posse cuts do, but also of Trio, the album-length collaboration between Dolly Parton, Linda Ronstadt, and Emmylou Harris, which scaled back the pop and country-rock directions the singers pursued in the '80s in favor of covers and intricate vocal interplay. (The Highwomen know their shit; the quartet was joined at its Newport Folk Festival debut by Dolly, who led them in killer renditions of hits like "Eagle When She Flies" and "Just Because I'm a Woman.") Highwomen soars thanks to a fighting spirit, a love of singing, and a refined sense of its place in history. It's a dream team-up by turns uplifting enough to elicit good-spirited chuckles and gutting enough to bring you to tears, sometimes in the space of a single song. Great country ushers you into your feelings and coaches you out of them. Highwomen excels at the job.