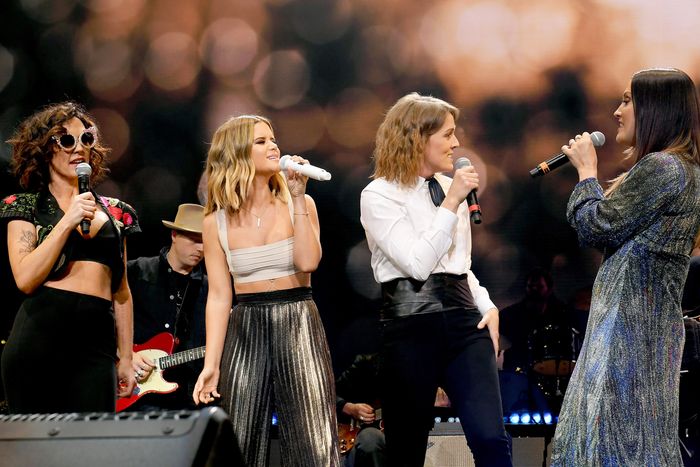 Amanda Shires and Natalie Hemby talk about their new supergroup with Maren Morris and Brandi Carlile and challenging country music's status quo.
Photo: Jason Kempin/Getty Images for for Essential Broadcast Media
A debate has been raging in Nashville for the better part of this decade over what should be done about the dearth of female hit-makers on country radio and the corresponding lack of opportunities for women to build marquee careers in the format. Those with a stake in maintaining the status quo have argued that it's simply a matter of objective market forces at work — a viewpoint expressed most provocatively by a radio consultant who advised programmers to sprinkle women sparingly onto playlists like a garnish on a salad. Artists across generations as well as industry vets have addressed the gross imbalance by organizing showcases, promotional campaigns, tours, and festivals around women; highlighting female capability in songs; or trying to circumvent the system altogether. The Highwomen, the new country supergroup comprised of Amanda Shires, Maren Morris, Natalie Hemby, and Brandi Carlile, are not only aware of those efforts but responsible for a few of them, and they share an interest in illustrating how women's efforts to get their voices heard in country music are connected to a broader cultural moment.
Shires, the band's unlikely instigator, has earned recognition for her fiddling virtuosity and cutting poeticism in folk-country, singer-songwriter, and roots-rock circles while observing the country mainstream from a safe yet concerned distance. But she started taking the gender disparity personally when she and her husband and fellow artist Jason Isbell's four-year-old daughter began showing musical proclivities. "To me," Shires says, "the worst that could happen is that she would gravitate towards country as it is now. My fear is that it's supercompetitive and there haven't been enough spots for women. I want it to be easier for her, and then at the same time I want it to be easier for other people."
With the help of producer Dave Cobb, Shires recruited Carlile — who has lately achieved new levels of popular recognition as an acoustic anthem-belting folk-rock heroine — to the Highwomen cause, then Morris, the confidently sensual, savvily genre-bending country-pop force who's labored for her place on the charts. After Hemby, who has written defining songs with and for country's leading women (and many of their male counterparts) but has only recently stepped out front herself, submitted material for the group's self-titled debut album, she got pulled in too. "I felt like I got asked to prom by the most popular kids at school," she quips.
Uniting their disparate vantage points and sensibilities, the four spread the singing and songwriting contributions around and made symbolic use of unison vocalizing on Highwomen. Sometimes they're side by side in their salty exasperation at the emotional labor expected of their gender. At other moments, they arrange their voices in sympathetic, full-bodied harmony. Their hooks are heartily direct, and their accompaniment has the windswept expansiveness of outlaw-era country rock and singer-songwriter balladry, along with the earthen wit of throwback honky-tonk — all of which would make it sound rootsy by contemporary standards, if not for its California soft-rock burnish.
Believe it or not, the group's name isn't a stoner reference. It's a gender-flipped version of the title a foursome of male country legends — Johnny Cash, Waylon Jennings, Willie Nelson, and Kris Kristofferson — claimed for their own 1980s supergroup. Though their commercial heydays were already in the rearview by the time they made the Highwaymen albums, those projects augmented their virile, battle-scarred gravitas and larger-than-life stature. The Highwomen went so far as to refashion the elder band's mythologizing theme song, replacing its male protagonists with women who died living epic lives and inviting the ascendant black British country-soul artist Yola to deliver a verse about a civil-rights Freedom Rider.
Carlile, Hemby, Morris, and Shires are claiming their place in the Highwaymen's lineage of heroic lore and in country music's rich tradition of female supergroups — from Trio, whose Dolly Parton recently joined the Highwomen for a Newport Folk Festival performance, to Pistol Annies, whose Miranda Lambert has a co-writing credit on Highwomen. The quartet has also emerged on the heels of a parallel talent-pooling of women's efforts in the indie-rock (boygenius) and string-band scenes (I'm With Her and Our Native Daughters, the latter a truly groundbreaking reclamation of historical black ingenuity convened by Rhiannon Giddens). For Hemby and Shires, who spoke to Vulture by phone ahead of the group's album release, the Highwomen strike a celebratory posture toward women revising dominant narratives in music and beyond.
The Highwomen have a different origin story than most supergroups because you'd had individual success and mostly didn't know each other. What was it like building a band around mutual respect and a sense of genre activism?
Natalie Hemby: When I joined the band, I didn't really go, "I want to be part of the women's movement." I was more intrigued by the music, by the honesty of it all, and by the three of them as artists. Our intention is to try to hold open doors. But, damn, it's also really great to make fun, great music with people who you really respect.
Amanda Shires: Genre activism is important because in the lanes that I operate in, it's already a lot more even. But it's like this one particular genre, in the grand scheme of things, has been a little lopsided, and I don't think there's any shame in saying, "Hey, we're still here, guys."
Amanda, when you started describing this idea in interviews, all of the names you floated as potential bandmates — Brandi Carlile and Margo Price — were on the independent side of things and insulated from the impact of country radio. But you ended up with a Highwomen lineup that includes people who occupy a variety of different lanes, from the Americana scene to the country mainstream. Why does that matter?
AS: I did talk to several people about this project — Jenny Lewis, Gillian Welch, Margo. They were like, "I want to participate however I can. I'll be a Highwoman, but I have scheduling conflicts." I never wanted it to be a thing where it was only four people onstage at once. I want it to be where if a bunch of awesome musicians came up to our show and wanted to sing with us, they're Highwomen too, just like Sheryl Crow, just like Yola. But I think the four core Highwomen are able to bring more awareness because we operate in different fields. It makes the conversation bigger and louder.
NH: It's like we're coming from all four corners of the music universe. All four are so different, but our voices coming together, it's a statement.
AS: And it's not limited to women, either. My husband has a Highwomen tattoo, and so does our guitar tech.
What makes solidarity a particularly forceful tool?
NH: Doing these things together is always more fun than trying to go out there and fight some mission on your own.
AS: It encourages other people to form their own groups within their own communities. It's also important in these times when they feel so dark and you feel so alone to have more people on your side. It's more like a party then too. And if somebody tries to rush the stage and get my fiddle, I'm pretty sure all three of these girls will put them off.
Would it be accurate to say the Highwomen have no lead singer?
AS: Yes. Every one of us is the lead singer.
NH: We [every member] are the lead singer. We all have a place in this, and we all just gravitate toward the parts we usually sing.
AS: That's the most magical thing I can think of with the whole project. No parts were assigned. We all just know our voices and where they sit, and then we also know how to be kind and respect one another and say, "Hey, do you guys like what I'm doing?" It was never a problem. Of all the stories I've ever heard in the studio, I've never heard of that.
In the name, narrative, and theme song of the group, you're invoking the Highwaymen. What are you getting at with that gender-flipped reference?
NH: They all were kind of dark horses. They didn't play by anyone's rules. And between me, Brandi, Maren, and Amanda, we don't play by rules necessarily either.
AS: We listen to the rules, and if we like the rules, we follow them. And if they're unfair, we just say, "That's not fair, and we're making a new rule going forward."
NH: I'm 42-years-old, and I'm just now joining a band. That is not something that someone would be like, "Wow, this is a really great idea." The Highwaymen had a brilliant, rebellious nature to them. And they stood up [against] some social injustices. We also want to see things change.
You've each released at least one solo album comprised entirely of songs you wrote, but it seems like the Highwomen mind-set was different: that it didn't really matter where the material came from as long as the message fit the group.
AS: The intention of the project is inclusivity, and you can't be inclusive if you're excluding songs for any base reason. It didn't really matter where they came from as long as the message and the intention and the spirit of them were clear. What I want for us is to sing our stories and show all of our versions of ourselves, all of our faces.
NH: Part of it was about raising children. Part of it was "I don't feel like being a mama today." Part of it was "Hey, you're my sister. Let's sit at this table together." And then another part of it was "Oh my God, I don't know how we [women] do it." And then we have a beautiful gay country song.
Brandi brings considerable swagger to that song, "If She Ever Leaves Me," telling a would-be player that he has no chance with her woman. On a deeper level, it also feels like a plainspoken rebuke to anyone who thinks country music isn't for queer people and perspectives, and it's likely to be heard more widely than other songs that have made that point.
AS: We wrote that with Brandi in mind. These kinds of songs are important, because I don't know about y'all, but I've got gay folks in my family. I've got transgender folks in my family. I've got all kinds of family. And I think country music isn't for a certain type. It's more than that, and it's been more than that in the past. And I'd like to see a broader representation of people within that genre.
Your song "Crowded Table" articulates a desire to make room. It's pretty much the antithesis of the perception that women see themselves in competition for limited spots. Tell me about using a domestic metaphor — a dining-room table — to talk about the changes you'd like to see in your professional worlds.
NH: I'm not a competitive person. I am a come-sit-at-my-table person.
AS: People can apply it to any sort of table. My family is heavily divided right now with politics, for example. For me, it's about how we can still believe what we believe, but we should still be able to sit down and have some sort of discourse.
You see this as a movement?
AS: We need more women engineers, more women producers, but there are a lot of women in other fields, like journalism and the medical field and construction. There's all kinds of Highwomen out there, and it's supposed to be applicable for all the folks that are out there doing it. Even for the stay-at-home mothers — that's more than a 40-hours-a-week job. It's not only a thing we're trying to do, it's also a thing we're trying to get a little bit more comfortable in. Just [receiving] acknowledgement sometimes helps.
You've talked about wanting to engage the mainstream, even the radio format, with what you're doing. How did that intention shape the album you've made and what you're trying to do with it?
NH: I don't know if we're gonna crash through the doors of country radio. If anything, I just love the fact that we made a country record that some young girl who is probably signed to Sony or wherever is going to hear and go, "Wow, I want to write a record that's honest like that." Maybe we don't have radio on our side. Maybe we do. But we're here, and you're going to have to listen to us.
AS: No matter what happens, it's not gonna fail because the four of us are in a room together doing this thing. It's already a win. There's been so much of this talk about how women's songs are like the tomatoes on the salad. And I'm like, "Fuck that." I want a caprese salad. Give me a tomato salad.
There are so many men in the industry that already want this to happen for everybody, for us, for other women, that have been behind it, writing songs with women, taking women on tour, etc. It's just that the tier above, the old-ass administrators up there, are used to pushing the money button, and they're scared to try the other thing. It would suck to just write off all the good folks like Dierks [Bentley] and Blake Shelton and Brothers Osborne, Florida Georgia Line, Zac Brown, Jason Isbell, so many that help and speak out along the way. We're all in it together, for real. It's just a matter of convincing the hierarchy, or bringing awareness to them as they play golf, that we're just as good, if not better. Ask your mama.