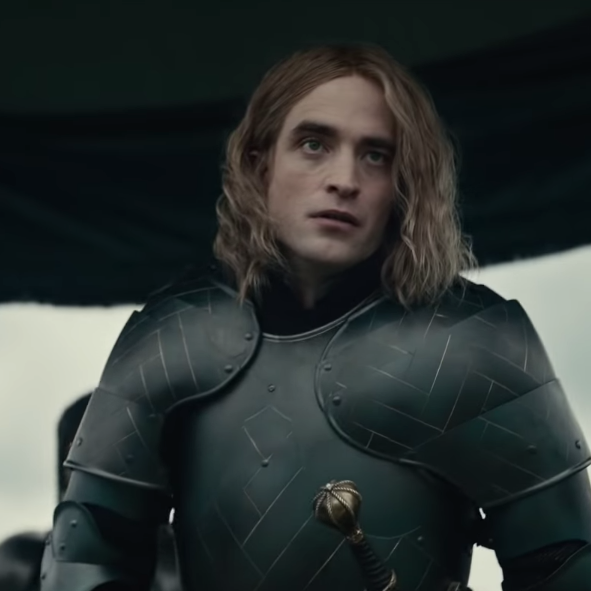 Writer-director David Michôd delivers entertaining history with The King, his new Netflix movie about Henry V (Timothée Chalamet) and his ascendancy from partying teenager to warrior sovereign. At its Venice Film Festival premiere on Monday, Henry and his sparring partners — particularly France's Dauphin, an arrogant and ridiculous prince who provides a steady stream of comedy — snared some hearty gasps and laughs. A bewigged Robert Pattinson plays the preening, overdressed Gallic dandy. "I like speaking English," he sneers in character. "It is a simple, ugly language."
"I just had a feeling he [Pattinson] would make it fun," Michôd told the standing-room-only Sala Perla 2 press conference. "I needed that. He is a supporting character. He doesn't appear in the movie until an hour in. It was very, very important to me that when he did appear it was with razzle-dazzle."
With Pattinson not in attendance in Venice, the conference's loudest cheers arrived for 23-year-old Chalamet, who, like the King he portrays, is having a youthful moment on the international scene post-Call Me By Your Name. Chalamet spoke elliptically about the struggle for peace depicted in The King. "Night terrors bring about moments of bliss and peace," he proclaimed.
Lily-Rose Depp plays the Dauphin's sister, Henry's eventual wife. On- and off-screen, Depp has a natural movie star's poise and smile. At the press conference, she riffed on The King's depictions of power, and how Katherine impressively makes the most of her limited abilities.
Michôd's chief collaborator, Joel Edgerton (who plays Henry's gregarious chief advisor Sir John Falstaff), was also in attendance, along with fellow Australian Ben Mendelsohn (who plays Henry's father, Henry). Edgerton spoke of filming the climactic Battle of Agincourt in Northern Hungary, in mud, sweltering heat, and body armor, along with approximately 200 other actors and 70 horses. "I thought one day I was going to drown in the mud," Edgerton enthused.
The King hits U.S. theaters on October 11, and Netflix worldwide on November 1.